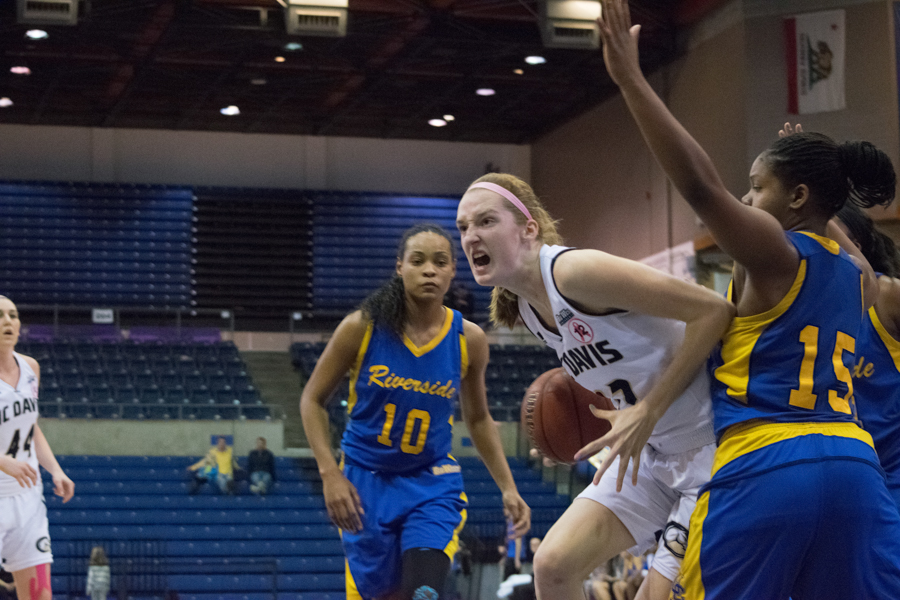 In a 90-76 loss to the Highlanders, the Aggies still maintain positive conference record, 8-5
Following Wednesday night's disappointing loss in Hawai'i, the jet-lagged Aggies dropped another one to the unbeaten UC Riverside Highlanders, losing 90-76 Saturday evening.
Despite another spectacular performance from redshirt freshman forward Morgan Bertsch, UC Davis had no answer for the reigning Big West Conference Player of the Year, Brittany Crain. Crain, who is averaging a league best 21.7 points per game, scored 33 points in the contest, with 18 coming in the fourth quarter.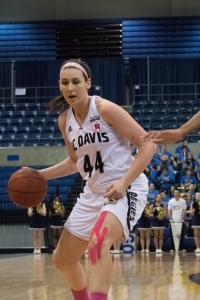 Throughout the first quarter the lead seesawed back and forth and senior forward Alyson Doherty hit a jumper to tie the game at 19 a piece. The reenergized Ags maintained the momentum of the late first quarter push and six minutes into the second quarter, sophomore forward Pele Gianotti converted a three point play, giving the Aggies a 27-21 lead.
But from there Crain and the Highlanders took over, going on a 22-4 run to finish the half, entering the intermission with a 43-31 lead .
The Aggies refused to go down without a fight, thanks in large part to four second-half three-pointers from freshman guard Kourtney Eaton. Three minutes into the fourth quarter, the Aggies held a 65-62 lead, but once again, Crain and the Highlanders took control.
Bertsch, who finished the game with 21 points on 7-of-10 shooting, secured her eighth 20-point game of the season following another 20-point night in Hawaii earlier this week. Doherty claimed 15 points with five boards as well.
There is a reason UC Riverside has an undefeated 12-0 conference record. The Highlanders are an incredibly talented basketball team, with a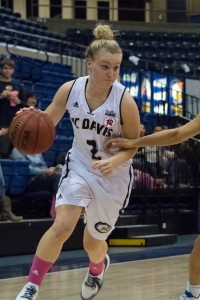 multitude of offensive threats. Three of five of the top Big West scorers call UC Riverside home, and the Highlanders average more than ten points a game — more than any other team in the conference — combined with the most efficient shooting per contest.
But the beauty of the Big West is that regular season statistics mean nothing unless the team wins the conference tournament in March. And at 8-5, UC Davis is putting together an impressive Big West campaign and demonstrated Saturday night they can hang with the big dogs. With the high quality play of Bertsch, Doherty, Gianotti, senior forward Celia Marfone and sophomore guard Dani Nafekh, combined with a deep bench, the Aggies have the tools they need for an NCAA tournament berth.
UC Davis looks to bounce back as they host their final home game of the season next Saturday, Feb. 27, against CSUN at 3 p.m. in the ARC Pavilion.
Written by George McConnell – sports@theaggie.org