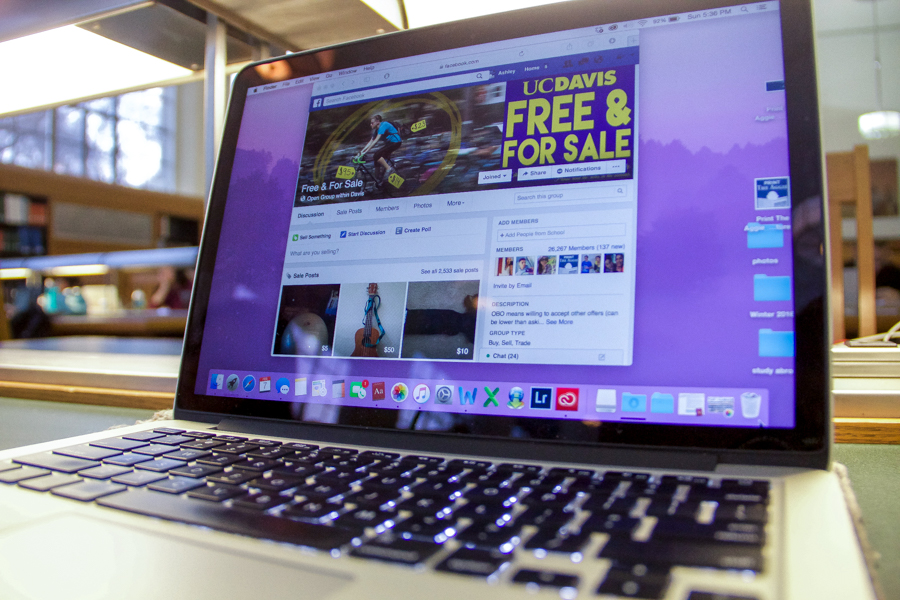 Students offer free services in the UC Davis Free & For Sale group on Facebook
Relaxing with Sensui
If ever in need of a massage after a stressful week of midterms, Sensui Tao is the man to visit. From a young age, one of Tao's older sisters deemed him the family masseuse. Being the sixth youngest child, Tao massaged the rest of his siblings in various ways, such as stepping on their backs and using his elbows.
Tao took a break from massaging in high school, however, when his father passed away from liver cancer four years ago. Later on, he got back into the practice to take better care of his mom.
"[My dad] didn't take a practical approach to his health," Tao said. "You know, in terms of exercise, eating right, all the essentials that sustain a healthy body. He wasn't doing that and that really hit me."
A former undeclared major in the College of Biological Sciences at UC Davis, Tao withdrew from school and worked full-time for two years in the fields of pest control sciences and furniture. It was during those two years that he became immersed in massaging.
"I didn't want the same thing to happen to my mom," Tao said. "I did everything I could to upkeep her health like massaging her joints."
In 2014, Tao returned to UC Davis as a philosophy and English double major hoping to go into law. At the same time, he started posting in the Free & For Sale group on Facebook to advertise his massage service. However, after seeing his sister come home after being negatively affected by her work as a lawyer, Tao decided that law wasn't for him and recently withdrew from UC Davis once again.
"After a lot of thinking, a lot of practice and talking to family, clients, and a lot of friends, I decided to pursue Chinese medicine," Tao said. "I'm trying to have this as a platform for something greater hopefully."
Several weeks ago, Tao started taking classes at the Massage Institute in Downtown Davis and offers free massages to anyone who is interested. Sessions are typically an hour long and Tao goes to each client's house for the massages.
"I'm really trying to get better," Tao said. "Every body is different, every person has a different issue, like a different kind of pressure, tension, modality, different leverage that they need. I'm just getting a ton of experience this way."
Tao also accepts donations which will help with gas and other minor expenses; by doing this, he said that people don't expect to get a certain level of service. He also receives and utilizes  feedback from his clients.
"I look at it as a community building thing on the Free & For Sale page where I get to meet people and people get to meet me," Tao said. "We try to figure out your issue together and then you tell me what's not working and so that way I get to research something later to see if I could find a better method for next massage [session]."
Currently, Tao plans to graduate within the next three months from the Massage Institute and then move onto Chinese medicine school after working full time for a couple years. To graduate, Tao needs 500 hours of the curriculum as well as electives.  
"I'm trying to get into acupressure, more like the Eastern energy modalities whereas there's also European, cranial sacral, sound healing, emotional healing — there's a lot of things," Tao said. "So I'm trying to specialize in something that's already heading toward my field."
What Tao enjoys most about his experience through offering free massages on the Free & For Sale page is the networking.
"You get to meet a lot of interesting people," Tao said. "The fact that they are vulnerable enough to let you touch them and to gain that trust, it's like we're good friends after a couple sessions. Through that, I've been having people help me with word-of-mouth advertising."
Tao said he has met people who hope to help him with future developments, such as a website or app for services.
"I've met a lot of good people," Tao said. "They're good at what they do and it's like sharing that same drive towards something bigger than us."
Jamming with Corbin
If you walked through the parking lot behind the Primero Grove Apartments last year, there's a good chance you heard recent UC Davis graduate Corbin Gomez jamming with his guitar.
From age 4 to 11, Gomez played the piano, but he didn't like it. Then at age 13, he switched to the guitar because of its portability. His father taught him how to play.
Gomez commuted to and from Davis starting Winter Quarter 2015. In order to avoid traffic, he would leave home early, arriving on campus around 7 a.m., and leave campus at 9 p.m. With his L permit, Gomez parked in Lot 22 behind the Primero Grove Apartments and would have two hours of free time. He started bringing his acoustic guitar with him to play before and in between classes. According to Gomez, a lot people passed through the parking lot and would hear him playing.
"I met so many people there," Gomez said. "You play and all of a sudden there are people coming to you who are like, 'Hey, can I try?' and then they teach you things. I've learned so much from so many musicians here that I felt like maybe I should give back […] because I've learned so much. If I could teach one person at least one thing, then I'd be a very happy boy."
It was 9 a.m. on a Wednesday morning in the library during the second week of Fall Quarter 2015 when he posted on the Facebook Free & For Sale group offering free guitar lessons.
"It was such an intense thing because it had a lot of support and interest," Gomez said. "It kind of blew up. That's why I remember the time because at 9 a.m. I posted it and by 9:05 a.m., I was pulling my hair out. I was so nervous because how was I going to organize everything?"
Gomez said that he only expected three or four people to be interested, but the number of people who reached out on Facebook was actually around 60 or 70. At first, he thought he would simply schedule with people through Facebook messaging, but when the messages overwhelmed him, he switched to Google Calendar.
"People could see what the open slots were," Gomez said. "So pretty much from 7 a.m. to 9 p.m. every single day, if there wasn't a time where I was in class, that spot was open and people could sign up for it."
Since Gomez commuted daily, he went to people's apartments for lessons and would meet them anywhere.
"I also asked them what kind of stuff [they're] interested in and what can I teach [them] that [they'd] actually be interested in," Gomez said. "And also [about] the logistics like do they have a guitar and stuff like that."
Instead of holding straightforward guitar lessons, Gomez wanted his lessons to be more community-oriented to spread music. To do so, those he tutored would have to pass on their favorite album in the form of a CD to the next student.
"The idea was that I would give the [person in] the first lesson that I had my favorite album, whatever album that was," Gomez said. "I would give it to them on disc and they would give me an album that I would give to the next person."
Although the CDs didn't work as well as he originally imagined, the general idea still stuck and notes were passed on instead.
"I had them write a little cute message like 'Keep on rocking!' or whatever and then [without reading it], they would suggest songs and I'd give it to the next person," Gomez said.
In total there were approximately 37 people that received lessons from Gomez, meaning 37 hours at 37 different apartments or houses that Gomez had to visit to complete his mission.
"[My mission was to make it] where they would be confident and able enough to go up to some random person they've never met before on the sidewalk and be able to hold their own," Gomez said.
In addition, Gomez wanted to help people enjoy themselves while playing guitar, no matter their skill level.
"If I could just have them hold the guitar and just have them laugh at something they're doing," Gomez said. "I love music and if I could share that and make somebody happy with it, I'm very happy myself."
Pictures with Ed
Recently, a few posts about free photo shoots on the Facebook Free & For Sale group have gained immense popularity. With over 1,000 combined likes on his posts, fourth-year managerial economics major Ed Ju has taken dozens of student's photos over the past couple of weeks.
Ju became interested in photography after stumbling across The Stranger Project on Flickr, which inspired him to start his own project.
"It was a challenge for people all around the world to approach a stranger and ask them about their story and then photograph them," Ju said. "I started that four years ago. At that time, I was terrified of people. I would be scared to order water from a waitress. I wanted to break out and be more sociable. My mom did photography so I was like, 'Okay, I'll use her camera.'"
Ju still remembers the first photograph for his own "Stranger Project." Ju described the man he photographed at BART as a "guy with a great big orange beard." Normally, he would never have approach a person like him, but his father encouraged him to do so.
"After that it was like, 'Oh my gosh, I can't believe I did that!'" Ju said. "I looked down at my camera and was like, 'Wow, I did it. This is so awesome.' And I felt so proud of myself. And since then, I've just been doing it."
Ju said that while he was afraid of strangers, he "fell in love" with people all around him.
"I fell in love with how everyone has their own stories and their own personalities," Ju said. "Photographing them became a way where I could express myself in capturing someone."
Ju originally wanted to hold photo shoots to fundraise for a mission trip to Mexico during spring break, but instead decided to use the photo shoots as an opportunity to enhance his photography skills.
"Students don't really get many opportunities to capture moments, like the people that they love here, their roommates, their housemates, just like they're best friends, you know?" Ju said. "Later down in life when they don't have any good pictures, it'll just be a memory. So I thought, 'You know what? I'm just going to do this.' Not because I'm trying to raise money, but just because give my fellow students a frozen moment in time that they could remember later on."
However, Ju is still accepting donations since there's a difference between shooting for free versus shooting for clients.
"[Students] are grateful that I'm doing this for them whereas [clients] expect like, 'Oh yeah, I'm paying you for your time; you better do this right,' which I've experienced before," Ju said.
Though Ju wasn't expecting many people to sign up for his photo shoots, with only two weeks having passed already, he already photographed approximately 80 to 100 students. With six-hour shifts and breaks in between, each person or group gets 15 minutes to take photos.
To check out Ed's work, follow him on Instagram @iamedju or check out his Facebook.
"I love being a photographer because I feel like I get to be a part of [people's] special relationships," Ju said. "I get to capture this sliver of moment where they're laughing and where they're loving each other. And it's like this frozen moment in time in our constantly busy world where they get to remember that [moment]."
Written by: Jacqueline Chu – features@theaggie.org