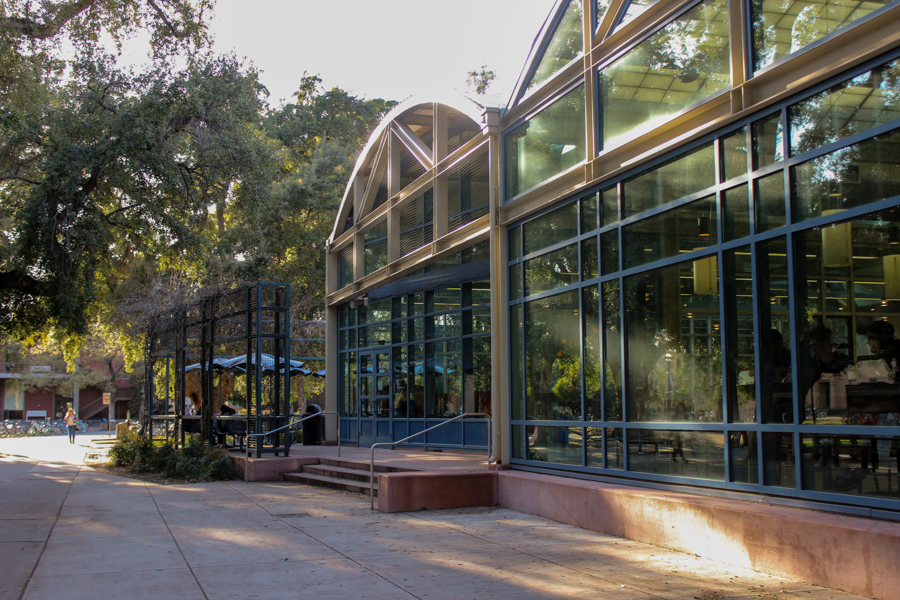 The UC Davis Coffee House: it's at the helm of our campus' holy trinity — the CoHo, the Quad and the holy MU. But much like a lost theologian, I've always struggled to understand the CoHo's purpose. Are you supposed to eat there? Are you supposed to study there? Are you supposed to socialize there? There's no way to do all three at once. This article captures this familiar conundrum pretty well. But I'll just be focusing on the food.
At first glance, eating at the Coho is like eating at a mediocre version of the most successful restaurants in Davis. Crouton's is a mediocre Pluto's, Fickle Pickle is a mediocre (and much more fickle) Mr. Pickles, the bagel place is a mediocre Posh bagel, Chopstixx is a mediocre Pho King 4 (which is also mediocre; where are Pho Kings 1-3?), TxMx is a mediocre Chipotle and Cooks is a mediocre everything else in Davis (Or is it? Have you been there more than thrice?) If you're paying standard prices for the standard Coho menu items, your experience will range somewhere between "ethnic food in the Midwest" at worst and "a hospital cafeteria" at best. But the CoHo doesn't have to taste like "White Guy Pad Thai." You just need to know what you're doing. So I sat down with the experts, CoHo supervisors, socialites and enthusiasts alike to find out all the most coveted CoHo secrets and bring them to you. This article will change the way you eat at the CoHo — guaranteed. Let's break it down by CoHo station.
Fickle Pickle Deli/Bagel Place:
First of all, a lot of people don't know that these two places are actually the same venue. That means if the line is really long for the sandwiches, you can actually order a sandwich from the bagel register and vice versa. Nine times out of 10 they'll do it for you.

Second, here's how you can save buku bucks on your

bagel

:
Get a side of fowl salad, tuna salad or egg salad for $1.50 (I recommend the bird). Tomatoes, cucumbers and onions are the only regular toppings they charge for, so load up on all the others for free. Next, buy a day-old (but literally just as good) bagel from Coho ToGo for 50¢ and assemble the bagel yourself. Your total will be between $2-3 and you'll get the same amount of food as the regular-priced bagel.
Croutons:
Salad hack: T

he CoHo allows you to make a salad out of just toppings, 55¢ each. Ask for a

topping salad

, then ask for the first topping to be spinach, lettuce or your leaf of choice. If you're lucky, you'll get one of those groggy, borderline comatose CoHo employees who'll put the normal amount of leaves in your bowl instead of just a handful. If they only put a handful in, ask for a couple more "toppings" of leaf until you're satisfied. Then add whatever other toppings you like. Last week I had a topping salad with three spinaches, onion, kalamata olive and balsamic dressing for $2.75 — a very dank snack indeed.

Baked Potato

: Baked potatoes are underrated at the CoHo. Without meat, one potato costs $4.50 and you can add seven toppings. Be sure to choose a leaf, and make one of your toppings cheese. You can ask them to put the cheese on first so that it melts onto your potato.
TxMx
If you get the

taco salad

without the tortilla it's 50¢ less. You can follow it while it's being made, and ask for extra lettuce, beans, etc. You can also ask for rice, beans, cilantro, onions, jalapenos and all three of the salsas for no extra charge.

Don't get the tacos, you idiot.

The especial quesadilla is so cheesy it will make you cry — only a die-hard cheese-lover should ever order this.

I'd steer clear of the guacamole as well; rumor has it, their avocados aren't that fresh. 
Chopstixx: Avoid.
Ciao: Their pizza is 6.5/10. (I've never gotten their sandwiches; that is my bad.)
Cooks:
Now to the main event. Cook's is the best part of the Coho and by far the most underappreciated — there's so much to explore. Everyday the Cooks menu features five things: deli salads, pastas, mixed entrees, soups and chili, and casseroles. All of these options change daily and are on a 4-week rotation. You can see what options will be available at cooks here.
Deli Salads:
Cooks' salads are healthy, filling and will blow Croutons and CoHo-To-Go salads out of the water. The small is $3.50 and actually a pretty decent size. If you can't decide which one you want to get, you can try three salads with their deli salad sampler for a dollar more than their normal salad price. Here are the top 5 Cooks salads you should try:
Sundried Tomato and Spinach
Southwest Sweet Potato Salad
Chilled Zucchini and Corn
Pasta:
Every day there are new pasta sauces to choose from. You can ask for white or brown rice instead of pasta for the same price. The top five sauces to try are:
Don't get a large pasta, get a small pasta with a breadstick. It's basically the same amount of pasta and $2 cheaper, plus a breadstick. Word up.
Mixed Entrees. The top five, son:
You can add rice to anything at Cooks FOR FREE. Be sure to add rice to some of these.
Soups and Chili:
Not a bad idea to add rice to these either.

You can take a plastic CoHo spoon and turn it inside out to make it into a ladle. I got real bored one time and discovered this.
Here are the top five Cooks soups:
Cauliflower Cheese Chowder (TRY THIS)
Sopa Azteca (like a chicken tortilla soup)
Clam Chowder (served every Friday)
Casserole:
Disclaimer: These can be super unhealthy. That being said, Cooks casseroles are some of the finest items available at CoHo. So skip breakfast and ball out:
The Pesto Chicken Casserole (Best thing at the Coho)
Chicken Tet  (served every Friday; I'd definitely recommend)
Mac and Cheese (made from scratch)
Laura's South of the Border Casserole
Swirlz/Out Front
Try the

Passion Fruit Italian Soda

. You can just ask for "The Willis" and they'll know that's what you mean (they probably won't, but still try).
Now you've got a friend in the dinin' business!
JONAH VERSMAN is a semi-pro garage-sailor and avid sorbet enthusiast. You can reach him at jiversman@ucdavis.edu.
(CORRECTION: A previous version of this article incorrectly stated that the CoHo uses "powdered guacamole." The CoHo makes its guacamole with real avocados.)