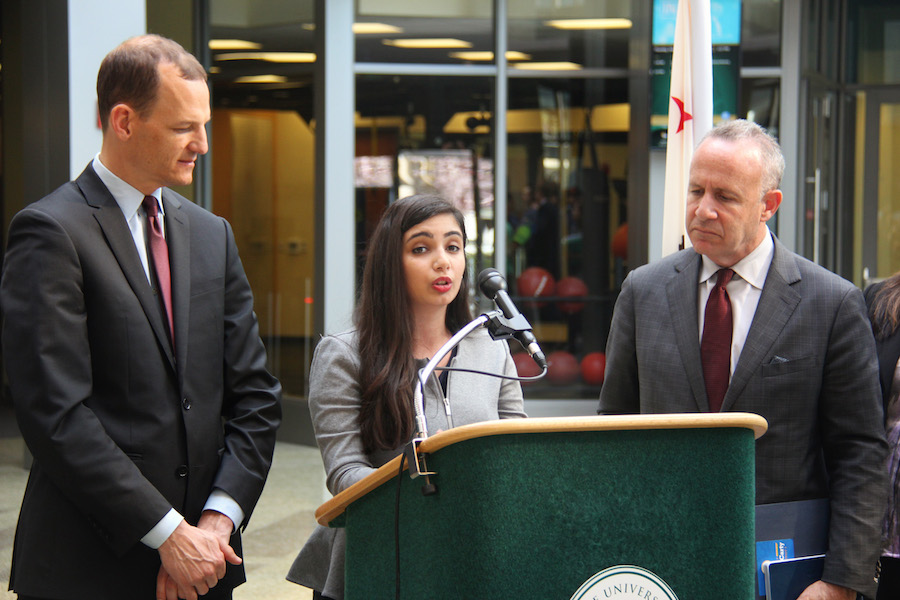 How are you?
We've been trained by society to answer "I'm fine" to that question, mostly because we know that the person asking probably isn't actually looking for a genuine answer. It's just a filler question, or a stepping stone to the next part of the conversation.
But there are two things I know to be true. One is that most of us aren't always "fine." In fact, studies have shown that roughly 40% of college students struggle with anxiety or depression, whereby suicide is the second leading cause of death among college students. The second is that there are people on our campus who are trained and paid to ask students that very question — "how are you" — and sincerely listen to the answer.
This year, through the UC Student Association's #HowAreYou Campaign, which strives to start conversations about mental health reform, students across the UC created a rubric to grade the mental health services on each of their campuses. The rubric included questions about counselor to student ratio, service accessibility, staff diversity and appointment wait times and limits.
The average grade across UC campuses was a C. UC Davis received a B-, meeting standards for outreach, but struggling in areas of diversity and accessibility.
As a student who has both utilized mental health services on our campus and worked in the field of mental health activism for multiple years, this grade is both a point of pride and a grave concern.
On one hand, we got the highest grade amongst all the UC's. Our counselors are far more diverse than other campuses, largely because we have a Community Advising Network (CAN) program that connects underserved communities with counselors. We scored well in accessibility in part because North Hall, where most of our counseling services are located, is central to campus and accessible to students. There is breadth to our group counseling programs.
But students still often find themselves not being able to get the help they need in a timely manner. Wait times are long, and same-day appointments can fill up before noon. Furthermore, students often have trouble finding counselors who can help them with specific issues like domestic violence, sexual assault, PTSD, disability and substance abuse.
Since the school year began, I have asked over 150 students about their experiences with the counseling services on our campus. What I found was not surprising. Students overwhelmingly criticized wait times for counseling and the inability to find counselors who could meet their needs.
"[We need to] have a counselor that can handle veteran's issues on campus," said Derek Matthews, a student and veteran who I have had the pleasure of working with over the past two years. "The nearest counselor that knows how to handle combat PTSD and moral injury is 25 miles away. That's a tough trip to make for someone without a car."
For veterans like Matthews, being unable to find a counselor who doesn't stigmatize veterans is a great challenge. He even felt that some of his counselors seemed afraid to be in the same room as him.
"Getting an appointment with [Counseling and Psychological Services] was really difficult," said another student, who wished to remain anonymous. "By the time I got up the courage to call and make an appointment, they were all full for the day. They said I could get an appointment for 2 weeks from then, but I needed support right then. Like I wasn't dying or anything, but I needed someone to talk to. I never called back after that."
These anecdotes do not mean that our counseling program does not benefit many of the students on our campus. It just means we can do better.
In my classes, I get graded on my work. And usually, if there's something I need to work on, my professor will give me feedback on my test or essay, telling me what I can do next time to improve my grade.
These are four requests students have made that they feel UC Davis should implement to improve the university's mental health services grade:
Hire a CAN Counselor that will specifically work with sexual assault survivors and AB 540 and undocumented students.

Create a Memorandum of Understanding between ASUCD and Counseling Services so that whenever a new counselor position opens, students can sit on the hiring committee and advocate for their needs.

Start collecting more in-depth data on the number of students referred to outside services and the number of students turned away from same-day appointments. Find out why the average number of appointments students attend is less than three.
4. Provide more transparency on diversity efforts and trainings.
I have already started conversations with the staff and administration who oversee Counseling Services, and fortunately, they have been very open to working with students to make these changes.
So, how am I? I'm excited to help make our mental health services better.
Interested in getting involved in our campaign? Contact advocacy@asucd.ucdavis.edu
A full list and graph of grades across the UC's can be found here.
Sam Alavi is a third-year and the director of ASUCD's Office of Advocacy & Student Representation. She serves as the Undergraduate Committee vice chair for the UC Student Association.