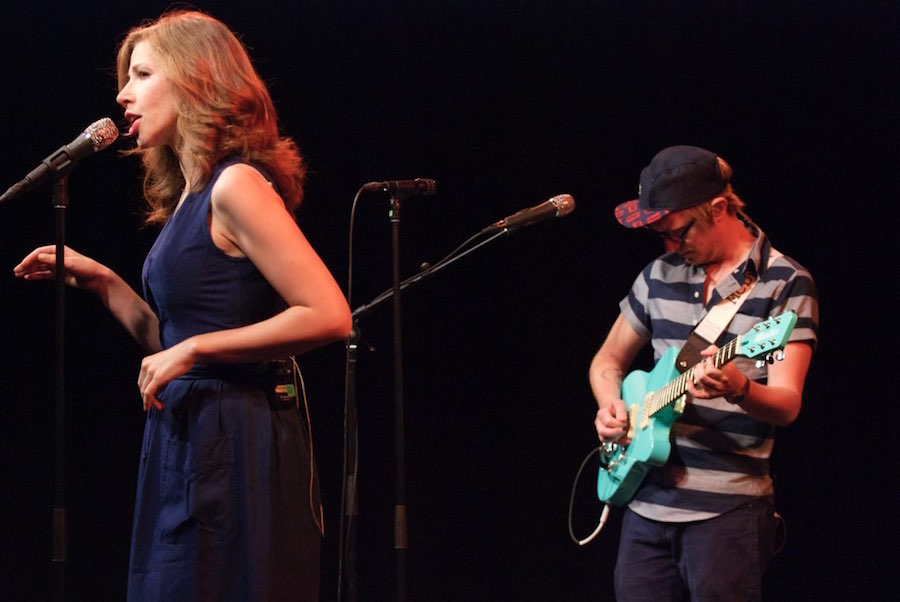 A side pony is more than a fashion statement
Over 11 years ago, four college freshmen at the New England Conservatory of Music birthed a not-so-novel concept for a band: playing jazz music at local dive bars. It wasn't until the group piled into a minivan for their very first tour, passing around a mix CD with anonymous contributions made by each member, that they realized the error of their ways. As the CD was anxiously jammed into the stereo, they noticed something interesting: they were adding the exact same songs. The failed road trip playlist, which only varied by about three Beatles songs, was indicative of the music they should really be making: pop.
Years later, drummer Mike Calabrese would laugh at the memory of their "dive bar" attempt and acknowledge just how far their career landed from its original launch site. Though the original idea didn't stick, the name at least did. Meet the band that epitomizes quirk and soulful blues: Lake Street Dive.
The band began their transition by covering classic pop tunes like "Rich Girl" by Hall and Oates and "I Want You Back" by the Jackson 5. Even as they gained a following on the East Coast, the band remained relatively underground, producing a few EP's and full-length albums until they signed with Signature Sound and released their eponymous full-length album in 2011. After their 2014 album release — Bad Self Portraits — the group spent the year on an extensive tour throughout the U.S., even making a stop at our very own Mondavi Center for the Performing Arts for both a jaw-dropping performance and a meet-and-greet in the lobby that, embarrassingly for me, also involved jaw-dropping.
After an introduction by lead vocalist Rachael Price, who expressed the band's tentativeness to perform at such a "fancy" venue (they were accustomed to local bars and smaller shows), she then announced the upcoming release of the group's third album: Side Pony. This would mark the first of the night's many jaw-drops.
The album kicks off with "Godawful Things," a tune whose harmonized backup vocals and distinctly rock sound is reminiscent of the band's origins. This song is a casual reminder of "Hey, remember why you fell in love with us?"
The third track, and also the first single released from the album in mid-November, "Call Off Your Dogs," boasts a catchy melody that incorporates the notorious jams of talented bassist Bridget Kearney and disco synths that may instigate dance moves comparable to John Travolta on Saturday Night Fever.
The album doesn't fail to exploit Price's boundless range and pure vocals, of course, in tracks "So Long" and "Mistakes," pairing them with nothing better than the warmth and depth of, once again, Kearney's bass. One of the strongest tracks, "Mistakes" was written by Price herself. So it's no surprise that her vocals shine through in this melancholic song that features jazzy trumpets by McDuck and a chorus that deplores, "I ignore what my heart tells me / and I break it every time."
The eponymous song "Side Pony" boasts the group's evolution with a message that transcends a surface level moral. For a group that releases annual Halloween covers (note the glory that is their 2015 edition: "Bohemian Rhapsody"), wears blue socks under their heels and literally rocks side ponies on stage, their message extends beyond individuality. Price declares that a side pony is more than a fashion statement; it's "anything you're doing for the sheer joy of it. We have always 'rocked our side pony.' Now we have a convenient phrase for it."
Lake Street Dive began with jazz, borrowed from country, evolved with pop and immersed themselves in blues and soul. Their rainbow of sounds mimics their outfit choices, and their side ponies swing with a contagious confidence that both inspires and assures.
It's worth listening to because it's easy to fall in love with a sound after you fall in love with the people who make it.
WRITTEN BY: Ally Overbay – arts@theaggie.org