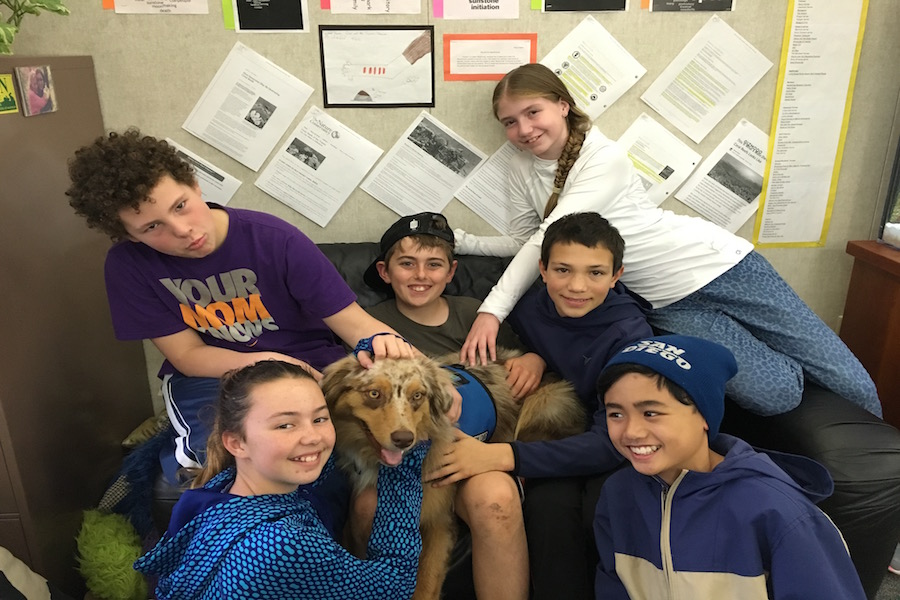 Two-year old Australian Shepherd, Levi, offers miraculous support and companionship
Leslie Whiteford, a sixth-grade teacher at Robert E. Willett Elementary School in Davis, has fostered a supportive learning and social environment for students over the past year-and-a-half with the help of her two-year-old Australian Shepherd, Levi. Beginning in Aug. 2014 when he was four-months-old, Levi assisted in Whiteford's classroom as a therapy dog, helping students achieve astonishing goals in daily curriculum and social tasks.
Whiteford began teaching about 20 years ago, after traveling the world as a wildlife biologist. She has taught at the elementary school since 2001 and led an animal handling lab at the UC Davis Veterinary School for approximately five years. Whiteford also has bachelor degrees in both zoology and English from UC Davis.
After incorporating a therapy dog into an afterschool math program 15 years ago, Whiteford realized that therapy dogs could be helpful across all topics of study for students who struggle with learning.
"What we found was that the dog created an environment where the kids were actually engaged with the dog in the learning, without realizing how much learning they were actually doing," Whiteford said. "Out of those seven kids at the time, six of them went up two or three grade levels in the after school program that year. So, what wasn't happening in the classroom for them was happening with the dog."
Therapy dogs help humans improve social, emotional and mental functioning and well-being. However, Whiteford could only find literature on therapy dogs used in reading programs. Whiteford found no research on dogs being used throughout the school day and her goal was to discover how a therapy dog could be used by all students across all academic subjects.
Levi began his first step in training as a reading therapy dog in Whiteford's classroom. Levi then quickly graduated to helping students through writing therapy.
"I had a student that was not able to write more than three sentences, which is a struggle by sixth grade. He had good ideas, but he couldn't get them on paper. Last year he used the dog for writing. He held the dog's paw while he laid on the floor with a clipboard and he wrote for 45 straight minutes, two and a half pages. He leaps up and he yells, 'Ms. Whiteford, Ms. Whiteford, look!' He had all these pages of words that were coherent and he hadn't been able to do that until that day when he sat down with that dog," Whiteford said.
Levi also assists autistic children at the school. According to Whiteford, many autistic children do not have intuitive social interactions and they are not able to read and process body language from others. Through his interactions with autistic children, Levi was able to teach the students to read and interpret human body language and social cues.
"[The student] grew to the point where he was able to read when Levi was excited or when he was sleepy. And we would ask [the student] to tell us what that would look like in a human," Whiteford said. "[He] made so much progress last year that by the end of the year he was playing card games on the playground with a group of kids. He was able to have that kind of emotional interaction and read other kids."
Levi also helps students outside of Whiteford's class. Hayli, a third grader at the elementary school, was diagnosed with a brain tumor last year and had to take a medical leave of absence for the past year in order to seek medical treatment. Hayli had a break in her treatment in Aug. 2015 and was able to go back to school for a portion of the year, and during that time, Levi provided Hayli with emotional support.
"When Hayli went back to school, she was really anxious and nervous and scared, because obviously her looks have changed and it had been months since she had been to school. Ms. Whiteford offered Levi to help Hayli work through that," said Kerri Thomas, Hayli's mother. "For the first couple of days that she was there, Levi was with her. If she ever got anxious she was able to leave class and sit with Levi and just be with him."
Although Hayli is not in school at the moment, she still goes to visit Levi with her mother from time to time to help her overcome this difficult period. Hayli has been responding well to her radiation and chemotherapy and is expected to be back in school soon.
Levi has also been able to help students overcome nonacademic needs outside of the classroom. He creates companionship with students who may feel lonely and unmotivated to participate in physical activities with the other children. Whiteford noticed students' social self-esteem begin to build from just walking with Levi.
Grace, a sixth grade student in Ms. Whiteford's class, explains how Levi has helped her achieve a better grade in P.E.
"Last year, when my grandpa passed away, I was in a really emotional stage and it was really hard for me to do P.E., but then when Levi was there I got to sit with him and after a while I was able to walk a lap with him. So, Levi really helped me in that time," Grace said.
Whiteford expresses that the most rewarding part of creating the therapy program with Levi is seeing students overcome a broad scale of problems. She explains that she puts in a lot of work with Levi, waking up at 4 a.m. everyday to make sure Levi has exercised before he comes to work in the classroom, so he can have discipline while at school. After school, Whiteford continues to work with Levi in highly specialized training, so he can be certified for hospital visitation.
"While [the work put into the program] is taxing, it is absolutely worth it," Whiteford said. "Being a teacher is already rewarding, because you get to make a positive difference in someone's life every single day. But being a teacher who also has a therapy dog working? That's two of us getting a chance of every minute of everyday getting to make a positive difference in someone's life. That's huge!"
Written by: SHIREEN AFKARI – city@theaggie.org