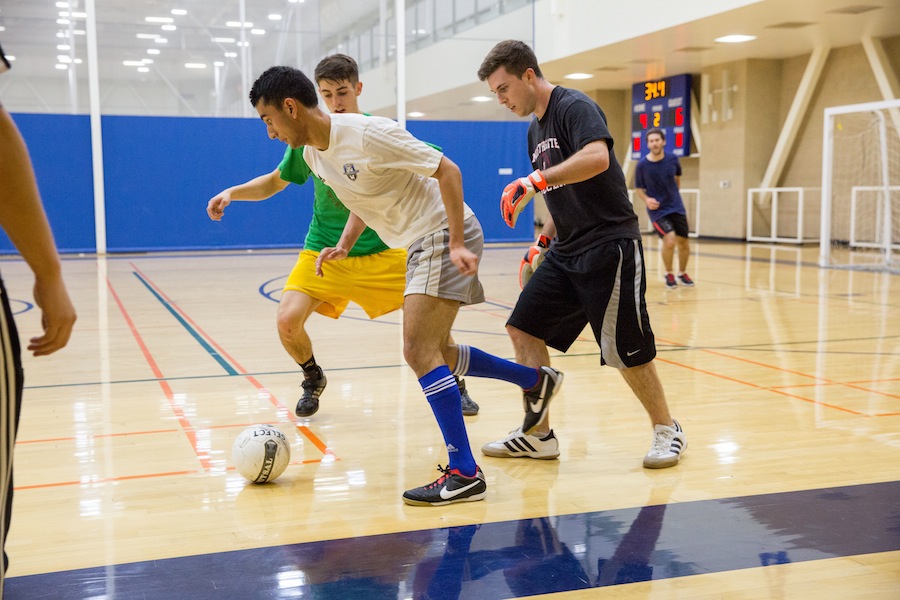 UC Davis intramural program provides students a fun, casual way to participate in sports
Among the many extracurricular opportunities that UC Davis offers is the year-round Campus Recreation and Unions' (CRU) intramural sports (IM) program. The program is open to all students, both undergraduate and graduate, as well as staff members.
"In general, every quarter there [are] new sports," said Jessica Ross, fifth-year psychology and statistics double major and student manager of Competitive Sports. "There's Quidditch, inner tube water polo, soccer — it's basically just a whole quarter of fun where any student could sign up, join a team [and] play."
According to students, IM sports are not only a great way to get exercise, but also make friends.
"Last quarter, I played [IM] soccer with the people on my floor," said first-year civil engineering major Heriberto Melgoza. "It was a great bonding experience and a great way to start my UC Davis career."
IM's offer a cheaper alternative to clubs sports, ranging from $10 per individual to $50 for a team. For freshmen in particular, IM's are especially convenient — and free.
"[IM's] are definitely a great way to make friends, especially [during] freshman year," Ross said. "There's a bunch of [resident advisors] that create teams for their dorms. Afterwards, [the students are] all […] in the same spot so they go to the [dining commons] together. Also [it's] just great exercise."
Most intramural games are 30 to 40 minutes long and can easily fit into a student's schedule.
"It's one of the best ways, in my opinion, to destress on campus," said Competitive Sports Supervisor and fourth-year communication major Daniel Gonzalez. "It has its competitive side, but also has its recreational side where it's just for fun. There's a range for pretty much anyone — people who have played [and] people who haven't played before."
To register for a team, students need to ensure that their quarterly student fees are paid. Students can then sign up and create or join a team on the UC Davis CRU website.
The IM program is student-run, with the exception of a few full-time faculty members, and therefore caters well to its student participants.
"The managers are students, the referees are students and then you have the students playing," Gonzalez said. "It's just a completely different environment than playing in a city league. It's a lot more of a relaxed feel, and everyone's just having fun."
This social vibe is what seems to draw in many students who participate in IM's.
"I decided to join IM's because I wanted to interact and socialize with the people on my floor," Melgoza said. "We just started having fun together, and after […] games, […] we'd walk to downtown, we'd hang out more and go out together."
The convenience of IM's is another perk for students who do not have the time to commute to far-away practices and games.
"[The program] is really flexible, that's the main thing," Ross said. "You don't have to drive to Sacramento, you can just come to the [Activities and Recreation Center] for […] one hour a week and play your game."
Although the IM scene is considered casual, many students take the competition very seriously.
"Some teams […] practice on their own," Ross said. "They […] get together afterwards and beforehand, so it's really what you make of it."
Though not all teams practice outside of the program, intramurals still inspire players to embrace the team aspect.
"[For soccer, our] pre-game ritual would be [to] show up as a group," Melgoza said. "We'd start warming up together. Game time starts and we're all just in it to have fun and just enjoy the time."
As a Competitive Sports supervisor, Gonzalez does his best to stay fully active in IM's by participating in the program.
"I'm like Mr. IM's," Gonzalez said. "I play every IM every quarter […] as much as I can."
The program offers standard sports such as soccer, basketball and football, but it also has less common sports including dodgeball, Quidditch and even inner tube water polo. Inner tube water polo is a popular spring quarter IM among experienced and inexperienced students.
"You can flip each other […] in a safe environment," Ross said. "Even after the game, no matter what the score [is], people are still like, 'Oh wow, that was a really weird experience that we all did.' They all hang out in the jacuzzi afterwards. It's just a nice […] friendly competition."
The IM program at UC Davis also hosts events such as Poker Palooza and tournaments over the weekends for sports like cornhole, badminton and pickleball.
"The winner goes on the wall [in the ARC], which is a big deal," Ross said. "It's a competition. People email us like two days after [their win asking], 'When is my picture going up?' all the time."
All is fair in fun and sports, but that does not deter IM champions from basking in the glory of their victories.
"I've been on the wall like five or six times," Gonzalez said.
Written by: Allyson Tsuji – features@theaggie.org