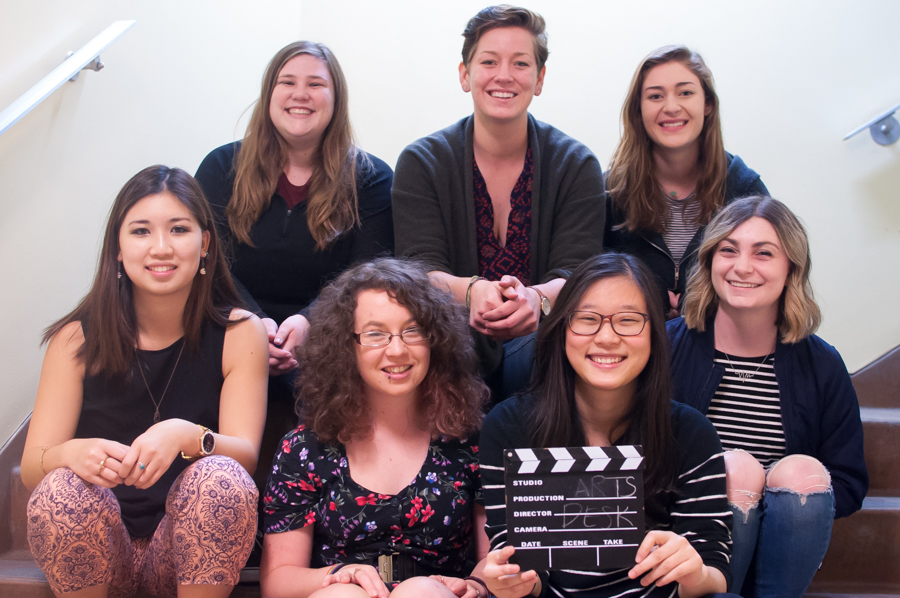 The arts desk picks the good, the bad and just plain bizarre of 2015
For the second year in a row, Oscar nominations have been overwhelmingly white and sorely lacking diversity. In lieu of our traditional Oscars predictions articles, The California Aggie Arts Desk has decided to compile a list of our favorite movies of 2015 — as well as our least favorite (spoiler: a lot of arts writers did not enjoy Fifty Shades of Grey). So this Feb. 28, instead of watching the Oscars, consider watching some of the following flicks.
KATE SNOWDON
Best Movie: Dope
Dope was one of the most fun films I've seen this year. It tells the story of three self-confessed academic and hip-hop geeks who accidentally get caught up in some severe drug deals, in an attempt to impress girls. Sounds stupid? Right. But the whole movie is actually a fast-paced, brilliantly soundtracked exploration of what it's like to be a black teenager, living in a terrible place, with aspirations deemed "above your station" and what you can do to fight your assigned destiny. Malcolm (Shameik Moore), carries the film above and beyond my description, leading his band of misfits through their struggles, and examining youth and all that entails, as well as the intertwined racial narrative. Whilst fun, and often hilarious, Dope provokes serious thought on privilege and access to education.
Most Overrated: Fifty Shades of Grey
Where do I even start with this? On the official Oscars nomination list, it is nominated for Best Original Song, which is a piece of nonsense, being as it is, thoroughly mediocre, and the lyrics repetitive and incredibly unoriginal. The content of the film is hilarious at best, and disturbing at worst. I experienced both of these emotions actually, during my one and only viewing. My friends thought it would be hilarious to check it out as a mate date, and how wrong we were. While I laughed for the first half hour at the shockingly poor exposition, abominable acting and faux arousal, my mood got considerably darker as the movie progressed. The implication that all BDSM participants were severely mentally ill or traumatized in some way, did not sit well with me. Nor did the scenes of coercion, stalking, emotional manipulation, shitty dialogue or the one poorly filmed sex scene. 1/10 for that first half hour of giggles, but it lost the other nine points for the other 90 minutes that I'll never get back.
SARA WILLIAMS
Best Movie: Straight Outta Compton
Straight Outta Compton is one of the most entertaining movies of 2015, providing moments of deep emotion and opportunities for quick laughs. It is one of the best-acted movies of 2015, with a stellar and spot-on performance by Jason Mitchell as Eric "Eazy-E" Wright, as well as a brilliant portrayal of Ice Cube by O'Shea Jackson — who also happens to be Ice Cube's son. It is also one of the most relevant movies of 2015, touching on police brutality and racial profiling in African American communities. So, why didn't this film snag a Best Picture nomination? It seems that the Academy is only willing to acknowledge Black actors when they play butlers or slaves — not racially-profiled hip hop masterminds. Surprise.
Most Overrated: Fifty Shades of Grey
I will admit that I have never read the book, and I will further admit that I never plan to — especially after seeing this shamelessly unpleasant movie. I am as down for a cheesy romance movie as the next person, but the film's uncomfortable, breathy dialogue and zoom-in sequences actually made me laugh out loud. I will admit, however, that the helicopter scene was pretty cool, and the soundtrack was likeable. The movie, however, was not. Don't see it.
SOFIE BATES
Best Movie: Sisters
I'm a firm believer that everything Amy Poehler does is hilarious, and this movie is a perfect example of that. Sisters is a ridiculous yet relatable chick flick about, you guessed it, sisters. Maura (Amy Poehler) is the socially awkward and sensible younger sister who feels responsible for the trainwreck that is her older sister, Kate (Tina Fey). The two are hysterical together, and anyone who has seen Poehler and Fey on "Saturday Night Live" can attest that the two have hilarious chemistry on screen, which makes up for the cliché chick flick plot.
Most overrated: Fifty Shades of Grey
If it was intended to be a (mildly) socially-acceptable porno, then Fifty Shades of Grey was utterly fantastic. If it was intended to be anything else…well. The only thing this movie had going for it was that Jamie Dornan, the actor that plays Christian Grey, is attractive and has a nice accent. Apparently that's enough for most, but it wasn't enough for me.
CARAJOY KLEINROCK
Best Movie: Woman in Gold
Walking into this movie all I knew was that Woman in Gold took place in Vienna and had to do with World War II. Within the first few minutes I fell madly in love with the story and all the characters. The transitions from World War II era Vienna to modern day Vienna were flawless. I was captivated by everything happening and the fact that this was a true story made it even more impactful. Helen Mirren and Ryan Reynolds portrayed their characters with such grace and precision that I easily empathized with their characters. By the end of the movie, I felt as though I was part of this story.
Most overrated: Sisters
Any movie with Tina Fey and Amy Poehler has the ability to be fantastic. Sadly, Sisters fell short of any greatness. From the opening scenes, I could already feel that this film would let me down. The jokes were just too stupid for me to even laugh at. The two actors that I thought made the movie a little better was Maya Rudolph and Ike Barinholtz. Their comedic roles felt much more natural; Fey and Poehler were trying too hard.
AMANDA ONG
Best Movie: The Diary of a Teenage Girl
I saw this movie over the summer, not expecting much, and left the theater feeling blown away. This coming-of-age film features a terrific Bel Powley as Minnie, a 15 year-old aspiring cartoonist living in 1970s San Francisco. Over the course of the movie, Minnie has an affair with her mother's (played by Kristen Wiig) much older boyfriend, goes on an acid trip, has a threesome with her best friend and her mother's boyfriend and poses as a prostitute at a San Francisco bar. But perhaps the most radical, absurd thing Minnie does in this film? She learns to love herself. She learns to embrace her sexuality, to love her flaws as much as her strengths and to realize that she doesn't need a man's love to feel complete and whole. If you enjoy witty, charming and heartfelt movies about the trials and tribulations about growing up, this one is a surefire win.
Most overrated: Sisters
I'm going to have to put my vote in for Sisters as well. While I found the movie amusing enough, I thought it had the potential to be far funnier and way less predictable. Some of the jokes felt too forced and Tina Fey simply didn't seem believable as the wild, hard-partying sister. As my cousin put it, we should have just seen Star Wars again instead of shelling out money for Sisters.
ALLY OVERBAY
Best movie: Ex Machina
Oscar Isaac — outside of his role as a shaggy-bearded folk singer from Inside Llewyn Davis — and Domnhnall Gleeson — stepping away from his role as dorky husband to Rachel McAdams in About Time — make an interesting duo, to say the least. In a battle of humans versus robots, this thriller shares themes with highly acclaimed film, Her, and has us questioning our prospective interactions with artificial intelligence. Or rather, their interaction with us.
Most overrated: Jurassic World
Everyone loves a good throwback, some flesh eating dinosaurs and children dumb enough to instigate angry dinosaurs, only to later transform into ingenious problem solvers. But even then, how many combinations of dinosaur-chases-children can actually exist? Besides, everything 90s is better.
KRISHAN MITHAL
Best movie: Beasts of No Nation
One of the best films I saw this year was the Netflix original movie Beasts of No Nation. It was highly praised by critics for its brutal realism and impeccable directing, and was thought to be a likely candidate for a few Oscar nominations. However, Beasts of No Nation received no nominations, showing that the Oscars not only lack in diversity, but also in modernity. The Academy needs to move with the times and acknowledge great movies (like Beasts of No Nation) that are released through providers like Netflix and Amazon.
Most overrated: Carol
The most overrated movie I saw was Carol. Ever since Girl with the Dragon Tattoo, I have been a big Rooney Mara fan. However, I can't say the same about Cate Blanchett. Her posh and uppity demeanor plagues almost every movie she's in, and Carol is not an exception. The fact that she is nominated for Best Actress is irritating to say the least.
RASHAD HURST
Best movie: Dope
Rick Famuyiwa's Dope was one of the most unique and overlooked movies of last year. Ostensibly about high school seniors who get into trouble with a local drug dealer (portrayed by rapper and co-director of last year's most creative music video, ASAP Rocky), Dope is the most nuanced — and possibly only — black coming of age film since ATL. Its nuances are apparent in its main characters. The protagonist of Dope, Malcolm, joins ATL's Esquire as one of the few onscreen portrayals of black nerds in a coming-of-age film and the way he navigates through the plot and subplots using both his book and street savvy resonated with me; I predict it will resonate with others as well as the film ages. Plus, it's got great music. And Zoe Kravitz.
Most overrated: None
I actually liked all the movies I saw last year so it depends on who wins an Oscar. If Michael Fassbender wins an Oscar for Steve Jobs, then it's Steve Jobs. If Leonardo Dicaprio wins an Oscar for The Revenant, then it's The Revenant.
WRITTEN BY: The California Aggie Arts Desk – arts@theaggie.org