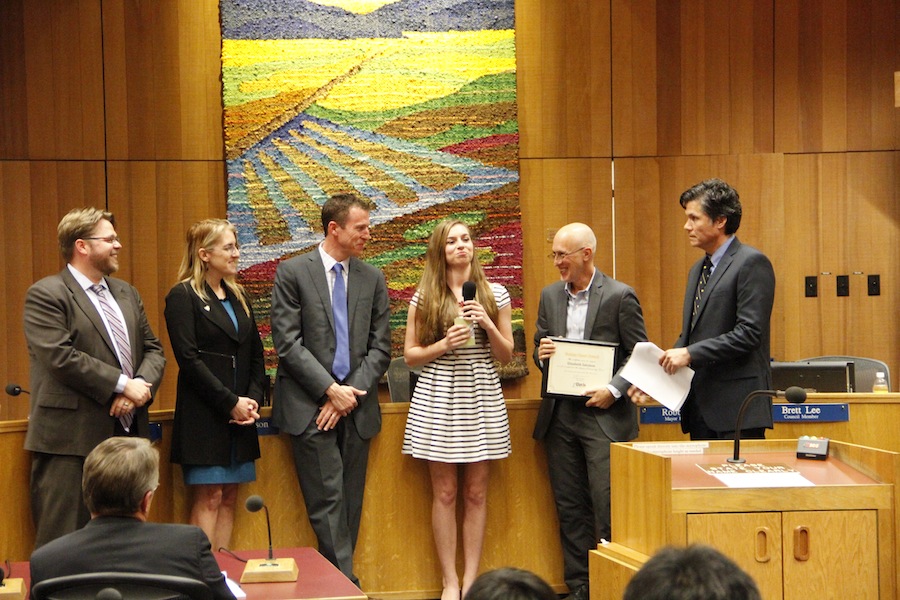 Annual Davis Golden Heart Award given out this February
This month, the Davis Golden Heart Awards (DGHA) were given out to exceptional teenagers in the Davis community for their community service efforts and for overcoming personal challenges. Genevieve Rose Kirsch received the service award and Ethan Patterson
received the public challenge award at the public ceremony on Feb. 16 at the City Hall Community Chambers.
"The DGHA was set up in memory of a teenager, Andrew Mockus, who was killed by his peers in 1992. At that point, there were a bunch of public forums to discuss the issues that were going on with the youth in our community at that times. The Recreation and Park Commission came up with the Golden Heart Awards as one way to recognize youth in our community for all the great community service work that they do and for those who have overcome personal challenges," said Carrie Dyer at the Community Engagement and Cultural Services Department of the City Manager's Office.
The DGHA takes place annually and has been going on for more than 20 years to celebrate the achievements of Davis youth. Nominations for outstanding teens were accepted until Jan. 19. For Davis Mayor Dan Wolk, the awards are quite personal because he and Mockus were in the same grade and his death greatly impacted the community.
"These awards were created [to] honor local teens for the good work that they do. These awards are great and are particularly meaningful to me because of [their] background, [Mockus] being my age at the time and it being such a traumatic event for our community, I have vivid memories of it," Wolk said.
Dyer explains that among the recipients in the Community Services category last year was a teenager who went above and beyond by volunteering for the Society for the Protection of Cruelty to Animals. She took on the job of staffing their offices for three days when her co-workers were sick; she also helped run the lost and found and animal rescue centers. The recipients for the other category were equally deserving.
"For the Personal Challenges category last year, we did have two students, brother and sister, who lost their father to suicide," Dyer said. "They were nominated because of the way that they have shared their grief and lessons with their community. They speak publicly about the loss of their father and have reached out to other students, to support them or to educate them. One of the siblings did a project called Perceptions of Prejudice, the project provided an opportunity for her peers to understand the impact, first-hand, of people who struggle with depression."
For former mayor Joe Krovoza, the most important aspect of the DGHA is that they can encourage people to reflect on what they can do to help out their community and how they can become more involved in community service efforts.
"Part of what builds a great community is recognizing people who have made contributions. The more people who see that the City of Davis values the contributions of the citizens that help others, that inspires more people […] to do more for the community. The DGHA's are important, in part because […] we want to recognize the importance of a community culture in which each generation does good things for those who will come after," Krovoza said. "We want to create as many chain reactions in as many areas of the community as possible for doing good."
Written By: JUNO BHARDWAJ-SHAH – city@theaggie.org