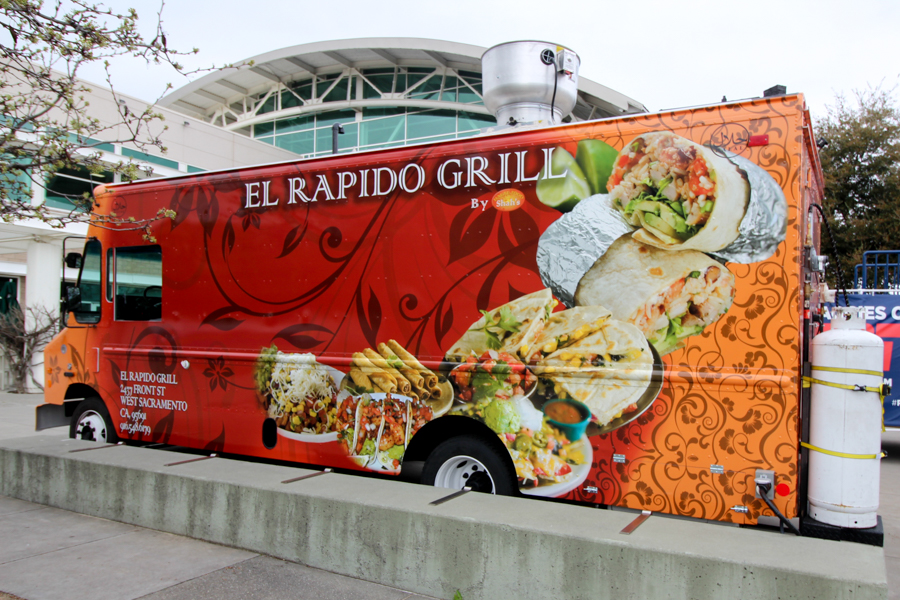 New UC Davis food truck El Rapido Grill in front of the ARC
On Feb. 8, a new food truck, El Rapido Grill, opened up in front of the Activities and Recreation Center (ARC). El Rapido Grill is the first Mexican, Chipotle-style food truck to arrive on campus.
The owners of El Rapido Grill also run the university's other on-campus food trucks, including Shah's Halal, Shah's Indian and Fusion Fresh Cafe.
"Everything is freshly made," said Radai Mashriqi, co-owner of El Rapido Grill and the other on-campus food trucks.
According to Mashriqi, none of the food is frozen and fresh produce is delivered every two days. The exception is the pre-purchasing of pre-made tortillas, which are made fresh every Tuesday and Thursday from an outside vendor. Included on the menu are highly customizable burritos, burrito bowls, quesadillas and tacos with various proteins like shredded beef, chicken and shrimp.
Mashriqi explains that his food trucks are distinguishable from other food trucks because all the food served by his trucks is halal, meaning that the meat is slaughtered in a specific manner and can be consumed by Muslims.
Mashriqi began his food truck business with one goal in mind.
"It was to cater to the Muslim community," Mashriqi said.
Mashriqi said he was approached with the food truck idea by a UC Davis friend back in early 2009. His friend was part of the UC Davis Muslim Student Association (MSA) and was bothered by the fact that there were no halal food options available on campus. Therefore, Mashriqi presented MSA with the food truck concept.
El Rapido Grill was invited to the UC Davis campus because of the future addition of Truck Row in the next year, an off-the-grid style arrangement of food trucks in front of Gunrock Pub inside the Silo plaza.
"The main reason they are bringing us on campus is because they have plans by the Silo to have a location called Truck Row, where they are going to have four food trucks out there: Shah's Halal Food, Shah's Indian, El Rapido Grill and Star Ginger," Mashriqi said.
Nancy Gomez, a first-year undeclared major, has been a returning customer at El Rapido Grill in the short time the truck has opened.
"Since I grew up eating this kind of food, like burritos, fries, beans and all that stuff, I feel like it's really good," Gomez said. "Personally, I've tried all the other food trucks as well and they didn't really interest me to go again, but this one I've been coming back again and again."
For other students, the location is El Rapido Grill's selling point.
"This is the best location for me because I have class at the ARC. I heard they were going to move to Shields [Library] and if they move, I'm never going," said Eunique Tucker, a first-year biochemistry and molecular biology major.
El Rapido Grill is open from 10 a.m. to 5 p.m. in front of the ARC.
Written by: Yvonne Leong – campus@theaggie.org