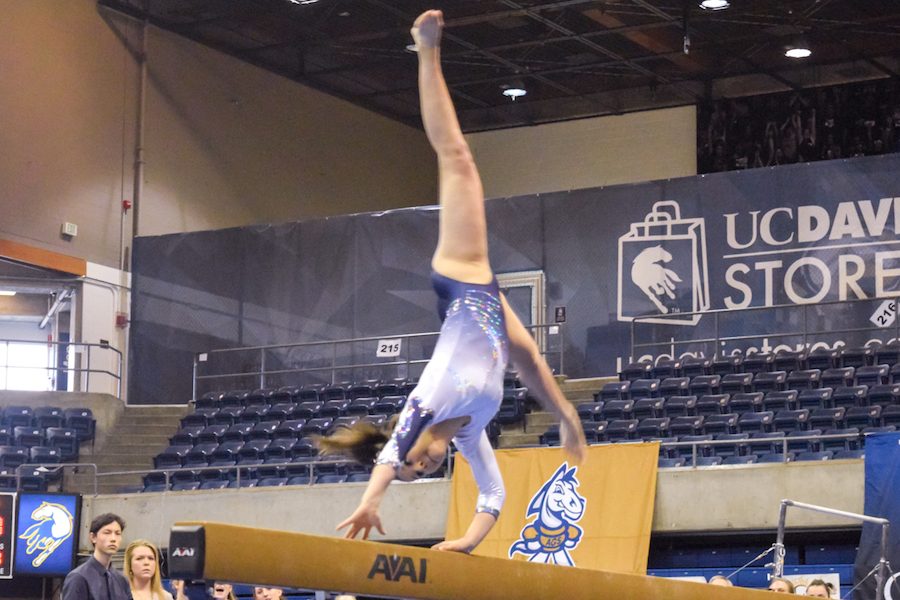 UC Davis gymnastics have season-high scores in second-to-last home meet.
On Saturday afternoon, the Aggies reached a season high team score of 195.225 in a dual against University of Alaska Anchorage. Just three weeks away from the Mountain Pacific Sports Federation championships, the Aggies came together to showcase their maximum potential. UC Davis honored the alumnus present at the game as well as the the two NCAA qualifying gymnastics teams from 1998 and 2014.
UC Davis started off the meet on vault. As the event progressed, each competitor's score gradually increased and junior Katy Nogaki closed with a score of 9.875, which earned her first place. Freshman Yasmine Yektaparast performed a personal best of 9.700. With a score of 9.750, sophomore Alexis Brown split a three-way tie for second place with fellow Aggie freshman Kara Jones and Marie-Sophie Boggasch from Alaska. The overall score for vault was 48.775.
On the uneven parallel bars, three out of six UC Davis competitors scored their personal best. Sophomore Miranda Holder, one of the three, and senior Dani Judal both received a score of 9.800, earning a spot in first place. Sophomore Jordan Helgesen received a personal best with a 9.725 and freshman Aya Suzuki also got a personal best with her score of 9.325. The Aggies received a total of 48.400 points for bars.
Overall, UC Davis performed well on the balance beam. Freshman Kara Jones sustained a minor injury during her performance, but climbed back on the beam and finished the routine. However, the injury put Jones out of the competition for floor routine.
Brown once again received a spot on the podium for the beam, earning a 9.875 and tieing for first place with senior Stephanie Stamates. Both
matched the team's season high beam score. Nogaki took third place with 9.800.
Ending the meet with a bang, the Aggies excelled in the floor exercise event, despite Jones's injury. Junior Taylor Baron was chosen as the substitute and nailed her routine, earning a 9.725.
"I was so excited for Taylor to show off everything she's been working for and it just worked out that way that she could step in and have so much confidence," Brown said.
Baron's teammates followed her performance with equal success, with Yektaparast scoring a personal best of 9.900 and winning first place in the event. She became the second freshman in UC Davis history to reach a 9.900 or above score. UC Davis swept the floor event, with Stamates taking second place with 9.875, and Holder and sophomore Amanda Presswood placing third with 9.800. The total for floor was 49.100, and it secured the Aggies a win against the Seawolves.
This was a turning point in the season for the Aggies.
"We got to see what UC Davis gymnastics can do," said head coach John Lavallee. "This is the kind of performance we've been waiting for for a
couple of weeks."
This meet is a good sign for the coming weeks leading up to the championship, though the Aggies are more excited about the competition than nervous.
"We get really excited and try not to put too much pressure on ourselves because every day it's the same job and we just try to do our best and have as much fun as we can," Brown said.
The Aggies' next competition will be at San Jose State University on March 6.
"Hopefully we're going to get the groove on here and continue from where we're at," Lavallee said.
Written by Julia Wu – sports@theaggie.org