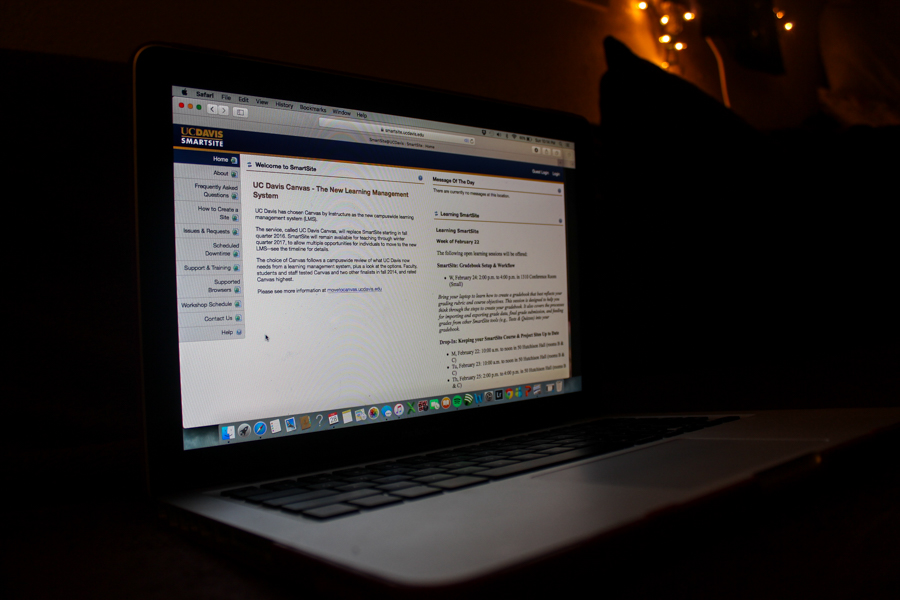 Hide yo kids hide yo Smartsite
It's all over the news and your Facebook timeline. Some guy you went to high school with shared it and added a very long paragraph with several emojis that you deemed TL;DR. For those of you reading this and asking yourselves, "What the heck is this woman talking about?" here's the short and sweet: The FBI has asked Apple to build a backdoor that would have the potential to unlock any iPhone in someone's physical possession. Apple is refusing, and the FBI is giving up. They're moving on to bigger and better technological platforms — Smartsite.
You know it well, the familiar blue and gold webpage that allows professors, teacher assistants and students to interact with one another. What if I told you that your class chatrooms and syllabi were under attack by the FBI?
That's right. In a string of private emails I have gained access to (don't ask), the FBI is begging UC Davis' administration for a backdoor to "unlock" Smartsite. How hard can it be to hack Stupidsite, right? It always crashes right before you submit an assignment, and sometimes it does that weird glitch where it looks like there's a Smartsite within a Smartsite.
Little known fact: Smartsite is the most protected website on the planet. Back when it was built in 2004, a bunch of really incredibly intelligent men and women created a firewall so hot that Nelly was inspired to release Hot in Herre (OK, it was actually released in 2002, but that's not as funny).
Those brilliant men and woman were trying to protect your privacy (wooo! crazy idea alert!). Twitter and Instagram hadn't been created yet, and Facebook would be founded later that year. So privacy was still a thing. But Smartsite's now middle-aged creators are probably rolling in their wheelchairs at the amount of private information that's made public daily. Today, everything can be made public, from nude photos to private emails (oops) — everything, except for Smartsite.  
Okay, Alex, thanks for the social media history lesson, but why the hell does the FBI want it? They want access to your class chatrooms. The place where group projects are haggled about and desperate cries of, "Can someone make a study guide? Plz?!?" are heard.
It seems random, but what better place to observe young people communicating? Basically, FBI agents are really bad at "catfishing" young suspects. It's hard to get someone to confess they pirated Kanye's newest album to you when you think LOL means "Lots of Love." Tumblr was way too confusing, but chatrooms are easy. Apparently they haven't heard of Urban Dictionary, but maybe it's better that way. They probably don't need to know what 'on fleek' means.
UC Davis' administration has declined to answer my emails, despite my very catchy subject line: "DON'T GIVE THE FBI OUR MEMES!!!"
ALEX GUZMÁN is a subpar whistler and an orange juice connoisseur. You can reach her at almguzman@ucdavis.edu or on Twitter @cactasss.