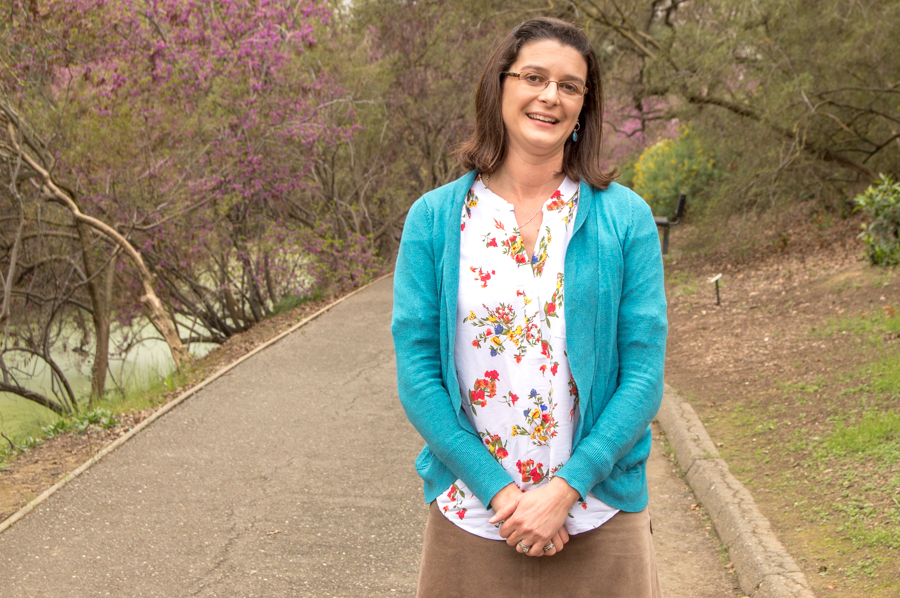 Professor Tessa Hill honored for her work in the Department of Earth and Planetary Sciences, along with 14 other University of California researchers
On Feb. 18, President Barack Obama named 14 University of California (UC) researchers as recipients of the Presidential Early Career Awards for Scientists and Engineers. Among the recipients was Tessa Hill, an associate professor in the Department of Earth and Planetary Sciences and at the Bodega Marine Laboratory at UC Davis.
The award is the highest honor granted by the U.S. government to scientific professionals in the initial phase of their careers.
Upon discovering that she received the award, Hill quickly contacted her friends and family to share the news.
"I emailed my parents, sister and husband with this rather unbelievable news," Hill said. "I felt and still feel shocked and very honored. In the days after getting the award, I heard via email and phone from many of my colleagues and mentors, which has been the best part so far."
Every year, government agencies and departments select recipients based on the innovative nature of their research and their commitment to public service. This year, 105 scientists and engineers earned awards, and researchers from seven different UC campuses were represented, including Berkeley, Davis, Irvine, Los Angeles, San Francisco, Santa Barbara and Santa Cruz.
Three UC-affiliated laboratories, Lawrence Berkeley National Laboratory, Lawrence Livermore National Laboratory and Los Alamos National Laboratory, were also honored.
Hill is the associate director of the UC Davis Coastal and Marine Sciences Institute.
As a member of the Bodega Ocean Acidification Research Group, she studies the response of marine species to environmental disturbances, including the impact of ocean acidification on oysters.
"I study how marine animals respond to climate change and other human impacts on the ocean," Hill said. "The ocean is an essential part of our everyday lives. It influences our weather, the food we eat and how we connect with the natural world. The only way we can make wise decisions about how to manage and interact with the ocean environment is to learn more about it."
Hill is also one of the leaders of the National Science Foundation, a U.S. government-supported program where she helps future elementary and high school science teachers learn how to incorporate climate change science in their classrooms.
Earlier this year, Hill was named a Public Engagement Fellow by the Leshner Leadership Institute, an initiative of the American Association for the Advancement of Science Center for Public Engagement with Science and Technology, due to her high involvement with and contribution to the science communications field.
Colleagues believe that Hill is very deserving of this presidential award due to her outstanding work and dedication to the field as well as her ability to communicate with others about her research.
"Professor Hill was nominated for the award because she is an outstanding scientist," said Dawn Sumner, chair of the Department of Earth and Planetary Sciences and geology professor. "Her research pushes the boundaries of what we know about how life interacts with the oceans, particularly for shell-forming organisms. In addition to her outstanding research, Professor Hill is an outstanding teacher and communicator. She takes great care to clearly explain her research to community members and students who can benefit from her research insights."
Anna Hart, a third-year geology major, is grateful to study in a field where UC Davis has one of the best researchers.
"It's amazing [that] one of our professors is honored by the president," Hart said. "[It] just shows how prestigious UC Davis is and how dedicated the researchers are on learning and providing valuable information for our society."
Hill plans to continue working on understanding the depths of climate change, both natural and human-caused, as well as its influences on ocean environments. She hopes to encourage students to investigate the ocean and to understand how it works.
Written by: DEMI CACERES – campus@theaggie.org