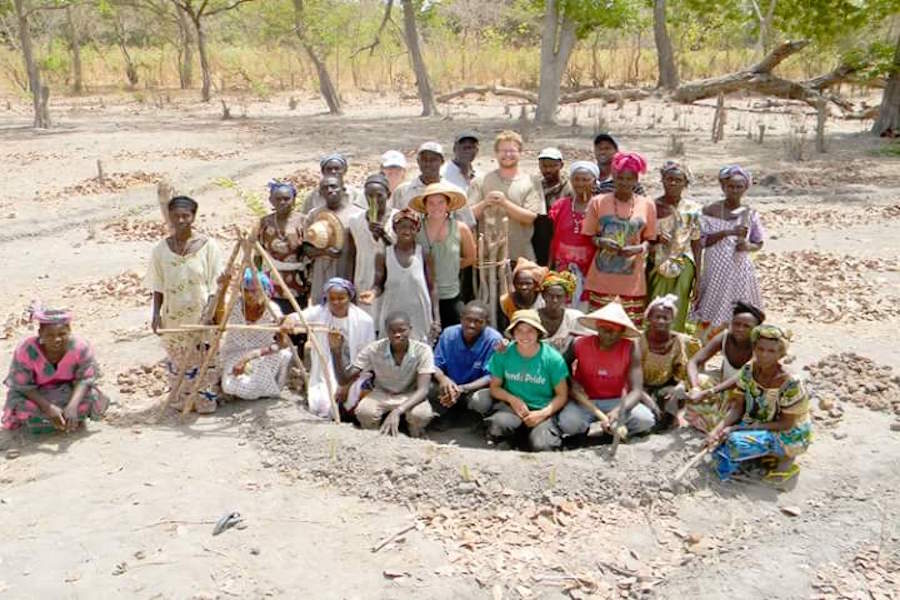 Peace Corps' humanitarian efforts shine at UC Davis
A student's life during college is met with many opportunities for growth — clubs, greek life, research teams — all serving as ways to further student-grown ambitions. One opportunity that stands out to many dwells on the second floor of South Hall, where the Peace Corps at UC Davis office resides. Students come with the hope of spreading humanitarianism and sustainable change to the rest of the world.
This February, UC Davis was recognized by the Peace Corps for its efforts, and has been ranked no. 14 on the organization's 2016 Top Volunteer-Producing Colleges and Universities List. UC Davis has held the no. 14 position for two years — this is also the 15th year in a row that UC Davis ranks among the top 25 schools.
"It's extremely exciting," said Austin Alcorn Petersen, a Peace Corps recruiter at UC Davis. "There's a huge service mentality in this part of the world; a lot of people here want to get into the world and do some good."
As volunteers for the Peace Corps, students travel overseas to combat issues facing the rest of the world. Services last for 27 months, and traveling options include Asia, Central America, Africa and Europe. Volunteers work together with various departments to improve the standard of living for the country's citizens. These departments include sanitation, health, agriculture, education and technology.
"It is an exceptional opportunity," Petersen said. "It gives you the kind of time to establish those relationships [with the community]. It helps that it is a paid program […] so it makes it accessible for just about anybody who wants to do it. I didn't have any family backing [or] any savings when I decided to do it and I ended up staying for five years — so it's possible."
With such a variety of fields to assist in, there are opportunities for everyone to thrive. Students look to the Peace Corps with strong social consciousness and hope for greater things not only beyond their own lives, but also for the rest of the world.
"The peace corp provides students with an excellent opportunity to experience something they may never have thought possible," said Karishma Sethi, a third-year global disease biology major. "It is an excellent way to expose students to different cultures, foods, health systems and societies after being at university for so long."
Fifth-year international relations major Choua Vue was accepted to the program for Sierra Leone, West Africa, which departs in August.
"I decided to join the Peace Corps because I wanted to experience and see the world outside of my community," Vue said. "I believe that the unique experience Peace Corps offers is what drives other students to apply for Peace Corps."
Alumni are not excluded from this recognition either. Since its genesis in 1961 under President Kennedy, 1,467 Aggies have served in the Peace Corps. In addition, students that have already graduated and are interested in graduate school have the option of joining the Peace Corps Master's International Program, five of which are in UC Davis.
With the Master's International Program, students can integrate their time at the Peace Corps with academic work toward their master's degree. Students go through training and their services with the host country, and then they spend the following two years working on academic projects and finishing up their schoolwork when they return home from their service.
"With the Master's International Program, you are actually capable of shortening that process down to three or four years," Petersen said.
Amidst the titles and rankings, the Peace Corps has already seen a highly-competitive time for applications as students are eager to give their time and knowledge towards the rest of the global community. The program received 23,000 applications in the 2015 fiscal year alone, and has seen a 32 percent increase compared to 2014. This followed a reform in the application process that allowed volunteers to choose their country of interest and the specific field that they want to help in. According to Peterson, the length of the application has also been reduced, now taking about an hour to fill out.
"It definitely feels like the word is out right now; people are talking about it and it's exciting," Petersen said. "It is a highly-competitive program and applications have skyrocketed. We need the most capable, most competent people working in the field. That level of competition in the end benefits those communities on the ground and around the world."
Written by: Alan Castillo — features@theaggie.org