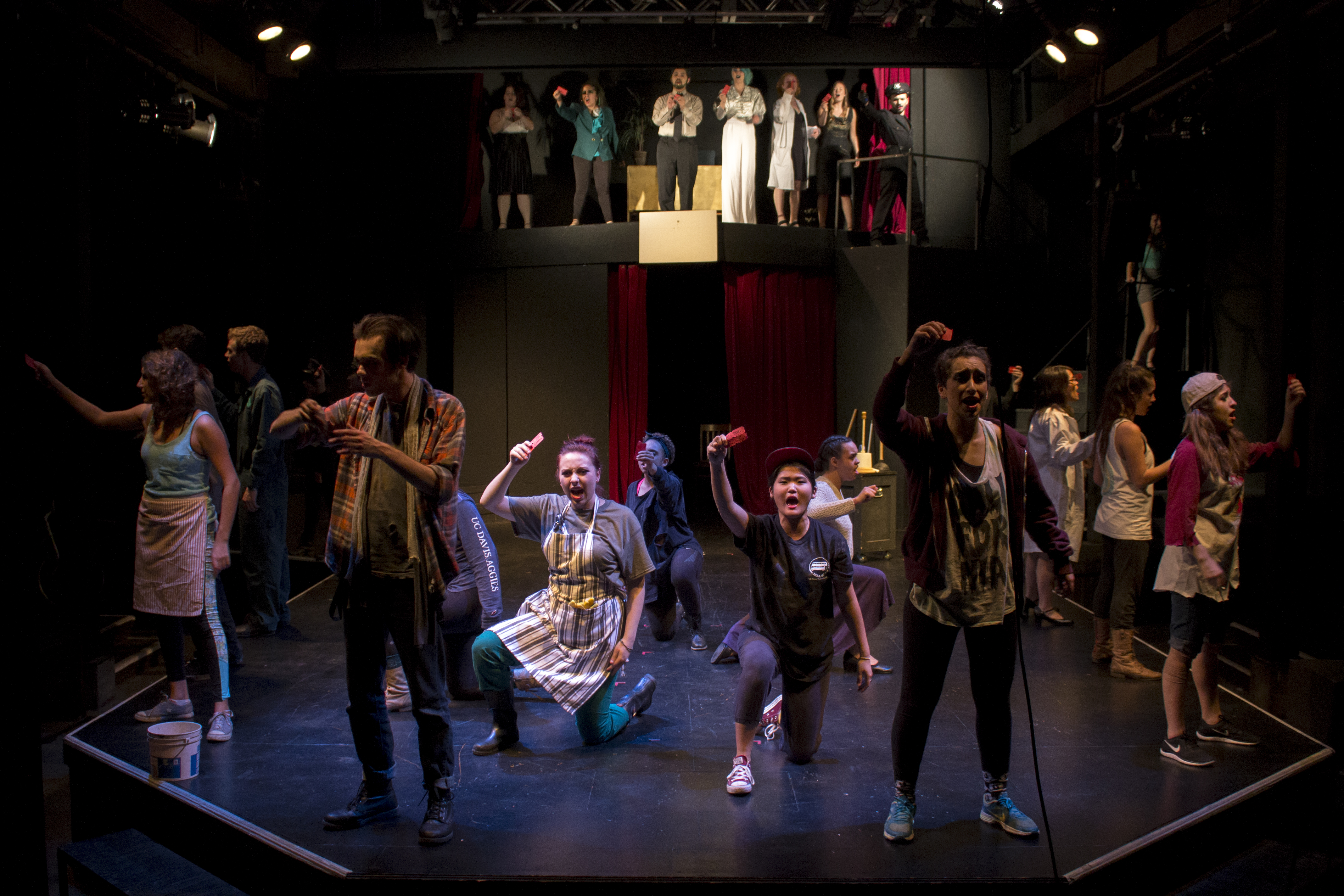 Studio 301 presents Urinetown The Musical
Do you like musical theater? Then urine good company! From March 10 to 13, Studio 301 at UC Davis is presenting "Urinetown The Musical" at the Wyatt Theater. The musical is about a dystopian society where there is a severe drought that requires people to pay to use the toilets. When asked how they would describe the play, cast members said that it was "complicated, hilarious, satirical and messy — in a good way."
Rachel Wurr, a third-year animal science major who plays Penny Pennywise, the loud and annoying girl who's in charge of the toilet, expressed a sentiment the entire cast seemed to agree with — Urinetown is a very difficult musical to describe.
"You can't describe [Urinetown] in a few words, even with a whole sentence. You just have to see it," Wurr said. "Everyone says to me, 'Why are you doing a show about pee?' But it's so much more than a show about pee!"
Jason Moscato, a fourth-year dramatic arts and linguistics double major and director of Studio 301's production of Urinetown, said that he has wanted to direct Urinetown since he first saw it, and is especially excited to be doing it at a time when the musical is so politically relevant.
"It's a little unsettling how similar [Urinetown] is to real life events that are happening right now, especially with the upcoming election and in light of the drought that we're in," Moscato said. "It's very topical and a little eerie."
Matthew Benitez, a third-year computer science major, plays Senator Fipp, a nervous trainwreck of a horribly selfish and cowardly person who is supposed to represent corrupt government. Benitez hopes Urinetown will challenge the audience's beliefs and make them think critically.
"It makes you think about systems of power and inequality, who has authority and how people abuse their power," Benitez said. "A lot of the time you'll find your perspective and your opinions changing throughout the show, and that's my favorite part about it."
Though Urinetown is a challenging play that deals with complex issues, it's also hilarious and action-packed, full of stunts and lifts and fake blood.
Karl Uriza, a fifth-year dramatic arts major, plays Caldwell Cladwell, the devious and rich owner of Urine Good Company who takes advantage of the drought. Uriza believes Urinetown is definitely worth watching, even right before finals week.
"It's a good break before finals," Uriza said. "It has good humor — toilet humor, pun intended — and I think students on campus will love this show."
The show runs this Friday and Saturday at 8 p.m. and this Sunday at 2 p.m. Tickets are $8 for students and $10 for the general public. The final dress rehearsal is on March 10 at 8 p.m. and tickets for that are $4 for students and $5 for the general public, with half-price admission for those who bring a canned good or dry food item. Check out the event on Facebook and make sure to like the Studio 301 Facebook page.
WRITTEN BY: Sofie Bates — arts@theaggie.org