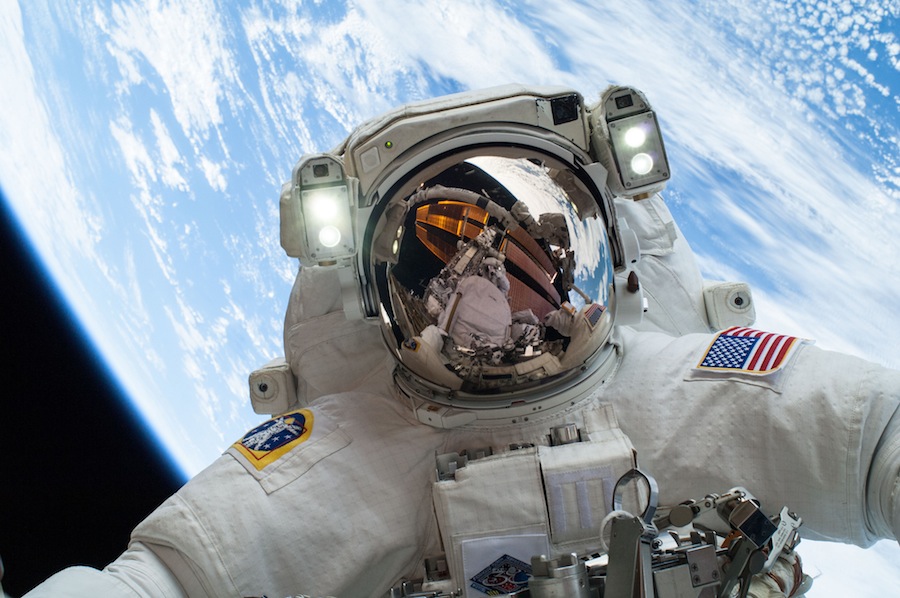 Reaching the stars is an admirable dream and easily achievable, assuming one has $250,000 to spare for a private trip past the stratosphere through Virgin Galactic. But for those of us (myself included) without the cash to burn, working as a publically-employed astronaut ranks quite highly on the "implausibility scale" of potential jobs. And this is not for lack of desire: the intense combination of required educational training, particular career history and the intellectual (not to mention physical) rigor required to even qualify for the gig makes it seem all but impossible for many would-be spacewalkers. But that doesn't necessarily mean it isn't achievable.
Despite the odds, astronaut Col. Chris Hadfield managed to surmount (and float) past every hurdle needed to become a full-fledged member of the space community. While I admittedly  enjoy offhandedly describing him as "the contemporary Neil Armstrong, if he were Canadian," it is far more accurate to classify him as a superstar: he's an engineer, accomplished fighter pilot, musician, photographer, frequent public speaker on all things space, the very first Canadian to "walk" in space and author of the sensational book, An Astronaut's Guide to Life on Earth.
His book is an autobiography as well as a lesson to the reader on what he's learned throughout his life and travels. And in his particular distillation of 'success,' he is wonderfully counterintuitive in his interpretation of common sense. For instance, in his third chapter, entitled "The Power of Negative Thinking," he explains that by intensely examining the possibility of failure, a person can actually make it become a virtue. He writes, "Being forced to confront the prospect of failure head-on — to study it, dissect it, tease apart all its components and consequences — really works. After a few years of doing that pretty much daily, you've forged the strongest possible armor to defend against fear: hard-won competence." Another of my favorite examples of this unorthodox (at least outside the space community's) notion of success can be found in the following chapter, aptly named "Sweat the Small Stuff," in which he explains how vigilantly and meticulously examining even the most minute detail in a situation could make all the difference, in his case between life or death:
…you don't need to obsess over details if you're willing to roll the dice and accept whatever happens. But if you're striving for excellence — whether it's in playing the guitar or flying a jet — there's no such thing as over-preparation. It's your best chance of improving your odds. In my [time as an astronaut], it wasn't even optional. An astronaut who doesn't sweat the small stuff is a dead astronaut (Hadfield, 61-62).
Hadfield's tour into the depths of space discovery and the culture surrounding it encourages an intense study of failure. "When [we simulate] deorbit to landing […] dozens of people are [watching], hoping that something new — [a gap] in standard procedure […] a better way of doing something […] will be revealed."
While what he does in space is awe-inspiring, he makes it explicitly clear that he acts as a conduit for a legion of trained, passionate specialists. He uncovers a culture where the kind of obsession with working together and being prepared might seem ludicrous if not for the severe risks of the profession. Through an obsessive and even-keeled attitude toward scrutiny, he exists within a subculture which sees criticism as just one more thing necessary to ensure their work achieves its goals. And it is abundantly clear he respects and admires the hardworking people within the American, Canadian and Russian space programs where he has worked. He is fully cognizant of the fact he is the representative of their brilliance.
But the work does not simply mean to glorify or sensationalize the profession of space travel, or the various government agencies within the industry. Instead, it's a startlingly intimate and warmhearted view of an arcane world, one which he makes plain even to those not educated in fields of scientific inquiry. With his strong affection for exploration and uncovering the unknown, he tempers his work with tragic incidents and day-to-day difficulties of the very real, and inevitably flawed men and women who work to make what they do every day a possibility. Sometimes they ascend, sometimes they crash and burn; sometimes they long to be home again; all of them, in their own way (not everyone gets to be one of the astronauts), go into the final frontier to attempt things that have up to that point been unprecedented.
Space is a harsh, indifferent void: as hostile to life as it is beautiful. Back on our planet, life is not simple either. Thankfully, we have Hadfield to thank for so adroitly raising our awareness of how to make our way effectively in both areas.
You can reach RYAN DOWNER at rmdowner@ucdavis.edu.