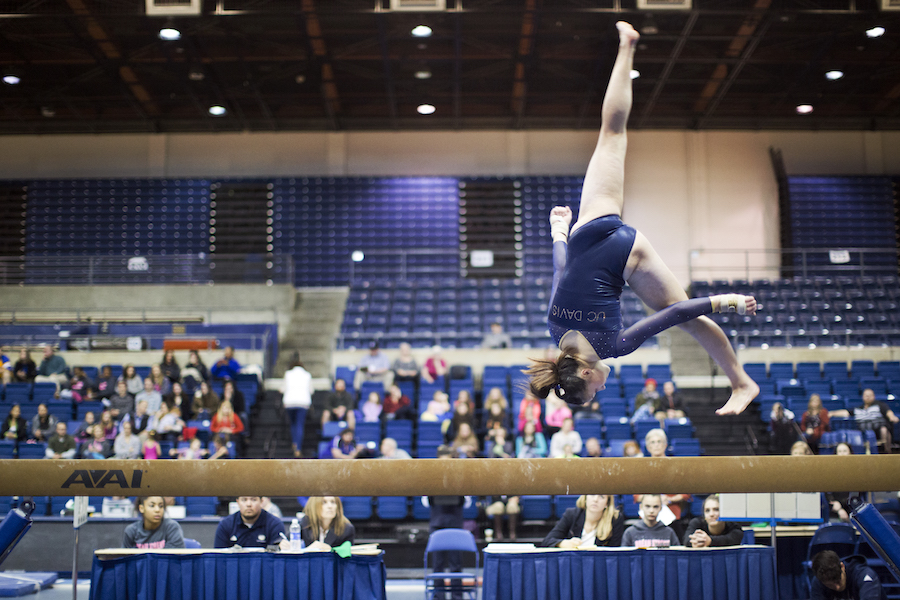 Three Aggies represent UC Davis at the NCAA regionals held in Utah
On Saturday, April 2, three athletes from the UC Davis gymnastics team traveled to the University of Utah to compete in the NCAA Salt Lake City Regionals. Senior Stephanie Stamates, junior Katy Nogaki and sophomore Alexis Brown faced off against competitors from UCLA, Sacramento State, Utah State, University of Utah and many more.
Held at a school where the average attendance for each gymnastics meet is 14,000 people, the competition and the atmosphere of Regional Championships were guaranteed to be exceptional.
"Feeding off the energy of the crowd and competing for the last time will be awesome," Stamates said.
Stamates closes out her career at UC Davis with one of her best seasons to date. Besides being named All-MPSF on the balance beam with her score of 9.865 and on the floor with a 9.875, she also tied for sixth place in the West region with her beam score and tied for eighth place on floor. She was named MPSF Specialist of the Week five times throughout the season while being the senior co-captain.
"She has really been one of the standout performers in UC Davis gymnastics," said head coach John Lavallee. "Obviously scoring more 9.8's in competition than any other Aggie speaks for itself [but] this year as team captain […] she has done an amazing job not only taking care of her own gymnastics, but [also] providing that leadership to the team."
At Regionals, Stamates competed in the floor and beam events. She performed a 9.875 on floor, giving her a tie for seventh place in that event. With a 9.775 on beam, she was placed in a seven-way tie for twentieth place. With these performances, she concluded her career with 56 scores of 9.8 or higher.
Nogaki has competed at Regionals since her freshman year, making her one of only six Aggies in the program's history to attend Regionals three times. She also claimed the title of MPSF Specialist of the Week twice this year, having scored a career high of  9.875 on the balance beam this season and reached a score of 9.8 or higher on the vault seven times.
"[Being one of six athletes] is definitely really cool and such a privilege," Nogaki said. "I feel like I have put in the work and [gymnastics] is something I am really passionate about, so it's definitely really rewarding."
Qualifying for the vault at Regionals, Nogaki scored a 9.675 to put her in 34th place.
Just coming off of a win at the MPSF Championships on uneven bars with a score of 9.825, Brown competed in the bars and beam events at Regionals. She was tied for both 26th place on bars and for 17th place on beam in the West. She was also MPSF first team on bars and second team on vault with a score of 9.780.
During the competition, Brown was deducted points from deviating in both of her routines due to errors. She finished the competition with a 9.100 on beam and 9.325 on bars.
Taking first place in the meet was the University of Utah, which finished with a 197.125 team score. UCLA placed second with a 196.375, and both schools will be heading off to the NCAA Nationals held in Fort Worth, Texas from April 15 to 16.
Written by Julia Wu – sports@theaggie.org