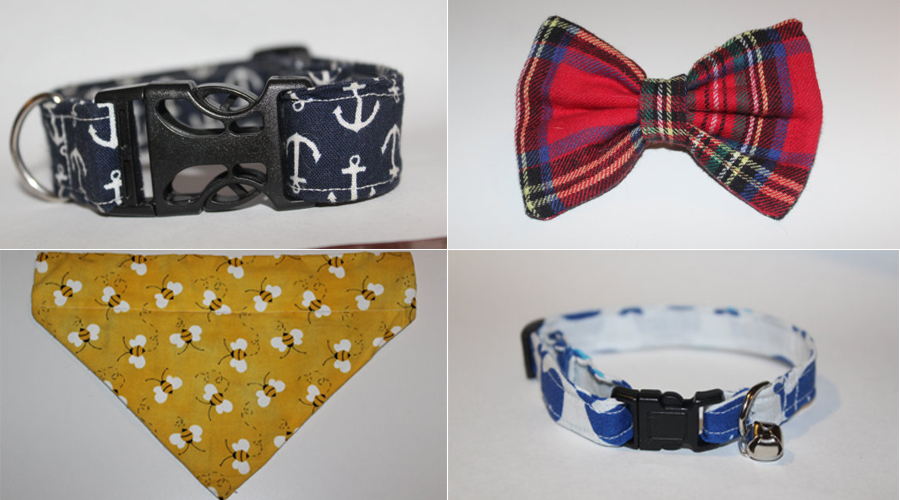 Davis seventh-grader impresses community with entrepreneurial spirit
On Thursday, March 31, those watching CNN's "Daily Share" segment on entrepreneurs caught a glimpse of Maya Zingaro, a seventh-grader at Holmes Junior High School in Davis. Maya Zingara owns an Etsy store, Bentley's Bowtique, which opened on Sept. 11, 2015.
The online store features accessories for pets, inspired by Maya's dog, Bentley, a West Highland white terrier. The pet apparel offered includes collars, bow ties, bandannas and double-layered flowers that can attach to a pet's collar — all in various fabrics and patterns. Each accessory is not only handmade by Maya, but also designed by her as well.
"I started making accessories for Bentley in August of 2015," Maya said. "I think up the designs by looking over fabrics at the fabric store and imagining what products would look good with those fabrics."
The online store boasts five-star reviews, 20 in total, and high praise from customers. Many commend Maya's excellent craftsmanship and sewing capabilities, which are well-refined for someone so young. So far, Maya has received 52 sales and counting, and ships all over the United States. She has even shipped products to the United Kingdom and to Finland.
"I started sewing when I was seven years old and in second grade. For Christmas, my mom gave me a sewing machine and that is when I first began to sew," Maya said.
Dr. Marian Zingaro, a local chiropractor and Maya's mother, explains that although Maya is only in seventh grade, she runs the store virtually on her own.
"I only help Maya by driving her to the fabric store and taking her orders to the post office," Marian said.
With the CNN interview wrapped up and a potential influx of orders following the airing of the show, Marian is delighted by her daughter's success.
"I am very proud of Maya, especially because she has created every aspect of her business independently," Marian said.
The CNN interview came into fruition through a CNN producer who took interest in a story in The Davis Enterprise about Bentley's Bowtique. The interview took over three hours to complete and the episode was featured in a new business segment called "Breaking the Mold."
"It was exciting to meet the CNN photojournalist and be interviewed by the producer," Maya said.
Holmes Junior High School counselor and UC Davis alumna Marci Montanari is impressed by Maya's success. As a customer herself, Montanari also applauds Maya's online business, praising her workmanship and attention to detail.
"I am proud of Maya and her entrepreneurial spirit. I look forward to watching her company grow in the future. I'm happy to call her a Holmes Patriot," Montanari said. "When I discovered [Maya's] business I ordered one of her flowers for my cat and I was amazed at the expert craftsmanship. Maya is clearly a very skilled, detail-oriented seamstress."
Maya hopes her business will continue to grow. In the meantime, she is always happy to give advice to other young entrepreneurs like herself.  
"I think a young entrepreneur should have fun with their business and use it as a learning experience," Maya said.
Written By: Samantha Solomon – city@theaggie.org