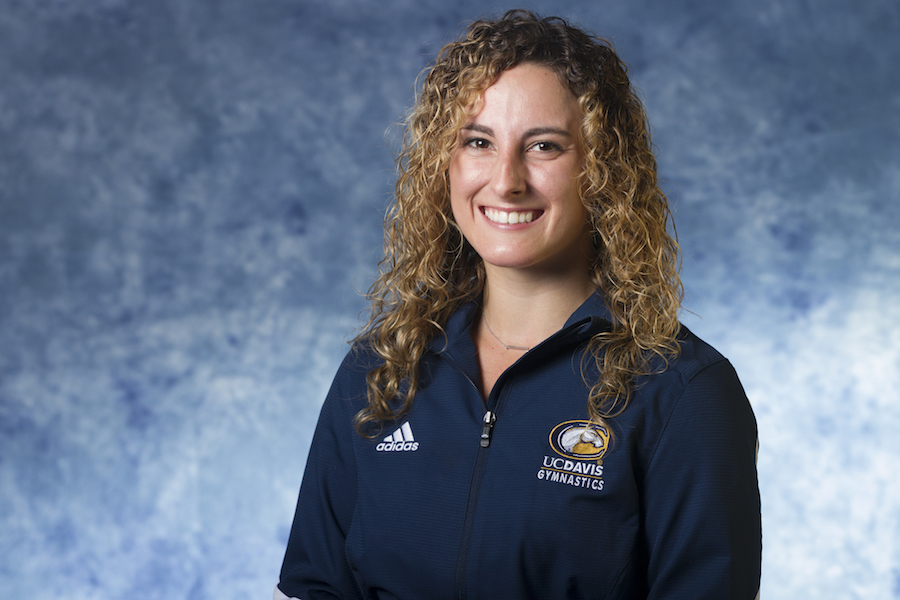 For senior Stephanie Stamates, it is not how you start but rather how you finish. Stamates has earned many honors during her career and recently became the gymnast with the most 9.8+ scores in UC Davis history. But both she and head coach John Lavallee say that personal and team goals, not records, are what they focus on.
At the beginning of the year, each Aggie gymnast writes a letter outlining their individual and team goals for the upcoming season, which become the focus for their competitions. Since they cannot control what score a judge will give, all they can do is give their best performance at every opportunity.
Stamates has excelled when it comes to Aggie gymnastics — she is co-captain of the team, competes at a high level and manages a 3.0 GPA. The expectations that Lavallee puts on his athletes has given her the opportunity to thrive in every way possible.
"[The best advice I received is to] just enjoy it and have fun, because I think it's really hard to get caught up in all the extra stuff," Stamates said. "At the end of the day, I'm doing it because I love it and [I'm] with my teammates. That's what makes it fun and memorable and just going out there and enjoying the time I have with them."
Stamates took time to really get going this season. She suffered falls in the first two meets before returning to form in the back half of the season, showing how mentality is what matters, and hard work pays off.
Stamates' season average is 9.788 for beam and 9.752 for floor. Her season high for beam was 9.875 and for floor was 9.925. This season, she was named MPSF Specialist of the Week five times and is also co-captain of the team.
"To be team captain, perform at the level she's been at, to take care of not only herself, but [also] the team — it's really kind of a monumental task," Lavallee said.
For her leadership and dedication to her craft, she is The Aggie's choice for Female Athlete of the Quarter.
Athlete of the Quarter Honorable Mention: Alyson Doherty
Senior forward Alyson Doherty of women's basketball is The Aggie's Honorable Mention for Female Athlete of the Quarter. She was named to the All-Big West conference first team for the first time in her career, and shot 50 percent from the field, averaging 6.3 rebounds and 12.4 points a game.