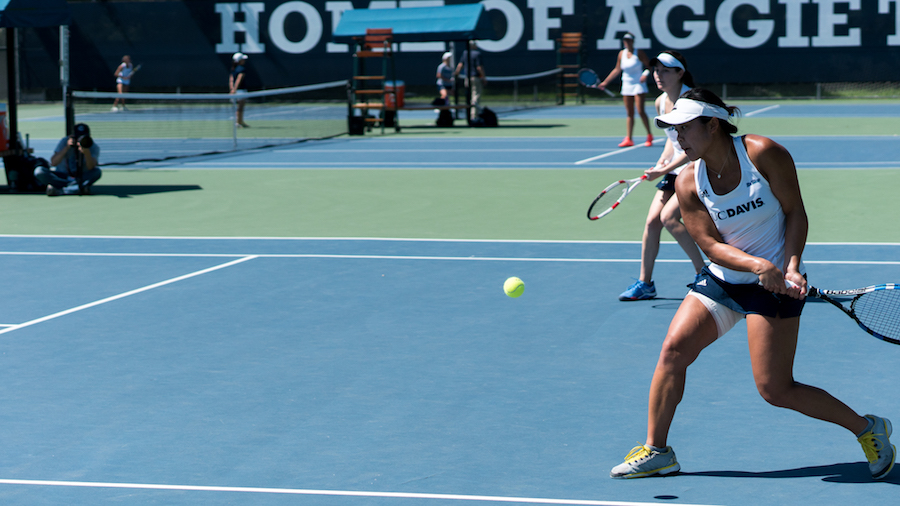 The Aggies claim a 6-1 victory against the Seawolves
Sophomore Lani-Rae Green let out a frustrated sigh. Sonoma State's Jensyn Warren had just defeated Green 4-6 in her second set at the non-conference match on Saturday, April 2.  
"I felt a little shaky out there," Green said. "[Warren] was pretty much ahead the whole set."
There was a short delay before the third set as athletic trainers taped Warren's leg, giving head coach Bill Maze enough time to speak to Green.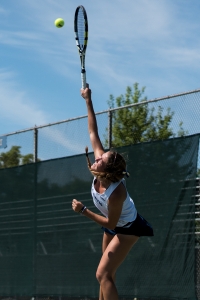 "I wanted her to hit through the ball more," Maze said. "[Warren] did not like the flatter [trajectory of the] ball. I was trying to get Lani-Rae to give her some trouble."
Green took his advice, changing her approach and her mindset.
"I really believed in what I was able to do," Green said. "I said, 'This [is] my shot. I am going to hit this. I am going to get every single ball that I can get to.'"
Green battled Warren 6-4, 4-6 and 6-2, winning her eighth consecutive matchup for the Aggies.
Sophomore Kristy Jorgensen was also successful in her singles competition against the Seawolves' Jordyn Kearney. She snagged UC Davis' final point by winning her last two sets, 7-5, 7-5, even though she lost her first set 5-7.
"I missed a lot of balls in the first and second set, which is the main reason why I was down and close to losing," Jorgensen said. "I started to get a little frustrated with myself and I was able to pull things through. I usually play better [when I am] arguably angrier."
Together, Green and Jorgensen added the final two points to the Aggie's 6-1 win.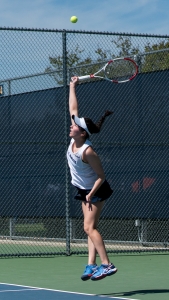 Jorgensen and sophomore Jessie Lee contributed to the Aggies' success by defeating Sonoma State's Amanda Zuidema and Hillary Fazekas 6-0
in their doubles matchup. Senior Tiffany Pham and junior Alex Huie secured the doubles point for UC Davis by taking down Warren and Kearney 6-4.
Winning the doubles point was a victory for the whole squad.
"We've been struggling a little bit with our doubles this year," Maze said. "I was really proud at how hard the women fought."
Junio Kamila Kecki led the Aggies into singles by crushing Karlee Budge 6-1, 6-1. Following Kecki's contest, Lee overwhelmed Kathryn Haithcock 6-4, 6-0. Then, freshman Isabella von Ebbe earned the match winning point after shutting down Katherine Long 6-3, 6-3. Junior Samantha Martino finished her exhibition game against Julia Rea successfully and recorded a 6-1, 6-1 win. Amanda Zuidema defeated Pham 6-2, 6-3 – the only loss of the day for the Aggies.
With this win against Sonoma State, the Aggies' overall record improves to 8-9. The UC Davis women's tennis team will face Cal State Stanislaus on Sunday, April 10 at noon.
Written by: KATIE DeVORE – sports@theaggie.org