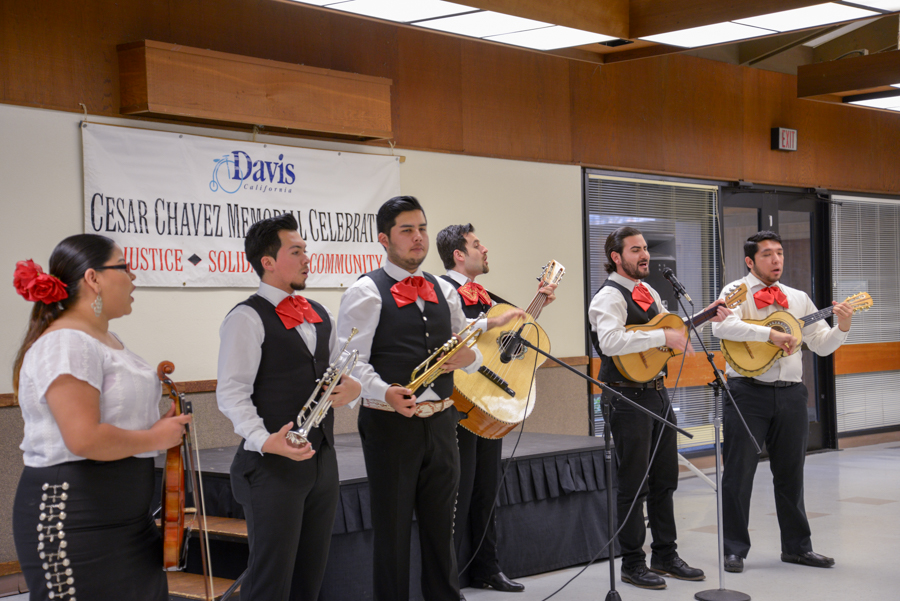 Davis community celebrates life of Cesar Chavez, discusses social inequality
On Sunday April 3, the City of Davis celebrated Cesar Chavez Day at the Veterans Memorial Center at 203 E 14th St. The event featured Dr. Tonantzin Rodriguez, who spoke about health inequities facing minority groups, emphasizing the effects on the Latino community. She cited the work of Cesar Chavez as inspiration for her efforts.
The event also showcased a local resource fair with organizations including Clinica Tepati, Empower Yolo, the Latino Medical Student Association at UC Davis and the Yolo Interfaith Immigration Network.
The afternoon began with a prayer attributed to Cesar Chavez, titled "The Farm Worker's Prayer." Followed was a cultural presentation and a ceremonial dance by Danza Azteca Quetzalcoatl-Citlalli. Their performance showcased a living spiritual practice for indigenous Mesoamerican ancestry.
"It was really eye-opening for me to see something so different and just remarkable," said attendee Mark Freeman.
The group ended with a dance around the room, with attendees joining in. After the performance, Davis Poet Laureate Andy Jones gave a tribute to Francisco X. Alarcón, a Chicano American poet from Davis who passed away this January at the age of 61. Jones spoke about the impact of Alarcón's work on children and families in Davis.
"[Alarcón] was a friend to all poets and performers in Davis and Sacramento and beyond," Jones said.
The next element of the program was a group called Mariachi Los Caporales, which consisted of undergraduate and graduate UC Davis students. The group intended to play four songs, but ended up playing an extra song because the audience loved the performances so much.
The program concluded with a speech from Rodriguez. In her speech, she explained that her parents were the ones to inspire her to fight for immigrants.
"It became a passion of my parents to fight for farm workers' rights and they marched alongside Cesar Chavez to fight for those rights," Rodriguez said.
In her research, Rodriguez wanted to find out why certain groups of people are affected by certain diseases.
"In the field of public health and medicine, there's something called the social determinants of health […] things like healthcare access, socioeconomic status, your environment and your racial and ethnic group. All of these social factors play a role in determining the health and well-being of a person," Rodriguez said.
Rodriguez ended her talk urging the audience to fight for equality in education and health in any way possible. The event celebrated the life of Cesar Chavez by bringing community members together to learn more about Latino culture and contemporary organizations who continue to fight for immigrant rights.
Written By: Mashal Ayobi – city@theaggie.org