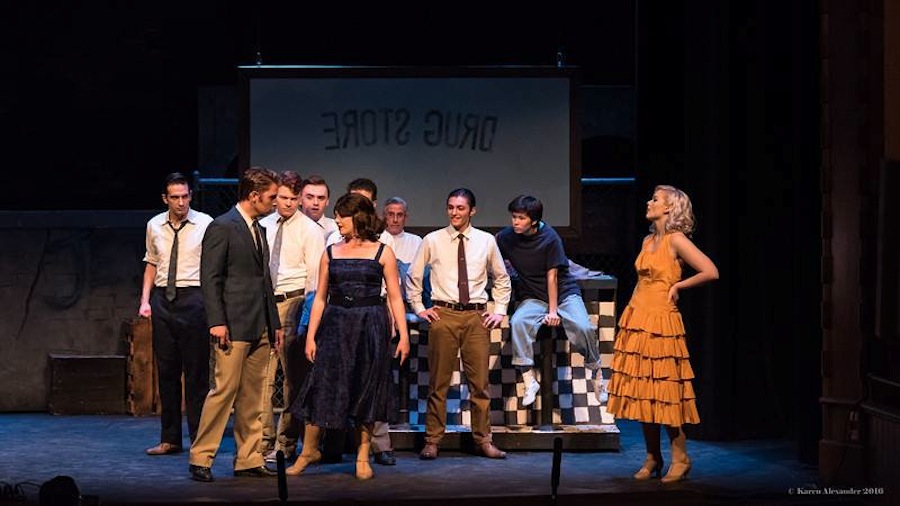 Woodland Opera House presents West Side Story
Fans of the classic musical West Side Story will be pleased to know that the Woodland Opera House will be presenting a rendition of the legendary musical from April 8 to May 1.
The gritty themes, sophisticated music and spotlighted social issues are some of the reasons why West Side Story is one of the most celebrated musicals of all time. This rendition of the story takes place in a blue-collar neighborhood in Manhattan's Upper West Side and is about a flourishing romance between Tony (a white man) and Maria (a Puerto Rican woman) and the complications that arise because of their forbidden love. The love between Tony and Maria is forbidden because they are both affiliated with respective gangs. Tony's close comrade, Riff, is the leader of the Jets, a white gang; Maria's brother, Bernardo, is the leader of the Puerto Rican gang, the Sharks.
Giana Gambardello, a third-year psychology and cognitive science double major, plays the role of Maria; her admiration for Maria contributes to her excitement for playing her.
"She grows a tremendous amount within the duration of the show and it's so exciting to experience first love in the eyes of her character. Through tragedy, she is forced to face the ugliness of the world, but her strength is incredible," Gambardello said.   
She explained why West Side Story remains a remarkable piece of work.
"This [West Side Story] isn't the typical jazz-hands-and-sequins show that people tend to associate musicals with. It's raw and real, which is both a blessing and a curse. It means that each actor must bring truth to his or her character," Gambardello said.
West Side Story is often tagged as revolutionary for its depiction of inner city life in 1950s New York and for exploring issues about race and class. Angela Baltezore, the executive director at the Woodland Opera House, explained why the musical retains so much modern-day relevance.
"West Side Story is as timely today as when it was first produced in 1957 […] Whether it is feuding families or feuding street gangs, we still see the pain and devastation that is the result of hate and prejudice," Baltezore said.
Extensive preparations from both cast and crew are undergone before each performance to ensure everything runs smoothly. Actors spend hours perfecting their choreography and vocals, and Baltezore and the crew work hard to maintain the authenticity of the play while also allowing each actor to bring their own personality to their respective characters.
UC Davis alumna, Franchesca Sonoyama, who double-majored in dramatic art and communication, plays the role of Consuelo.
"I love that I get to be energetic, sexy, sassy and blonde," Sonoyama exclaimed.
She also goes on to explain how, even though she is quite different from Consuelo, she stills finds that Consuelo is an intriguing character to play.
"Although in my life I consider myself more acculturated than assimilated (Sonoyama is the daughter of Filipino immigrants), Consuela is definitely more the Americanized and assimilated one for sure […] She is just plain fun to play," Sonoyama said.
Both Sonoyama and Gambardello have been acting since they were very young, and both noted how proud they were of this particular production.
"Every night, every scene, my heart is bursting with pride and excitement," Sonoyama said.  
For information regarding showtimes and ticketing, please visit the following link.
WRITTEN BY: Krishan Mithal – arts@theaggie.org