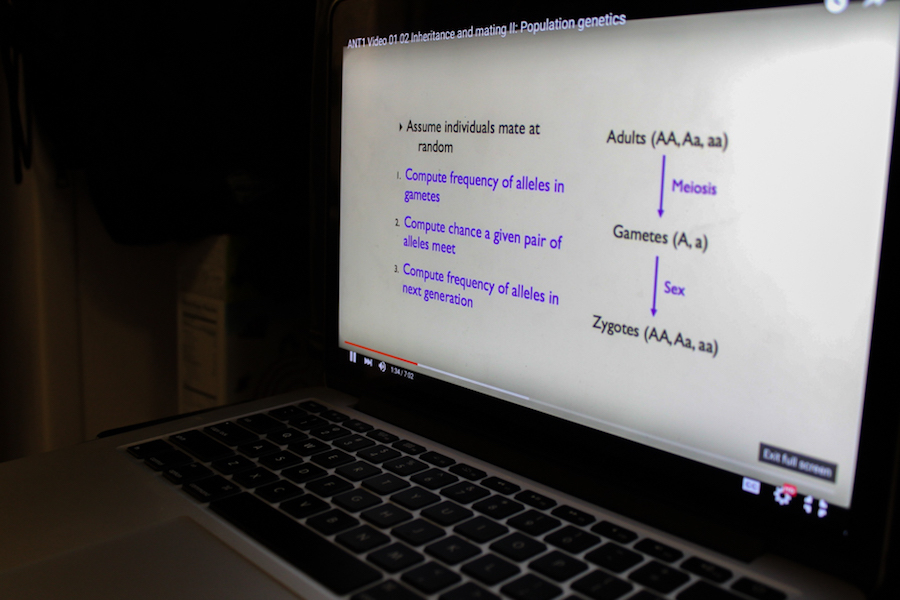 Increasing number of classes switch to hybrid and online course format.
As class sizes grow, so do the number of online and hybrid courses offered on college campuses.
Some of these classes include PSC 100Y, BIT 100Y, BIM 110B, BIM 110C, LIN 001 and many more. Currently, several new hybrid and online courses are being developed by UC Davis faculty.
Steve Luck, UC Davis professor of psychology, created PSC 100Y — Intro to Cognitive Psychology — two years ago, after 15 years of teaching it in the traditional format.
"Over time, my classes got bigger and bigger and it just seemed that the quality of the education was going down," Luck said. "So I thought maybe by using technology and doing this hybrid style, I'd be able to give the students a better educational experience where they could learn more and enjoy more without changing ultimately how much time I spend in the classroom."
Luck created the course through the Provost Hybrid Course Award (PHCA), a grant program that gives faculty members $12,500 to create and design a hybrid course. He was one of six faculty members awarded the grant in 2013. In order to receive the award, Luck also had to attend a 10-week seminar on hybrid classes put on by the Center for Excellence in Teaching and Learning.
"[The award] was matched by the dean of social science's office and that gave me $25,000 total," Luck said. "That provided funding to pay graduate students to help me with creating course material, buy[ing] the equipment I needed to shoot the videos and pay[ing] for undergraduates to help with all of the production and editing, [which] turned out to be really important."
The course is divided into both in-person and online components. Lectures are scripted, pre-taped and given through online videos, and after every five minutes of lecture, students are asked a quiz question. After every half an hour of lecture, students are quizzed again with another five questions.
"It turns out that there's a ton of evidence for something called 'the testing effect' which is that if you're tested on something shortly after you learn it then you remember it better later," Luck said. "Really the quiz questions do two things – one is retrieval practice. The other thing is that they focus the students on what [it was] that I wanted the student to learn from that [lecture]."
Discussion sections are in-person, and a class of about 200 students is broken down into eight discussion sections with about 25 students each. The teaching assistant (TA) and the professor take turns leading discussion sections. Fifth-year graduate student in the department of psychology Branden Kolarik has worked as a TA for Luck's class four times.
"[In a traditional class] the only interaction I would ever have with a student is if they came to my office hours to talk to me about something, whereas with the hybrid course, I was spending 50 minutes a week with four different classes," Kolarik said. "We had one-on-one time where they could ask questions about concepts and we were able to do group activities, which is just not feasible at all in a big lecture class."
Although some question the effectiveness of online education, Luck found that students scored better in his hybrid class than in his standard class.
"It doubled the number of test scores in the A range and cut the number of D's and F's in half," Luck said.
The hours of time and energy spent to create the course proved effective for Luck.
"The amount of time it takes to put together a class like this is truly insane," Luck said. "For that class, I estimate that every hour of video I produced probably took me about 20 hours to make. It's a crazy amount of work but that work then pays off for many years. It's worth it in my mind to do it, but I do it because I love it."
Dr. Liz Applegate, professor in the department of nutrition, has taught NUT 010 (Discoveries and Concepts in Nutrition) at UC Davis for 31 years, and transformed it into a Hyflex course in 2012. In a Hyflex course, students have the first week to choose the option of taking it entirely in-person or virtually, with in-person exams.
The Hyflex format allows for higher enrollment numbers; Applegate currently has 1,150 students in her Spring Quarter NUT 010 course. She works with her teaching staff, eight TAs and 30 test graders, to manage the course.
"It's a ton of work on our side — it's similar to running two courses," Applegate said. "We have to be very precise and make sure that we cover things in the time frame, that we're consistent, that we have messages that go out to students by email in a concise way — everything has to be comparable in the two groups and we go to great lengths to make it that way."
As opposed to Luck's online format, Applegate records her in-class lectures for online viewing. According to Applegate, virtual students are performing "equally well, if not just a tad better."
This quarter is Applegate's last quarter teaching NUT 010. In the future, she will be working on developing an entirely online NUT 010 course for all UC campuses.
"Why I didn't [create a 100 percent online course] right off the bat is that I didn't feel, at the time, we had a good handle on how these students learn best in a fully online course," Applegate said. "In the past four to five years I've been learning that and I think we're ready to take this to this large level, so it'll be exciting to see how this pans out."
Written by: Fatima Siddiqui – features@theaggie.org