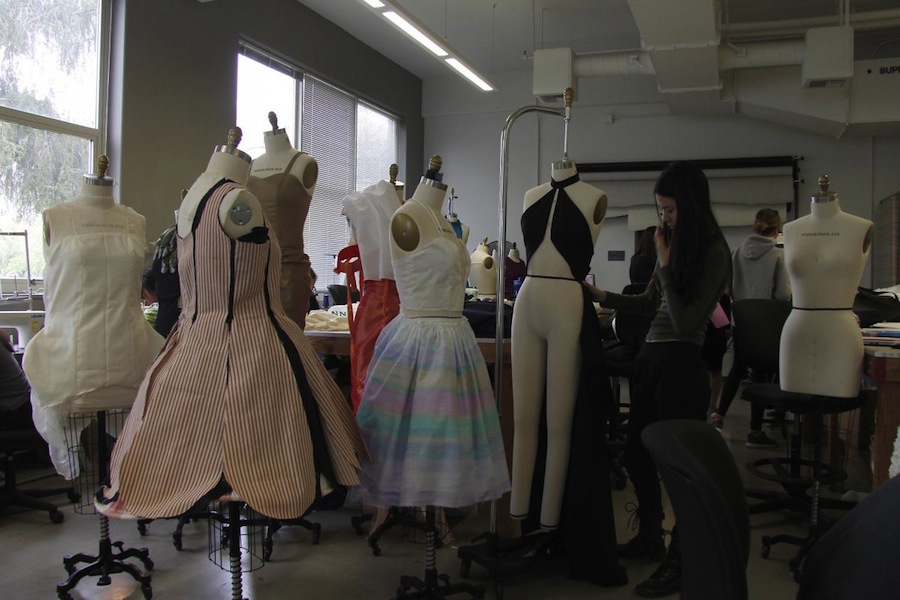 Students from the Signature Collections class excited to reveal their designs
This Picnic Day, on Saturday, April 16, the Fashion and Design Society and the Signature Collections class are debuting their 2016 pieces during their annual fashion show. The Fashion and Design Society (FADS) has been planning the show since Winter Quarter.
Jason Lin, an officer for FADS and fourth-year design and psychology major, titled this year's fashion show "Zenith," which means the highest point reached. They found this to be representative of all the work they put into their class and designs. Lin describes Zenith as a culmination of everything they have learned over the last four years; in other words, some of their very best work.
"I wanted my art and fashion to have a purpose and speak some sort of meaningful message, and the first thing I thought of was gender identity […] My collection is this kind of avant-garde play on gender roles," Lin said.
Lin discussed how his collection reflects the idea of people evolving to the point where no matter what they wear, no one judges them and gender roles become obsolete. He is excited to finally reveal his collection after putting so much work into his designs, which incorporate a wide range of mediums.
Katherine Ta, a third-year design major with an emphasis in fashion, has been working tirelessly to complete her collection. Her collection theme was inspired by various types of circuses and incorporates different color and pattern elements.
"My favorite part of designing was simply completing an outfit. Once you put it on a dress form or a model, you can see all the hard work that you put into it," Ta said. "There's that feeling of satisfaction and a weight off of your shoulders. Having a sense of relief helps me get through the endless days of sewing."
        The fashion show will showcase many different designs, themes and models. Lisa Romero, a fourth-year design major, came to UC Davis specifically for the design program. Her collection is Alice in Wonderland-inspired.
"My collection has simple silhouettes, but the use of unique fabrics, including some textiles that I hand-dyed, really elevates it to that ethereal feeling associated with the story. I'm a huge fairytale/Disney fan so it was no surprise I decided to go with inspiration that related to those themes," Romero said.
Zenith will be held Saturday at the ARC Ballroom. Doors open at 10:30 a.m. and the show begins at 11 a.m. The presale fee is $5, and tickets at the doors are $7 for students and $10 for non-students. Please visit the Facebook event for more details.
WRITTEN BY: Sami Bass – arts@theaggie.org