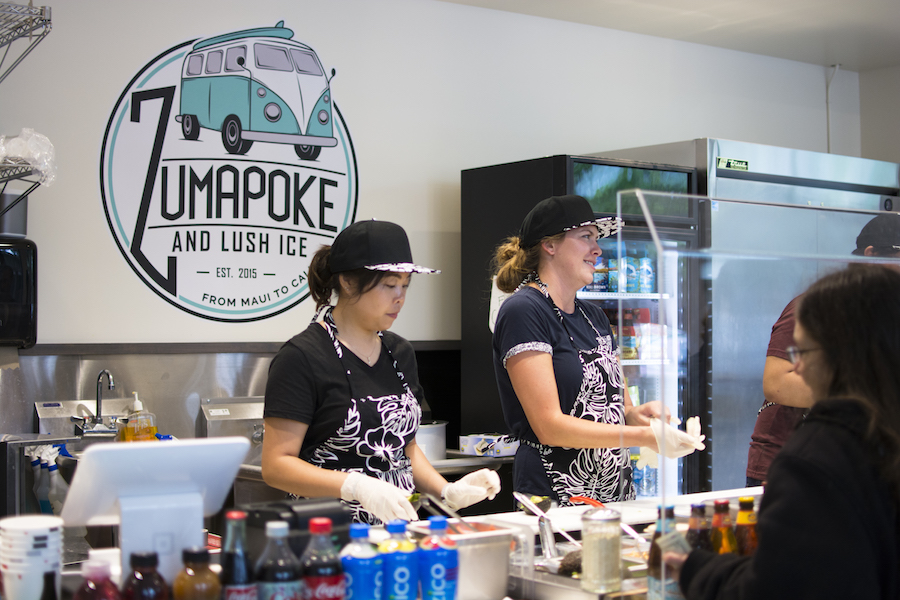 A review of Zuma Poke in Downtown Davis
I was on my way to get a latte from Temple Coffee Roasters before heading to campus to study for that first round of week three midterms when I saw the biggest line of people in Downtown Davis since Woodstock's had $1 slice nights. Intrigued, and looking for any opportunity to procrastinate, I asked someone what the line was for. "Poke from Zuma Poke & Lush Ice," she told me, and because I didn't want to seem dumb I nodded like I understood what that meant and got in line anyway. After five minutes of being bored in line, I was starting to debate whether it might be better to go study and wondering if this poke (pronounced "poh-kay")  thing was going to be worth it.
And then someone walked out with a bowl.
It was beautiful — vibrant oranges and reds of raw fish and some surprisingly delicious-looking green stuff — and I decided that, whatever this poke stuff was, it was definitely worth it, at least for the Instagram opportunity. I was already planning my caption. And, since I wanted all of my Instagram followers to believe that I eat healthy and am culinarily adventurous, I planned to get the most interesting things on the menu.
But when I got to the counter and saw purple suckered octopus tentacles and an orange mush of fish, I panicked and ordered what I was familiar with: spicy tuna, salmon, edamame and rice. Don't get me wrong, it was still delicious. The fish was fresh and flavorful without sauce, and edamame and plain rice are always delicious, but I left feeling like I hadn't given poke a real shot and that I couldn't honestly write a review of it. So, I went to Zuma Poke a second time, and this time I sat down with co-owners Rachel and Dustin Ryen to get their recommendations.
"Our best sellers are the spicy tuna, the salmon would be a close second, and the traditional poke is third," Dustin said. "But I personally like our yellowtail. It has such an interesting sauce combination."
He also explained that poke is a different culinary experience, and that people who may not think they like raw fish might like poke.
"Our traditional poke, because it's covered in sauce, is going to be a very different experience than if you were to get sashimi and eat straight raw fish," he said. "Especially if you have a problem with the consistency, our poke has a crunch in it because of the onions, so it's very different on your palate than if you were to eat straight raw fish."
Rachel added that if you don't like raw fish at all, they also offer cooked shrimp and octopus.
On their recommendations, I tried the yellowtail, spicy ahi (the orange mush I had previously been afraid of) and the octopus. I also got the kimchi and seaweed salad. And wow. The yellowtail was fantastic, with a texture somewhat similar to salmon, and an interesting sauce that had hints of shoyu and maybe sesame. The spicy ahi was also delicious; the spiciness was a flavorful complement to the fish and didn't feel overpowering at all. And, though I was still skeptical of octopus that wasn't deep fried, it was great. The kimchi was spicy, salty and crisp and the seaweed salad was crunchy and sweet, a complete contrast to the salty sliminess I was afraid of. All of the menu items that I had initially thought were too odd-looking to taste good turned out to be amazing.
The workers at Zuma Poke put a lot of thought into crafting and perfecting their dishes; whether you stick to the familiar or try something new, you can't go wrong with the food at Zuma Poke. And trust me, sometimes the weirder it looks, the better it tastes.
Zuma Poke & Lush Ice is located at 730 3rd St. in Downtown Davis. They serve traditional style poke, build-your-own bowl poke and Hawaiian lush ices, described on their website as a "boozy Hawaiian shaved ice." You can view their full menu online. Check out their Facebook page for more information, and make sure to make your day by trying some poke!
WRITTEN BY — Sofie Bates – arts@theaggie.org