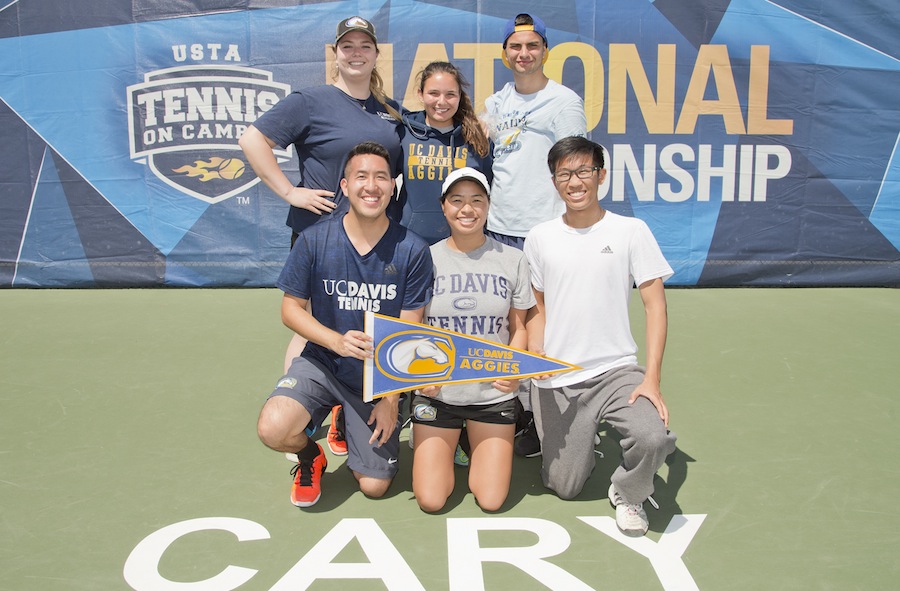 Saturday, April 16 was a day circled on most UC Davis student's calendars since the beginning of the year. But for the club tennis team, the 102nd annual Picnic Day was not the event they were looking forward to; instead it was the United States Tennis Association (USTA) Tennis on Campus National Championship; a one-time opportunity to make history for the club tennis program. As campus flooded with alumni and already-drunk undergrads, six club tennis players prepared to represent UC Davis some 3,000 miles away in Cary, N.C.
Two days prior, the Ags took down North Dakota State (30-5) and University of Illinois, Chicago, (30-6) before falling short to the eventual winner of the tournament, Auburn University, (29-17), in pool play. The performance qualified the Aggies for the silver bracket and a chance to go further than any previous UC Davis club tennis team.
After defeating Northwestern 23-19, the Ags faced a tough Vanderbilt team in the second round of a talent heavy silver bracket. Going into the mixed doubles portion of the match the Aggies trailed by four games, but after captain Vivian Li and partner Derek Lin caught fire, winning six straight games, the Aggies finished the match with a 23-21 victory.
In the semi-final round, the Ags squared off against Northeastern, taking the women's singles and doubles matches, to go into the mixed doubles portion of the competition with an even score. Unfortunately, the Li/Lin duo was unable to repeat the magic from the Vanderbilt match, and the Ags fell 20-21.
In the third place match, the Ags easily handled Boston College, winning 26-20 and placing 19th overall in the nation.
"I'm really proud of all my teammates since it was three long days of matches which [can be] very physically and mentally challenging," said Li, a third year economics major. "I am honored to have been able to be the captain of this team because everyone was able to step up to the plate when we needed them to and have great sportsmanship with other teams."
The UC Davis club tennis program is unique in that anyone is welcome to join, from undergraduates to faculty to exchange students.
"We have over 100 members from beginners to highly competitive players," Li explained. "Although there is a fall tryout to compete in sectionals (and nationals) everyone is always welcome to play."
With the $40 membership fee comes a free t-shirt and a chance to compete for a national title. With only two losses in the National Championship tournament and two winning teams in the silver and gold brackets, the club tennis team is well positioned for an extremely successful 2017 season.  
Written by: George McConnell — sports@theaggie.org