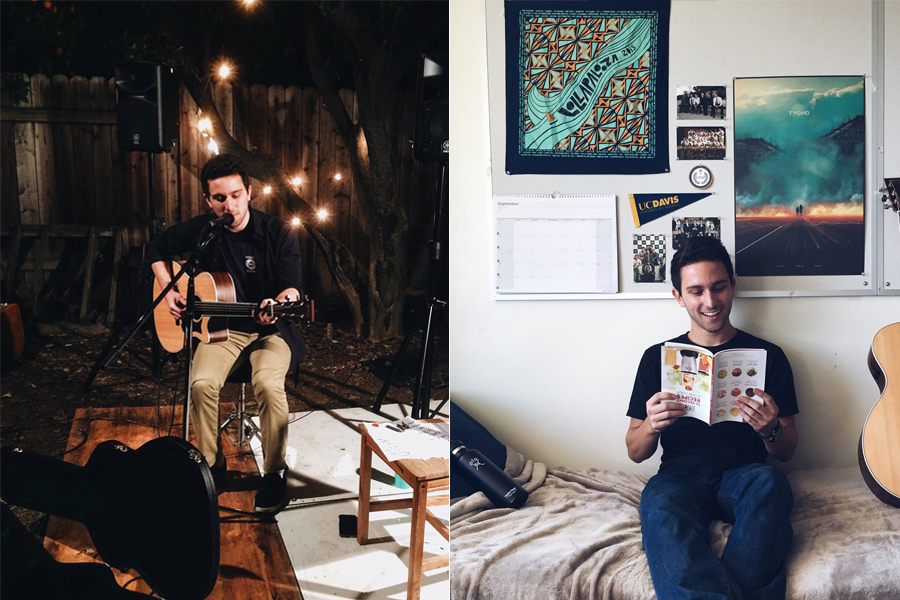 Open Mic Night regular Sammy Seaver writes and performs songs about his Davis experiences.
From the Band-Uh!'s Picnic Day parade to Entertainment Council-sponsored events and musical theater performances, UC Davis students find a variety of ways to express themselves through music and dance. Sammy Seaver, a first-year music and communication double major, is a blossoming fixture of the performance culture at UC Davis.
Though he only began his time as an Aggie earlier this year, Seaver jumped into the music scene, performing at various philanthropic events, including Cal Aggie Camp's CAChella fundraiser. Seaver can also be seen strumming his guitar at Entertainment Council's Open Mic nights, where his following of enchanted freshmen girls squeal over his soulful renditions of crowd favorites like John Mayer's "Neon."
As one of the 140 music majors on campus, Sammy Seaver came to Davis knowing he wanted to get involved. Seaver cites his brother's experience with music as his own inspiration to pursue a career in music.
"My brother is about eight years older than me and he is a Juilliard-trained musician for French horn. After he graduated he started getting into everything, including film scoring and electronic stuff," Seaver said. "He is a huge inspiration to me because not only did I get to see him go into the music industry, but he was able to teach me that you don't have to be a stationary musician — you can be a ton of different genres or acts."
Seaver describes his own style as jazz-influenced, and often covers songs by artists like John Mayer and Ed Sheeran. He has recently ventured into writing his own songs based on experiences he has had at UC Davis.
"What I write is still not very personal, but I have just seen a lot through other people. I have gotten to learn the experiences of everyone else — like where they're from or what their culture is," Seaver said. "So I tend to write about a topic that needs to be addressed or a feeling [I] have — like homesickness."
The performance culture at Davis has been formative for Seaver's new sounds. Though his hometown of San Diego offered a bastion of open mic nights which launched the careers of successful performers like Jason Mraz, Seaver feels a sense of community when he performs in Davis.
"I have been really surprised by how communal the performance culture is here. Everyone is just trying to build upon each other — which is amazing for musicians," Seaver said. "You could be an engineer and go on stage and play crazy violin or guitar and people will want to know that side of you. When you embrace music in that sense, it gives you a little more dimension."
In the future, Seaver hopes to be involved in the music industry in some capacity. His choice to major in both music and communication is indicative of his interest in the industry.
"Whether it be the business side of it, or something else, I just know I want my life to be focused around music," Seaver said.
When not performing at Open Mic Nights and backyard parties, Seaver can be found working for Entertainment Council as a productions intern or with the Mondavi Center and Music Department in their recording department. He is looking forward to spending more time performing and writing, and will surely remain a popular performer in the Davis community for the rest of his undergraduate years.
WRITTEN BY: Sara Williams – arts@theaggie.org