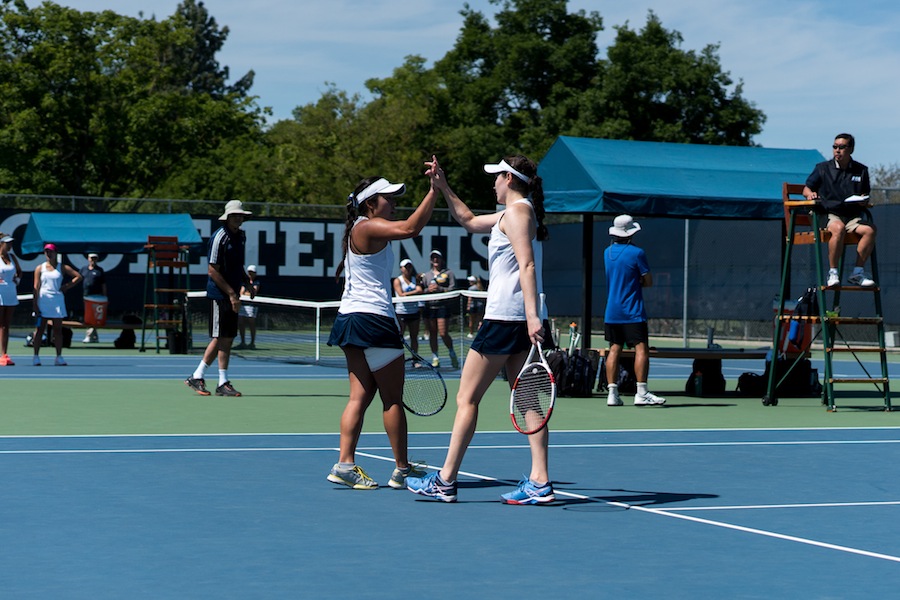 Women's tennis defeats Nevada 5-2 in non-conference match
The UC Davis women's tennis team defeated the Nevada Wolf Pack 5-2 in Friday's non-conference match. The Aggies lost two out of the three doubles matches, but were able to secure five out of six singles wins at the Marya Welch Tennis Center to bring their overall record to 10-9.
In the three doubles matches that took place on Friday, the sole Aggie victors of the doubles competitions were juniors Kamila Kecki and Frederique Sleiffer, who defeated a sophomore-senior pair from Nevada by a score of 7-6. Nevada gained a 1-0 lead over UC Davis due to their doubles victories, but it would be the Aggies who would show their skill in the singles matches to gain the upper hand on the Wolf Pack.
The first three singles matches to finish Friday afternoon would tie the score up at 2-2. Junior Samantha Martino, who won her sets 6-3, 6-1, and Kecki, who defeated a sophomore by set scores of 6-0, 6-4, were able to secure victories for the Aggies. Sophomore Lani-Rae Green took a loss in two close sets, 6-3, 7-6 (8-6), which gave Nevada its only singles point in the match.
After the score was all tied at 2-2, it would be an impressive comeback performance from sophomore Kristy Jorgensen, who defeated her junior opponent, coming back from a 1-6 first set loss, and winning the next two sets 6-2, 6-4, to give the Aggies the upper hand at a score of 3-2.
"I had to make everything in," Jorgensen said. "I hoped that if I stopped making mistakes I would start getting some games on her, which I did."
Once the Aggies were able to gain the 3-2 advantage, the team did not stop as senior Tiffany Pham defeated her opponent 6-2, 6-3, and sophomore Jessie Lee won her match 6-3, 3-6, 7-5, to contribute to the Aggies' 5-2 victory.
With this win, UC Davis women's tennis continues a four game long winning streak and won its sixth match out of the last seven they have played.
"We've lost a lot of close ones this year," said head coach Bill Maze. "[Beating Nevada] feels great and is a testament to our team."
This weekend, the women's tennis team will play two conference matches after a month long absence of conference games, both at the Marya Welch Tennis Center. On Saturday, April 23, the Aggies will face CSUN at 12:30 p.m. and Hawai'i on Sunday, April 24 at 11 a.m.
"We treat every match the same, [and] these upcoming matches are big matches," Maze said. "I feel like our team is peaking at the right time and we have gotten better every day."
From the win this weekend, the UC Davis women's tennis team was able to push its overall record from .500 to .526. This is the first time women's tennis has been able to push its record over .500 since Feb. 13, and the next two conference matches will be a contributing factor to the Aggies seed placement in the Big West conference tournament.
Written by: Ryan Bugsch – sports@theaggie.org