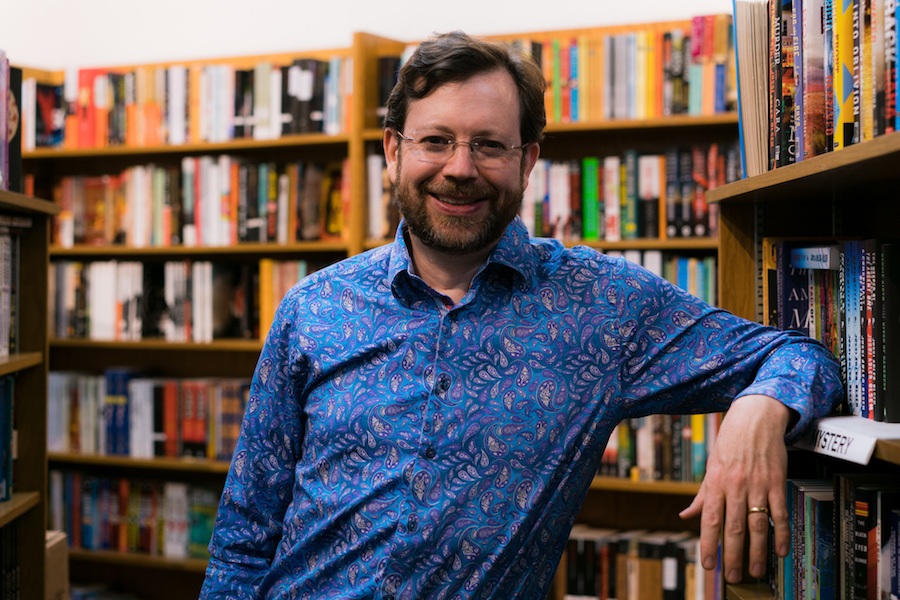 How UC Davis' own poet laureate has impacted the Davis poetry scene.
Every first and third Thursday of the month, poetry comes alive at the iconic John Natsoulas Gallery in Downtown Davis. Students, teachers and professionals alike come together for the intricacies and complexities of poetry — and for the past ten years, the open mic night has been a staple of the town's poetry scene.
At the forefront of this scene is UC Davis' english and university writing program professor Dr. Andy Jones, who hosts the open mics at Natsoulas Gallery. Since his teaching career began at the university in 1990, Jones' impact and role in the poetry community has grown.
"I'd say that as I grew older and went to school at Boston University, I had the advantage of learning from some great professors and poets," Jones said. "[They] inflamed my support and appreciation of poetry as an undergraduate and it compelled me to learn more."
Dr. Jones teaches an extensive array of classes including: advanced composition, writing in fine arts, writing in education and journalism. For the English department, he teaches classes on T. S. Eliot, short fiction and the advanced poetry writing workshop for undergraduates.
"He is, as you might expect, deeply interested in poetry as an academic subject," said Evan White, design and communications manager for the Mondavi Center for Wine and Food Science and former student of Jones. "This translates to his professorship most visibly in the form of the encouragement he gives his students to try new and unexplored ideas. There is, so far that I can tell, nothing he won't do to help a student realize their academic and creative potential."
But when he's not busy teaching or hosting his KDVS radio show "Dr. Andy's Poetry and Technology Hour," Dr. Jones serves as UC Davis' poet laureate, a position appointed to him in 2014 by the university in which he composes poems for special events in the community. As poet laureate, Jones has not only extended his advocacy for the arts, but he has also extended a universal admiration for poetry in communities like Davis, Sacramento and Yolo County.
"[As poet laureate, I] encourage love and appreciation of poetry in the city of Davis," Jones said. "To give poetry readings to the thousands of people that gather for the Fourth of July celebration, and to read, write and present poems on a variety of topics for the city."
Through mediums like his radio show, Dr. Jones has been able to speak with poets, writers, actors and members of the art community.
"The poet laureate position has helped me expand that work but I'd be doing it anyways," Jones said. "For instance, the radio show has given me a chance to interview a great number of poets, talk about poetry and expand to larger audiences my civic interests about education, literacy and the creative arts."
For those like John Natsoulas, curator at the John Natsoulas Gallery, the poetry culture surrounding Davis thrives off of the work and efforts of people like Dr. Jones. According to Natsoulas, events like the Poetry Night Reading Series and the Jazz and Beat Festival keep the poetry scene alive.
"The poetry scene in Davis comes out of the idea that it evolved and became more formal," Natsoulas said. "It comes out of the beat generation into the 60s and 70s and the teachers in Davis. Places like Café Roma and the gallery were the only places you could read poetry."
Natsoulas said that both Jones and the Natsoulas gallery have "changed the philosophy of the town."
"I started this 31 years ago, but it's clear that Dr. Andy Jones is critical to this and getting him to have a poetry and tech hour on Wednesdays was too because he brought in all the poets," Natsoulas said. "He brings a headliner in at eight o'clock and at nine we have something pretty amazing: open mic. And my jazz beat poetry spoken word night the first friday is great and we end up having something wonderful."
It is clear that Dr. Jones — as a teacher, author or poet laureate — is making his mark on the poetry and art worlds in Davis. With his most recent work In the Almond Orchard: Coming Home From War being released this month, Jones has much to look forward to. For Jones, the arts are a major driving force in his life, career and aspirations.
"I'd say that the arts in general provide a force that has the potential of bringing people together and deepening their humanity and empathy," Jones said. "Showing us all different ways that we can better understand the human condition and connect with one another. The arts give us the opportunity to become more centered more thoughtful, more generous and more empathic."
Written by: Alan Castillo — features@theaggie.org