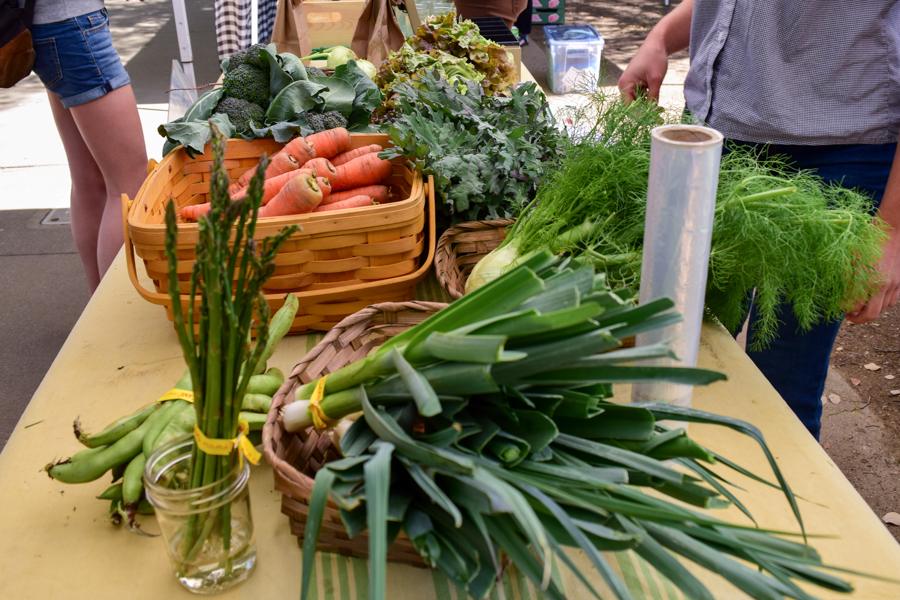 UC Davis provides students with healthy lifestyle programs.
With such a high number of bicyclists, UC Davis has a reputation as an active, athletic campus, but between dining hall food and instant ramen noodles, college students' diets often aren't as health-conscious as their transportation habits.
To address this, UC Davis has pioneered several programs to champion healthier habits among the student body. In summer 2015, the UC Davis Student Health and Wellness Center (SHWC) launched "Fruit and Veggie Up!," a partnership with Nugget Markets to provide students with free fresh produce every Tuesday and Wednesday. Students can pick up produce from 11 a.m. to 1 p.m. on the third floor of the SHWC office.
"The Fruit and Veggie Up! program […] aims to increase access to fruits and vegetables at an affordable price – free," said Aria Wexler, a food access and nutrition student assistant for SHWC and fourth-year clinical nutrition major. "I think […] one of the huge takeaways [is students being] able to get some food to supplement what they're buying for themselves."
According to Wexler, approximately 6 percent of undergraduate students and 11 percent of graduate students consume the minimum number of recommended fruit and vegetable servings per day. Many students may also be considered "food insecure," meaning that they lack the financial means to buy enough foods that hold proper nutritional value.
"There's a lot more awareness [of healthy eating] that we're trying to promote," said Ryann Miller, a registered dietician nutritionist for SHWC. "Fruit and Veggie Up! helps with that."
Another option for students who do not meet the daily recommended servings of healthy foods is the CalFresh program, which provides those who qualify for the program with a monthly benefit put toward food purchases.
"Many don't know about the program," Wexler said. "If you qualify for work study, you almost automatically qualify [for CalFresh]."
Students who work over 20 hours a week under a certain income can receive a small stipend from CalFresh that can be spent at the Farmer's Market, grocery store or other sources with fresh produce.
"All of us eat, hopefully several times during the day," said Allison Tallyn, a registered dietician nutritionist and certified diabetes educator for the SHWC. "We want to try to have those [nutritious] opportunities when we're eating to really serve our bodies."
SHWC also runs a series of nutrition classes called "Eat Well Live Healthy." The program offers students a free set of classes, covering topics in nutrition practices including grocery shopping, cooking lessons and the available exercise facilities at the Activities and Recreation Center.
"The nice thing about the cooking classes is they're really targeted to students," Tallyn said. "Because they're designed for students on the go, they use ingredients that are common and not too expensive, and [the food is] delicious."
The series emphasizes various concepts within the nutrition process, such as metabolism and healthy choices. Each cooking class goes through the purchase of raw ingredients to preparing the meal in detail, and follows the process through to tasting the final product.
"I think it's a great opportunity […] to develop those healthy habits […] while you're here on campus," Tallyn said. "You can then use [them] in adult life."
For students who prefer to practice healthy cooking in their own kitchens, SHWC's online cookbook, One Balanced Kitchen, provides recipes made from nutritious ingredients.
UC Davis Dining Services also promotes a healthy lifestyle through the Healthy Aggies program. Healthy Aggies was officially established this year in an attempt to cultivate nutritional diets on campus, and although it started out as a blog, it has now expanded to a campus-wide program.
"[We want to] create a group that students want to join," said Linda Adams, director of UC Davis Dining Services Nutrition and Sustainability department. "[Joining] means that they care about being healthy."
Run by seven students who work with Adams, the Healthy Aggies program provides students with opportunities including cooking demos in the Dining Commons.
"We're trying to engage students in the fact that they're going to have to cook for themselves next year," Adams said. "We're trying to help them think about doing it in a healthy way."
UC Davis Dining Services also provides various other health-promoting events, such as a cook-off on May 5. The cook-off will consist of a student judge panel to select the winning dish, made from fresh produce, that will then be featured on the Dining Commons menu.
On top of this, UC Davis Dining Services also employs a service called Nutrition Talk, where tables set up in the dining commons educate students on topics ranging from heart health to the perfect snacks for finals week.
"Part of being successful in cooking for yourself is making sure you have the food in the house, [having] your recipes, and [knowing] what you're going to make," Adams said.
Written by: Allyson Tsuji – features@theaggie.org