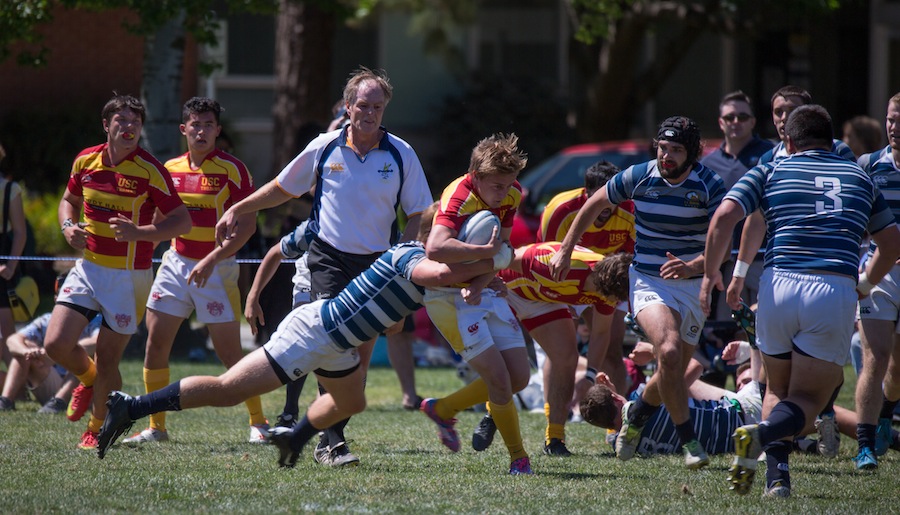 The UC Davis club rugby team plays this weekend for a spot in the Division I-AA rugby championships
At the 2015 USA Rugby College 15s National Championships in Kennesaw, Ga, the UC Davis men's rugby club team overcame a 15-3 deficit at halftime to stage a comeback against two-time defending champions University of Central Florida. Amidst a 700-people strong Gators crowd, they won the match 18-15 with just 90 seconds remaining on the clock and became the champions of Men's Division I-AA.
"We had 20 girlfriends and moms there," head coach Kal Incendysaid. "It was great to hear that whole crowd subside as we got closer and closer to winning."
This season the Aggies are en route to replicating last year's success. Currently undefeated in the West Regional, they have faced off against opponents including UC Santa Cruz, UCLA, Stanford and San Jose State.
The Aggies recorded a 53-7 win over Sac State back in January and a 68-0 shutout against San Jose State in February. Recently, they played against visiting USC and won 29-12, increasing their record to 11-0 overall and 8-0 in league play.
They hope to continue their winning streak at the regional tournament, which is being held on home turf. Along with Sacramento State, Utah State and Arkansas, the Aggies will be competing for a spot in the national championships this upcoming Saturday, April 23 and Sunday, April 24. Each team will play one game per day on Russell Field. If the Aggies defeat Sacramento State on Saturday, they will move on to play the winner of the Arkansas and Utah State matchup in the semifinals. From there, the winner will secure a spot in the May 7 championship finals held at Saint Mary's College in Moraga, Calif.
Beginning competition in the fall, it has been a six-month journey for the rugby team to get to this point. The team has also had to adjust to losing twelve starters from last year's lineup, with only three returning players.  
"We had to work a lot on finding our flow and our pattern with this team," said team captain and fourth year sociology major Joshua Farnsworth. "But this team is, I believe, stronger, faster and all around a tighter unit this year."
The players' camaraderie and dedication to the sport has kept them motivated throughout the weeks of competition and adjustments.
"Most of the rugby guys live in one of two houses and you get a lot of cohesion on and off the field," said Cole Collings, club president and fourth year civil engineering major. "The guys get along and it translates perfectly into playing."
The team has its eyes set on the championship title and will continue to practice throughout the week in preparation for the tournament. All of the players are full-time undergraduate students who have made time for practice and games in between their other commitments. Team captain Farnsworth juggles rugby, school and an on campus job.
"It's [going to be] a long weekend of rugby with little rest time, but that's what we live for, that's why we play the game," Farnsworth said.
The club accepts all players, from beginners to those who have some experience in the sport. With fifty athletes in the club, players are divided according to ability into A-side, B-side, and C-side. While A-side consists of the top players, B-side has also seen success in their league, going 8-0 and winning divisional championships.
Written by Julia Wu – sports@theaggie.org