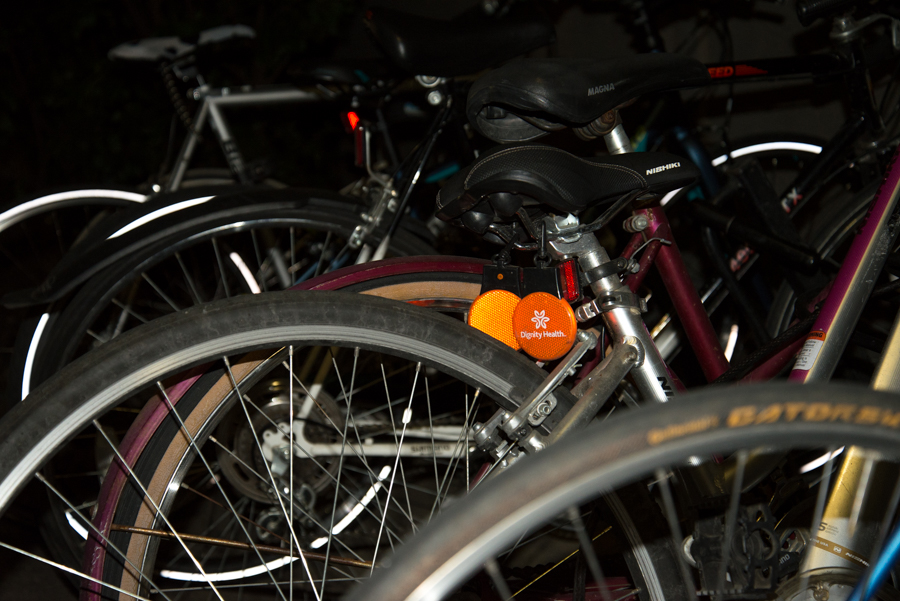 Local organization promotes exercise, safe biking
On May 1, Davis Bicycles will host the annual Loopalooza, an event to promote safe bicycling for elementary school children.
Davis Bicycles, an organization dedicated to promoting bicycling in Davis and increasing safety for cyclists, created the Loopalooza in 2010 to better acquaint children with the Davis Bike Loop and to encourage kids to use it to get to and from school safely. The loop is a 12-mile paved path around the city which connects to schools, parks and neighborhoods and passes through the university, downtown and other significant parts of the city. It is free of cars, making it a safe method for cyclists to travel to and from school or work.
"It's good for kids' physical health and fitness to be getting exercise in the morning. It is good for the environment because for every kid that walks or bikes, they're not coming in a car so it reduces air pollution and car congestion on the road, which also makes our roads safer," said Rachel Hartsough, program manager of Street Smarts, who partnered with Davis Bicycles for the event.
The Loopalooza is a family-oriented ride with 12 stations. The first three stops are dedicated to safety and the remaining nine are fun stations. At the first, volunteers will check helmets and at the second booth, volunteers from local bike shops will check the bikes to make sure that they have working brakes and tires. Another stop will have participants demonstrate knowledge of basic riding skills and teach participants proper signaling and yielding.
The remaining stations set up activities for participants where kids can participate in bike decorating, coloring or other children's activities.
City of Davis staff will be at one of the booths giving out bike bells as well as DIY bike reflectors.
"We use the scrap material from our street signs, the really heavy duty reflective vinyl that's used on all the signs on our streets, and people can make stickers with it and put them on their bike or their helmet," Hartsough said.
Participants can pick up an event passport at any station and get the passport stamped at each station. Children are encouraged get their passports signed at every station; those who complete the 12-mile ride and stop at each of the stations are given a Loop Completion Certificate. Participants who get their passports stamped at three stations are given smaller prizes. Energy bars will also be available at each station for participants to enjoy.
The many bike paths and the bike friendly culture makes it easier and more convenient for children to walk or bike to school instead of having their parents drive them.
"My wife walks the kids to school every day. They have a lot of fun and it always feels like an adventure for them," said James Thompson, Davis resident and father of two elementary school aged children.
Forty years ago, it was not uncommon to see children walk, bike or line up at their neighborhood bus stop waiting for the yellow school bus to take them to school every morning.
According to the National Center for Safe Routes to School, in 1969, 48 percent of students in kindergarten to eighth grade usually walked or biked to school and by 2009 that number decreased to only 13 percent.
Hartsough explains that the decrease in students who walk or bike to school is partially a result of more parents choosing to drive their kids to school instead.
"Usually, when kids walk to school or bike to school, they do it with somebody else so it promotes a sense of community; it oftentimes engages kids in their neighborhoods more," Hartsough said.
Hartsough adds that walking and biking to school allows children to see things that they wouldn't notice from a car.
"When I was in middle school there were a lot of kids my age in my neighborhood and we used to all walk to school together in groups and it was fun. That's one of my best childhood memories because we bonded together," said David Garcia, who grew up in Sacramento in the '90s.
In addition, Hartsough explains that many studies show that kids who get physical exercise in the morning by either walking or biking to school actually do better academically, and are able to concentrate more during the day.
"We see at the schools that we're working with incrementally slow increases in the number of kids who are walking or biking. For kids it's a really big sense of independence," Hartsough said.
Written By: CARLA ARANGO – city@theaggie.org