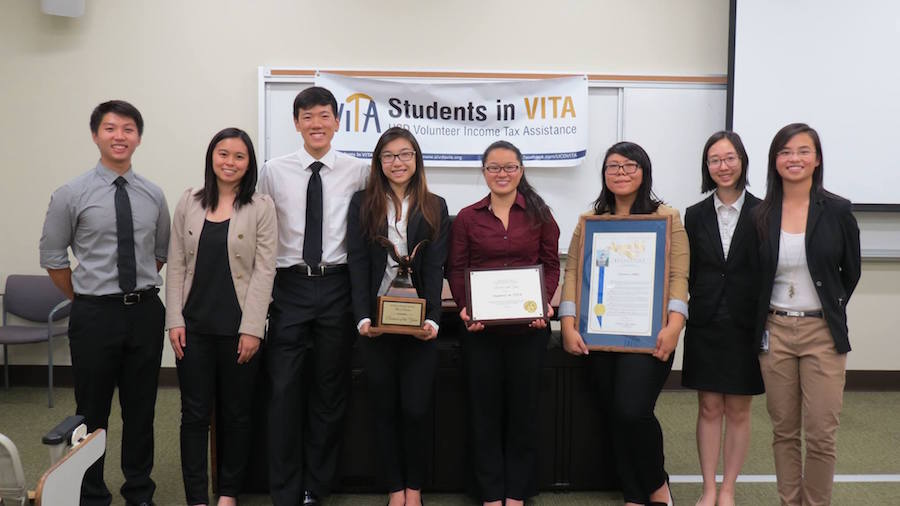 Students in VITA offer tax services for community at no charge.
It's safe to say that a majority of people share a common attitude toward tax season. Preparing taxes is tedious, but the payoff on a tax return is all the reason to endure the long process. Unfortunately, finding the right tax preparer can be both daunting and expensive, especially for those living in low-income conditions who may not be able to afford their local tax services.
This is where the Davis Volunteer Income Tax Assistance (VITA) organization comes in. Also known as Students in VITA, the organization provides free tax services to low-income individuals and families in Yolo County. VITA is a nonprofit organization run by students that are IRS-certified interns, and it provides income tax preparation at no extra charge.
"Our three aspects are community service, education and financial literacy," said Jenny Wong, a fourth-year managerial economics major and Students in VITA president. "Service to the whole community, education towards students and clients, and financial literacy to help clients understand their current financial situation and how it affects their taxes entail those aspects."
Students in VITA extends from the larger chain of the Volunteer Income Tax Assistance program. The group introduces students to financial literacy topics and teaches members how to prepare tax returns, as well as giving them the leadership and marketing skills necessary to pursue their future endeavors.
"For me, as a man econ major, [VITA] gives me the professional experience. I've gained a lot of leadership skills, but it's also community service. It's rare to have an internship club on service," said fifth-year managerial economics major co-site coordinator for Students in VITA Linda Chee. "I joined VITA and I stayed because I really liked that dual aspect — developing myself and helping the community as well."
The organization opens intern applications in mid-October, and after final acceptances are released in late November, newly-recruited VITA members undergo a series of various workshops that train them in tax law and tax return. These workshops cover topics like income and deductions, and prepare them for getting their certifications, which must be finished by January.
"At first, when I was going into the internship program, I was a bit nervous, because I went in with no experience at all," said Shelly Zeng, third-year managerial economics major and marketing director of Students in VITA. "But after the training we had and studying together for the certification program, I became confident in applying what I've learned to help people file taxes during tax season."
Together, they hope to return as much of their clientele's tax dollars as possible. By doing so, families become financially stable while saving both time and money not having to look for affordable preparers. In fact, any family or individual making $54,000 or less can receive assistance from the organization in preparing their taxes.
"The three tax years have been a very rewarding experience," said Erica He, a fourth-year managerial economics and statistics double major and Students in VITA lead intern director.  "Since our sites are at the mutual housing, there are a lot of people like families that don't have legal presence. So you have to be careful when communicating with them. I have helped students claim education credit and the look on their face when find out they get a couple extra hundred dollars back makes me really happy."
Since its establishment in 2010, Students in VITA has already helped numerous citizens in Yolo County. In 2015, the club served and filed 337 tax returns to residents, and gave back an average of $57,600 to low-income residents. That same year, Students in VITA helped the community receive $230,800 in federal refunds. As a result, residents have reacted positively to the assistance they've received.
"The very first time I was handed someone who had to do an itemized deduction," said Viola Mai, a fourth-year economics major and vice president of Students in VITA. "It took a while, but lo and behold, I gave her a refund. This woman was single, supporting herself, low-income and paying a mortgage. You let her know she has a refund and you see the stress melt away. People seem to be happy, and learn something about their finances as well."
The efforts of Students in VITA have not gone unnoticed. The UC Davis chapter recently received the Award of Excellence by the IRS. The award extends from chapters in Oregon through a majority of California, but the students here in Davis proved through service and hard work that good deeds do not go unnoticed. Even when it comes to tasks as daunting as taxes, the folks in Davis show nothing but commitment to being their best for the community.
Written by: Alan Castillo and Jennie Chang — features@theaggie.org