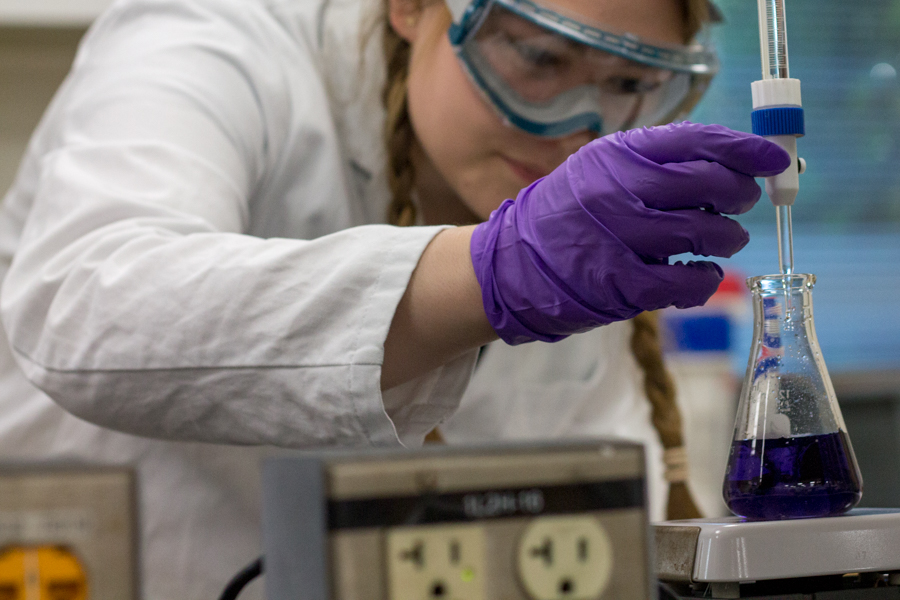 UC Davis women in STEM share experiences in and out of the classroom.
Considerably fewer women than men pursue degrees in the fields of science, technology, engineering and mathematics (STEM) overall. But, this gap is slowly narrowing — especially at UC Davis, which on March 29 was named number one on Forbes Magazine's list of The 13 Most Important STEM Colleges for Women.
The physical sciences have always been a passion for chemistry graduate student Elyse Towns, but it was her undergraduate years at UC Davis which made her realize that her passion could turn into a career.
"I started doing undergraduate research my junior year and I just loved that," Towns said. "I really enjoyed the problem-solving aspect of it and that was what convinced me to go to graduate school to use analytical chemistry to study how changes in model cell membranes affect the body."
UC Davis helped Towns develop her interest in STEM, even allowing her to co-lead the university's Equity in STEM and Entrepreneurship (ESTEME) program, an outreach and leadership training program designed to increase underrepresented professionals in STEM fields.
"ESTEME is a graduate organization on campus that promotes diversity in STEM and entrepreneurship that anyone can join," Towns said. "We have outreach events where we have presentations by people in different fields who will talk about their careers and how being [part of an] underrepresented community has affected their lives."
Towns' time at UC Davis has encouraged her to expand beyond the stereotypical gender roles, to which many women feel they are constricted by, and instead remain dedicated to the sciences.
"I always thought I'd go to college, make money, and some day when I have children, I'd stop working. But now after being in graduate school, I can't imagine stopping work to fulfill the stereotypical stay-at-home mom role," Towns said. "The hardest part for me was getting the confidence that I could do it and I think that's probably common for a lot of women, so I think it's just being prepared to try even if you may fail."
ESTEME is just one of UC Davis' programs for promotion of women in STEM. The Women in STEM (WiSTEM) club on campus has helped fourth-year environmental toxicology major Krisha Yadav-Ranjan solidify her place in the sciences and find empowerment during difficult times.
"At first, it was a struggle maintaining my love for science in college where I had a harder time," Yadav-Ranjan said. "One of the best things I did was join a support space, such as the WiSTEM club. For me, the club symbolized support and empowerment, and made space for us to reflect on the fact that as women, we face the possibility of being gendered in the classroom."
According to Yadav-Ranjan, WiSTEM, tutoring and the university's teaching assistants are all resources meant for women to succeed, but having the right support system is another necessity for women pursuing STEM at a professional level.
"I can really say that once I started to use my resources on campus and found a community for myself, I [felt] strong and confident in my capabilities," Yadav-Ranjan said. "No matter what anyone tells you, you know yourself the best and you will always have more strengths than weaknesses. There's always somebody to help you, you just have to seek for it."
Associate professor and chemist in the Food Science and Technology Department Daniela Barile came to UC Davis as a graduate student from Italy. She enjoyed the campus so much that she later returned to establish her career at the university, studying bioactive compounds in human milk.
"What I really like about UC Davis is that both men and women [are] very supportive of young career scientists and they will encourage me and push me to do more, which is something that I did not experience in Italy," Barile said. "There's much more support, more encouragement and much more equality here compared to other places I've been. It might not be completely there yet but it's a great improvement compared to the place I come from."
Barile encourages young women pursuing STEM to attend networking opportunities and seminars early in their studies — doing so gives them the opportunity to see other women who have worked hard to achieve success.
"In Davis, there are so many outstanding models of women that have achieved high positions in science and administration and that means a lot," Barile said. "I would suggest to do a lot of internships, go to conferences and work hard, because in my experience when someone sees someone working hard, they will open doors to them because they see that they want to be successful."
Although the fight for gender equality in the classroom and in the workplace continues, both students and faculty at UC Davis continue to work hard to send smart, thoughtful and well-rounded STEM women into the world.
"I have found empowerment being involved in WiSTEM and have realized that any obstacles I face in the future are things that will drive me," Yadav-Ranjan said. "The word 'empowering' is just a word, but the feeling of it is eclipsing; it's something that you want to share with so many people."
Written by: Gillian Allen — features@theaggie.org