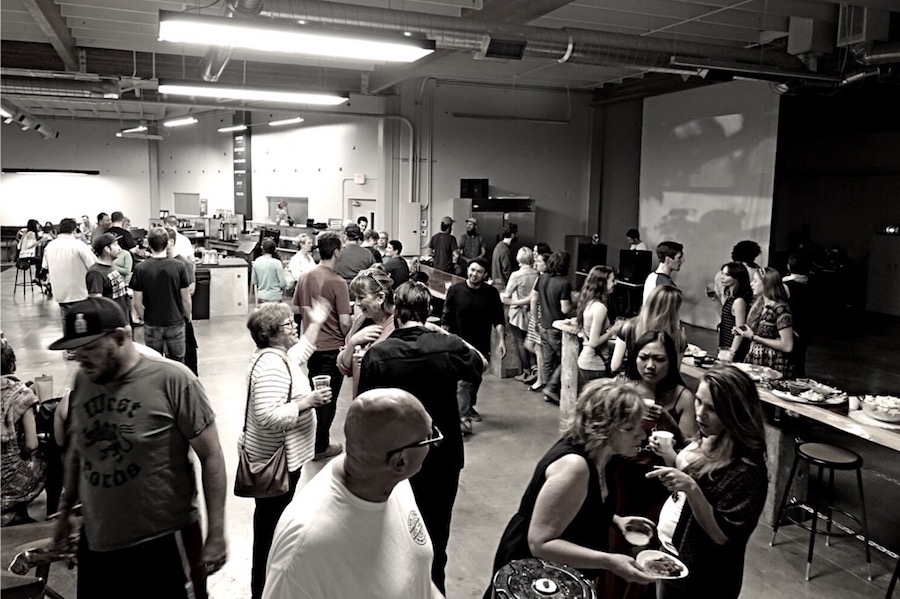 Business model connects production, service
On Saturday, April 16, Identity Coffees opened the door of its over 4,000 square ft. store, located on 28th and O streets in Midtown Sacramento. The grand opening celebration included food and samples of select menu items, including cold brew and cascara coffees, as well as live music by Julio Mina and a projected art screening by Kevin Zee.
The grand opening was a very emotional day for co-owners Ryan Rake and Lucky Rodrigues. Vanessa Bautista, who is married to Rodrigues and is working on public relations for Identity Coffees, explained that the two have dreamt of opening a business together for many years.
"The guys got up and spoke. Lucky attempted to not cry, then he ended up crying. It is kind of a dream come true. Lucky and Ryan wanted to do a business together many years ago, then life came and went and this is the first time they have been able to realize this dream together," Bautista said.
Bautista adds that Rodrigues and Rake have complementary personalities, encouraging a positive working relationship. Rake and Rodrigues have been friends since they met as teenagers. Both share a passion for music, which they hope to incorporate into the business through special events. Rake is a graduate of the UC Davis Graduate School of Management, which is helpful for business operations at Identity Coffees. Additionally, Rodrigues brings sixteen years of experience in the coffee industry to Identity Coffees, and has curated most of the menu.
"It is a really good fit because running a business is hard, it is like running a party everyday, all day long," Bautista said.
The Identity Coffees menu includes classic espresso drinks including lattes, mochas and cappuccinos among others. Rake explains that employees call their signature espresso blend the "bees' knees" because it is sourced from a farm with a bee colony that pollinates the coffee plants.
Rake commented that the cold brew and cascara coffees are what sets Identity Coffees apart from its many competitors in the Sacramento area. He explains that cascara tea is made from coffee cherries, the fruit of the coffee plant, which is brewed as a tea and served on tap. It is slightly carbonated and is only brewed in small quantities.
"Our cold brew is also on tap. It is very smooth and delicious. I say that no one does cold brew better than us. We brew it for 24 hours at once, rather than using a concentrate then adding water afterwards," Rake said.
Another unique aspect of Identity Coffees is its business model. Rather than designating employees to roast beans, source the coffee, or work as baristas, all employees contribute to multiple aspects of the business. The Sacramento location hosts not only a coffee bar and cafe, but also a training center, roasting area and a space dedicated to shipping wholesale coffee. Employees also travel to South America during coffee harvests and meet the families involved in the agricultural production of the coffee. Thus, the entire Identity Coffees operation, with the exception of farming, is run under one roof, and the coffees served in store is roasted on-site.
"Through the years I have realized that there is a lot of segregation between the growing and production of the coffee and the export logistics, all the way to the coffee makers and the consumers," Rodrigues said. "Those have been very segregated areas of the industry."
The Identity Coffees Kickstarter page, which raised over $10,000 in less than one month early this year, explains the store's philosophy that "when the person serving you the coffee is the same person who sourced and roasted it, [they] will serve you better than anywhere else."
Identity Coffees attempts to give every employee, including the owners, the opportunity to work in all areas of the company, with the concept of identity interwoven into all aspects of the business model and inspiring the business name.
Written By: CAROLINE STAUDENRAUS – city@theaggie.org