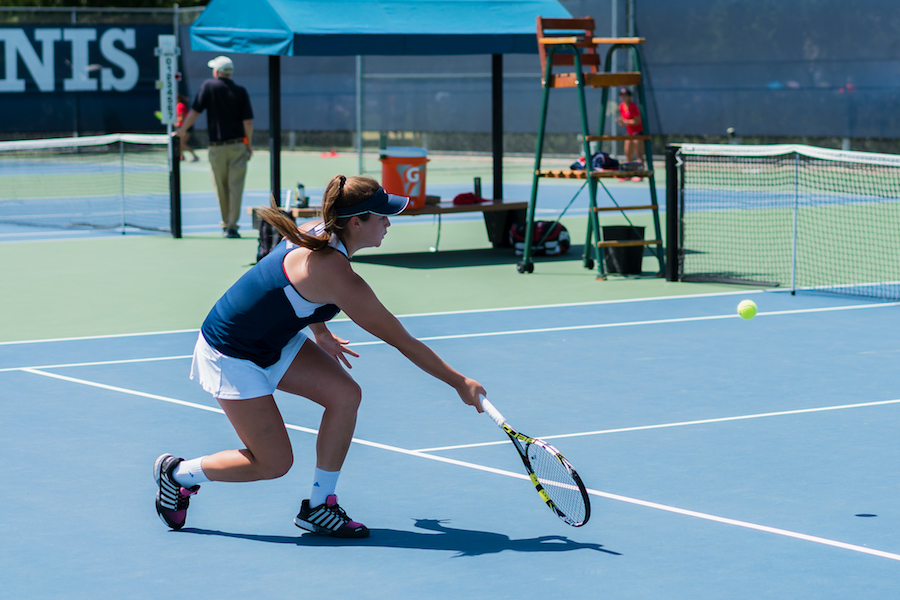 UC Davis women's tennis team heads to Big West as No. 7
The UC Davis women's tennis team held a touching ceremony just before the Aggies played the Big West Conference ranked No. 4 Hawai'i to honor graduating senior Tiffany Pham, and juniors Alex Huie and Frederique Sleiffer.
Despite the Aggies' best efforts, the Rainbow Wahine still came out on top, winning 2-1 in the doubles matches and 1-0 in the singles.
The doubles pair of Sleiffer and junior Kamila Kecki was the final doubles match of the morning and was intense during their initial start, but fell due to a 6-1 Hawai'i lead and a tired pair of Aggies.
Pham, however, was not settling for anything less than a spectacle in her final match as an Aggie. The senior went on to win 6-3 and 7-5 after losing her first set against Hawai'i, adding another win to make a three game winning streak. Sophomores Kristy Jorgensen and Jessie Lee will welcome Pham into a now trio of Aggies who have won 10 singles matches this season.
Accompanying Pham to the Big West Conference this upcoming week is Lee, who matched the senior with intensity and is on a quest to make a huge advancement in her career. She did this after winning 2-1 of the sets against Hawai'i, picking up her ninth win in the past 10 games and a team-high 15 singles wins.
The sweat the Aggies left at the Marya Welch Tennis Court was not just from the heat, but from the fierce play against the Rainbow Wahine. Unfortunately, the Aggies' best efforts were still not enough to come out with a win, as Hawai'i won 5-2.
The loss is not the end, and the Ags will play in the Big West Conference as a No. 7 seed against No. 2 UC Santa Barbara in their journey to advance to the next round.
Written by: Veronica Vargo – sports@theaggie.org