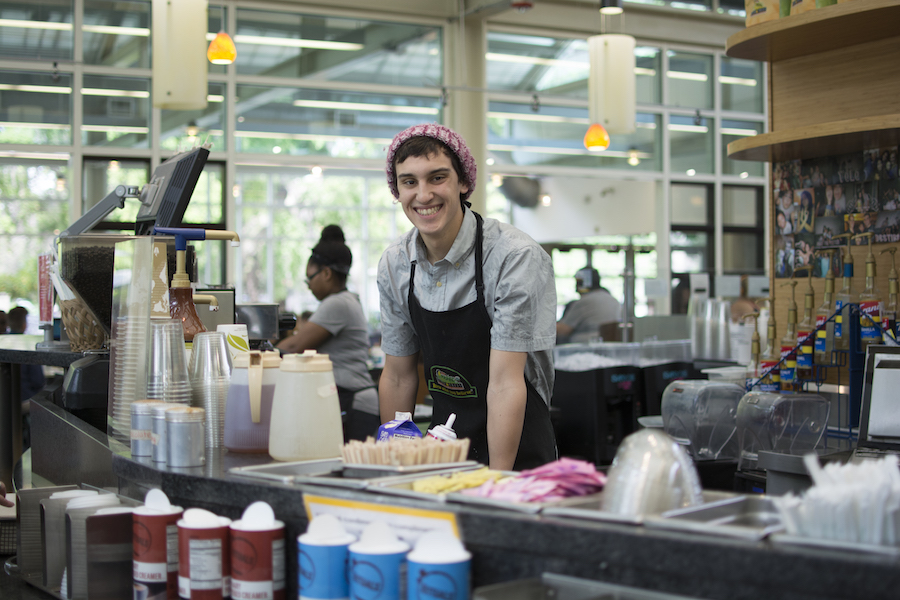 A cashier at the infamous ASUCD Coffee House shocked the Davis community with an unprecedented and unwarranted friendly comment.
A horrific incident occurred on campus last Friday, just before the 102nd Picnic Day.
Hayley Robbins, a 7th-year atmospheric science major, was casually using her AggieCard to pay for her iced coffee when the cashier, whose identity has yet to be released, told her to "have a good one."
This incident doesn't seem to be out of the ordinary. But wait until you hear this: the cashier told Robbins to "have a good one" genuinely. The cashier actually wanted her to have a good day.
"What was particularly disturbing was her smile," Robbins said. "It was just so big. She was actually happy as she was handing me my iced coffee with room for cream. I didn't know what to do. I just threw the coffee in the air and ran. I didn't even remember to get them to punch my stamp card."
The troubling incident occurred just days after shocking revelations about UC Davis' past. Rumors had been circulating that the administration is prepared to again spend at least $175,000 to cover up the CoHo incident.
Unnamed sources inside the CoHo said that they are afraid that this occurrence will give the popular study spot a reputation of actually caring about the students they serve.
"It's just not the kind of environment we're trying to provide here," the source said. "We just want to make everyone feel like they don't matter and that we don't care if they come back. God knows they will anyways. They're never going to stop lining up for our 'Mexican' food."
Many students have been worried following this incident and have been expressing their concerns.
"When I go to the CoHo, I want to know that I'm going to be free from somebody caring about me or what kind of day I have. It's supposed to be my safe space," said Reynold Armstrong, a third-year communication major. "Now I don't know where I can go to receive apathetic customer service. I'm really disappointed."
You can reach BRIAN LANDRY at bjlandry@ucdavis.edu