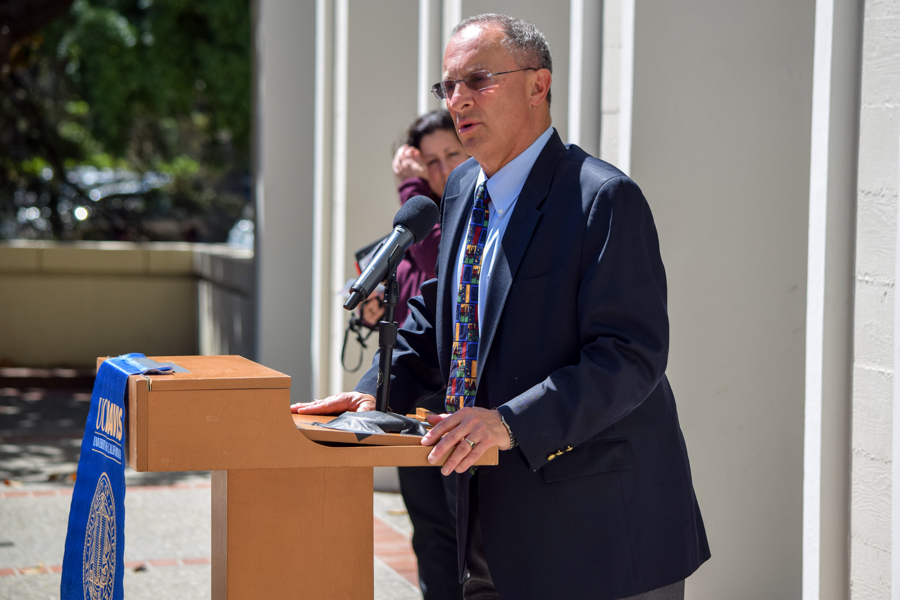 Faculty members recognized for work in administration, literature, music, physics
Four members of the UC Davis faculty were recently elected to the American Academy of Arts and Sciences, bringing the current number of scholars from the university in the academy to 25.
The nomination and election processes are secret and conducted by current members of the academy. According to Dave Nuscher, chief communications officer for the American Academy of Arts and Sciences, potential members are nominated by other scholars in the same field; nominees are voted on by the entire academy.
Election is based on a scholar's accomplishments over the course of their career. This year, those elected include Acting Chancellor Ralph J. Hexter, physics professor Andreas Albrecht, music professor Chris Reynolds and English professor David Simpson.   
Hexter was honored for the work he has done as a school administrator on behalf of LGBTQ university presidents.
"Some people must have gotten the notion that I've been doing a good job, but I'd like to think my election was in part in recognition of the role I've played in helping break through the 'glass ceiling' that kept LGBTQ individuals from reaching the presidency," Hexter said. "I am a founding member of LGBTQ Presidents in Higher Education, which now counts about 70 members. I see this as only one dimension of my commitment to promoting diversity and inclusion in higher education."
The origin of the universe is the main area of study for Albrecht, who currently serves as the physics department chair.
"I study the very beginnings of the universe," Albrecht said. "I am a theoretician, so I work with mathematics, equations and computer models and that kind of thing. I deal with really fundamental questions about how physics in the universe works and try to propose answers to these fundamental questions that then lead to actual predictions for signatures in the data we can take and observe."
As a professor of music, Reynolds is in awe to be amongst the ranks of stars and famous musicians.
"It was interesting when I opened up the letter, there was of course the letter of congratulations, and then there was a list of other people in the area," Reynolds said. "[It includes] big stars: Woody Allen, Wayne Shorter, Robert De Niro. It is amazing to be in that group. When I mentally subtract that kind of person and look at who the other music scholars are, I am amazed to be among the group and a little surprised at people who I expected to be there who aren't."
Simpson is a distinguished professor in English.
"My specialties are British romanticism and literary theory," Simpson said. "The former is a historical field, 18th and early 19th century British literature. The second is a more methodological field, literary theory being a kind of philosophy, social science-inspired paradigm for reading literature and culture."
Reynolds, who was alerted by his friend to look for a package signifying admission, was surprised by what this package really was.
"I got home, no package to be seen, and when this person said package, I was imagining something other than an envelope. […] I came in [to the department] and there were three sort of hefty packages in my box," Reynolds said. "None of them were particularly interesting […] I thought, 'Oh well, maybe it will come tomorrow.' Then I thought, 'Well, I will look one more time.' And there, under [the packages] was a thin little envelope with this letter in it. I thought, 'Oh my god.'"
For Albrecht, one of the best aspects of his admission is to be elected alongside three other members from Davis.
"One of the things I love about being at UC Davis is that you interact with colleagues from very different areas," Albrecht said. "The place I was before I came here was a place called Imperial College in London which has a character much like MIT in being very focused on technical areas. In many ways, I was very happy there and it's a great university, but I did miss the diversity in scholarship and talent and creativity in all these different areas. […] It is really special to me to have music and English and classics together, that we are together for that."
Written by: Kenton Goldsby – campus@theaggie.org