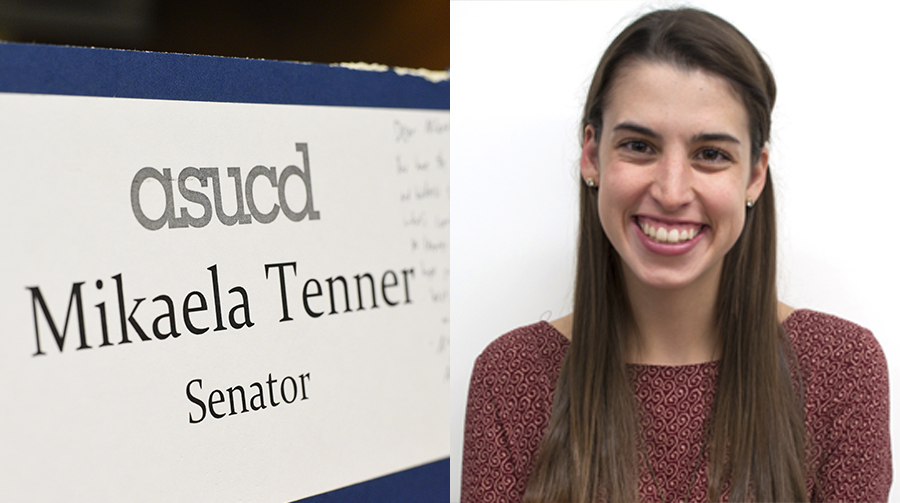 Tenner's replacement to be appointed in the coming days after recalibration of Fall Quarter election results
ASUCD Senator Mikaela Tenner resigned from her post on Thursday, April 28, informing ASUCD government members through email.
Tenner, a fourth-year international relations and political science double major, cited family and personal concerns as motivators behind her decision.
"I did not want to have to do this so early into my term, but unfortunately, I need to resign from my position as senator," Tenner said in her email. "As many of you know, my mom was diagnosed with cancer in February, and this has added a lot of stress into my life that I did not anticipate during my election in the fall."
Tenner, who was elected in fall 2015, ran on platforms including expanding mental health resources, increasing funding for Safeboats, bringing Wi-Fi to the Activities and Recreation Center and working with the registrar to implement pass-time and drop-deadline emails.
According to ASUCD President Alex Lee, Tenner's replacement will be appointed in the coming days after fall election's results are recalibrated to remove Tenner's votes. The candidate with the next amount of votes will be offered the spot.
"It has been a pleasure to work with all of you, and to represent the students of UC Davis. I wish you all the best with the rest of your terms," Tenner said.
Written by: Jason Pham – campus@theaggie.org