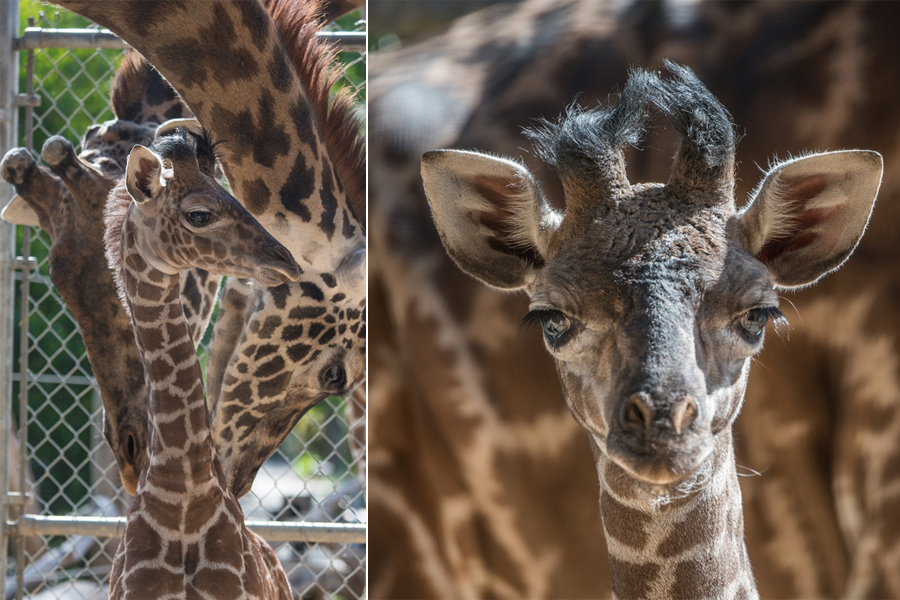 Public expected to meet Rocket by mid-May
On April 10, a six-foot tall male Masai giraffe named Rocket was born at the Sacramento Zoo, weighing 163 pounds.
"His name refers to the speedy nature of his delivery and how quickly he stood and nursed," said Melissa McCartney, primary ungulate zookeeper at the Sacramento Zoo, in an email.
McCartney works solely with giraffes, duikers, hogs, emus, kangaroos and wallabies. The Masai giraffe, found primarily in Kenya and Tanzania, is the tallest of all giraffe species, making it the tallest animal on Earth. An adult giraffe can grow up to 19 feet tall and weigh over 4,000 pounds.
The Sacramento Zoo is home to six giraffes, with the newborn and his father, Chifu, being the only two males. Candelaria explains that the zoo typically doesn't keep more than one adult male because of concerns that the males will compete with each other.
"They're very popular, they're a very large animal and everyone from the smallest of children to adults can see very easily. They're very charismatic animals, but very rarely go out," said Tonja Candelaria, public relations coordinator for the Sacramento Zoo.
Because giraffes are used to living in hot environments, they are very sensitive to cold temperatures (under 50 degrees Fahrenheit). Rocket and his mother, Shani, are currently living in a heated barn and zoo staff members expect the calf to be introduced to the public by mid-May.
"It kind of depends on when mom and the calf give us signs that they are ready to go out. It'll test the calf being stronger on his feet and interacting with the herd more through the protective contact and mom going over to the door to go outside," Candelaria said. "Right now she doesn't seem very interested in going over to the yard with the rest of the giraffes at all and [zookeepers are waiting] for her to become more comfortable being a brand new mom."
McCartney explains that Rocket has become familiar with his environment by following his mother and is getting accustomed to hearing loud noises and seeing crowds of people.
"Since [Shani] does not display nervousness about things that she is accustomed to, he does not react to those things," McCartney said.
McCartney adds that in the wild, giraffes isolate themselves from their herd to give birth, and remain alone after delivery. She explains that zoo staff strive to imitate this natural behavior by keeping Rocket and his mother away from the herd and in quiet zones.
McCartney adds that staff at the zoo can assist if calfs, like Rocket, experience any health problems or neglect by their mothers. According to McCartney, Shani has not required intervention from staff.
Jonathan Lee, who recently visited the zoo, believes that the giraffes at the zoo are well taken care of and are safe from predators and other dangers, as exemplified by their calm behavior.
"They feel so safe, they even sit. In the wild, it's too dangerous to do that," Lee said.
The zoo holds daily events so that visitors can see the giraffes. Giraffe encounters take place at the Sacramento Zoo's Tall Wonder giraffe viewing deck daily between 11:45 a.m. and 2 p.m. Tickets cost $3 each and include two pieces of food for visitors to feed the giraffes. Encounter tickets are available at the giraffe viewing deck five minutes before the encounters are scheduled to begin.
Written By: CARLA ARANGO – city@theaggie.org