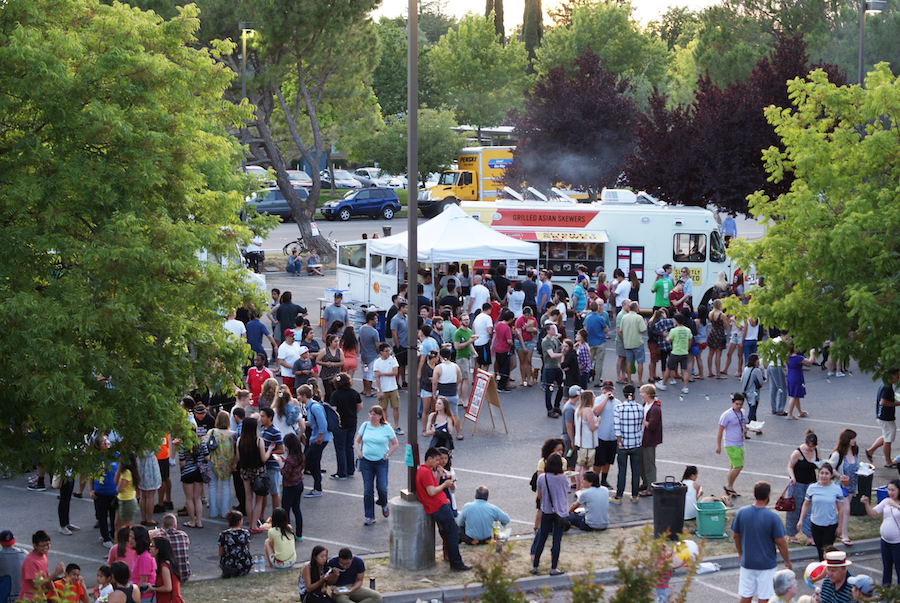 Davis Dirt brings food trucks, entertainment to West Davis
Food trucks, live music and community gathering can all be found at the Street Food Rodeo on Friday, May 20. The event will take place at the Westlake Plaza, located at 1260 Lake Blvd. The event is hosted by Davis Dirt, which is Davis' free arts and entertainment paper that works to promote anything related to music, art and food.
This will be the fourth local Street Food Rodeo and event coordinators expect to continue the event for years to come due to the rising interest and demand for food trucks.
According to Anna Meckstroth, co-editor of the Davis Dirt, everyone was pleasantly surprised at the response to the event in previous years.
"For our very first event, we had no idea what kind of response we would get. The event went from 5 to 10 p.m. and all our trucks were sold out of food by 7 p.m. It's been very very popular and people are still excited about food trucks and luckily there are always more food trucks being created and new types of food, so there's always something new and exciting and people always seem excited to attend," Meckstroth said.
The Street Food Rodeo is the only food truck event in Davis. Meckstroth states that this is due to restrictions placed on food trucks by the city, but the Davis Dirt was willing to work very closely with the city and comply with all of the rules needed to bring food trucks to Davis. The event was initially located by the Davis Food Co-op, but after two years, it was moved to Westlake Plaza in West Davis. According to Meckstroth, this change in location has been a very positive experience for everyone involved, including the West Davis community which is extremely grateful to have action on its side of town.
Janette Getter, assistant manager at Westlake Market, which is located in Westlake Plaza, explains how the event has benefited the market.
"We've been here for almost 7 years in this spot so to have more people come and know who we are and what we represent in the community is amazing," Getter said.
Getter explains that many different organizations and groups help put together the event with their involvement and their contributions. She adds that people have been requesting more trucks, helping the event to grow into something bigger every year. Getter notes that getting everyone together is what the event is all about and people always seem to have a great time.
Romina Hashemizadeh, a second-year microbiology major, explains her experience at last year's rodeo, stating that she looks forward to similar events in Davis.
"The diversity of the food was very appealing and the fact that there were a lot of people, it was a social atmosphere, there was live music, it made you want to stay and just spend a few hours there just hanging out in the nice weather listening to music and eating different types of food," Hashemizadeh said.
According to Meckstroth, this year there will be music for people to enjoy as they eat. Additionally, there will be street performers entertaining those in line.
The event will run from 5 to 9 p.m. with free admission and 13 food trucks. For more information and the complete truck line-up, visit www.thedavisdirt.com.
Written By: HADYA AMIN- city@theaggie.org