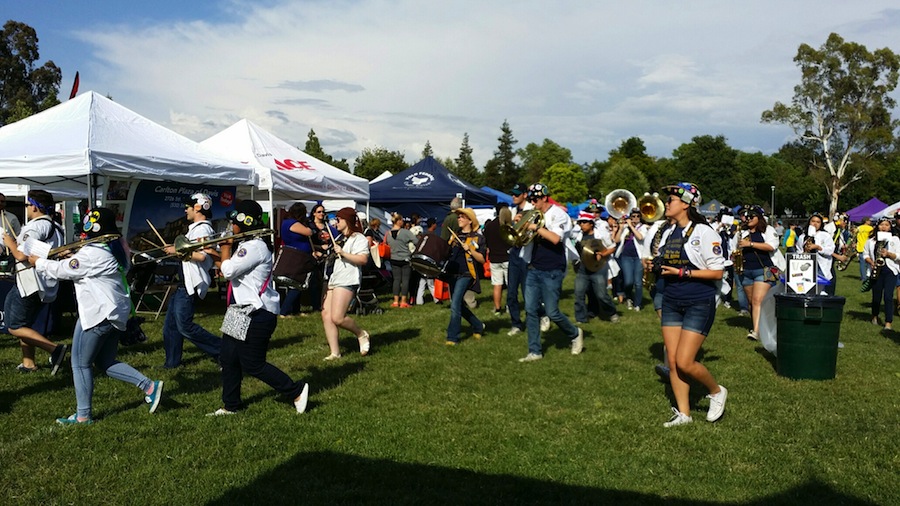 Chamber of Commerce engages community with food, fun, fireworks
Get ready, Davis-ites! The Davis Chamber of Commerce will be holding its annual Celebrate Davis event on May 19 at Community Park located at 1405 F St. This is the largest event the Chamber organizes, and it is popular among residents and businesses alike.
"It's a chance for our members to get [booths] and showcase who they are and what they do for the community," said Emily Ziser, the director of Membership for the Davis Chamber of Commerce.
The event has been held annually for over 10 years and includes a range of activities, from zip lining to face painting. At night, there will even be a fireworks show.
"In order to make it a little more fun for the families and have it not be just a business expo, we started including what we call a Family Fun Zone," Ziser said.
Additionally, for the adults over 21, there will be a beer and wine garden. Besides these activities, Celebrate Davis will have several food booths to showcase the town's local flavor.         
"The original idea was to show off what we felt was the best about our community as well as to give the chamber a chance to publicize to the community what they do," said Bob Bowen, public relations manager for the City of Davis.
Bowen was part of the original planning of Celebrate Davis. While Davis has seen many developments in the last 10 years, Bowen said that Celebrate Davis remains a time for residents and business owners to honor all that is unique about Davis.
"A lot has remained the same since the early years," Bowen said. "They've fine-tuned some details, whether it's really encouraging people to ride bikes, setting up valet bike parking using U.S. Bicycling Hall of Fame volunteers and expanding some of the entertainment options, food and drink options."
This year, Mace Ranch Innovation Center is sponsoring the event and firework show. Although the innovation center has seen its ups and downs — the most recent being a hold placed on the project — Ramos cited the 20-year relationship between the company and the Chamber of Commerce as a driving force behind the decision to sponsor the event.
"There are a lot of outreach events that the chamber does, so we thought it was a good time to do a lead sponsorship and do the fireworks. We made that decision way back at the beginning of the year," said Dan Ramos, project manager of Mace Ranch Innovation Center.
Ziser said that the goal for Celebrate Davis, like many other events organized by The Davis Chamber of Commerce, is mostly for fundraising since the chamber is a non-profit organization. However, Celebrate Davis is also a way to give back to the community.
"Above all, we just want our members to be happy because we are a membership organization and if we aren't providing them with fun opportunities, then we won't be here," Ziser said. "It's important to us to give them something that's valuable."
Written by: Samantha Solomon – city@theaggie.org