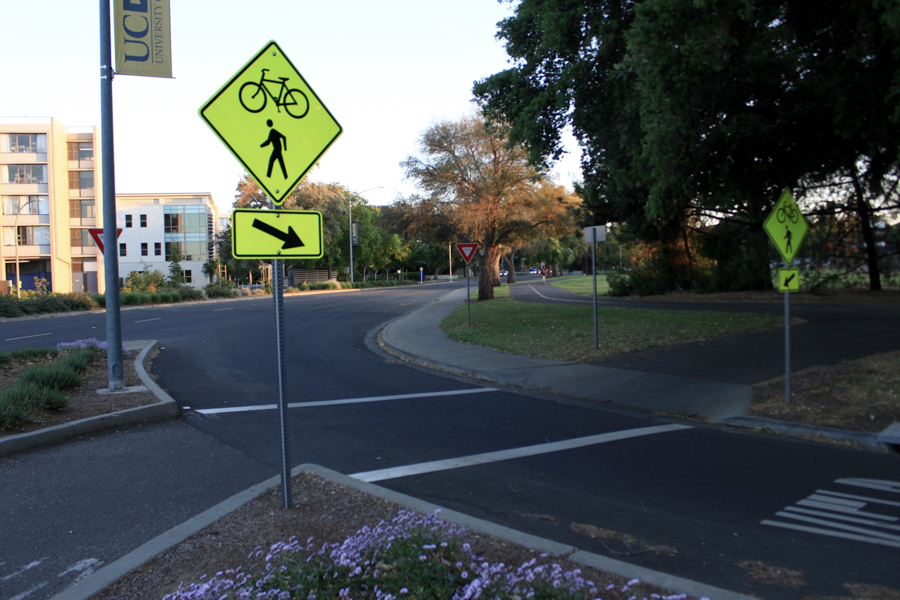 International ride honors bike crash victims  
On Wednesday, May 18, The Ride of Silence will take place in Davis to honor cyclists who have been injured or killed while riding.
Rides on May 18 will take place worldwide to honor cyclists who have been in crashes and to raise awareness for bikers' rights on the road. The eight-mile Davis ride will begin at the Veterans Memorial Center on 203 E. 14th St. and end at the United States Bicycling Hall of Fame on Third Street in downtown. There is no registration fee, although participants have the option to donate $1 at the beginning of the ride in order to cover costs for ride expenses. Helmets will be mandatory and bike lights are recommended.
The first Ride of Silence took place in Dallas in 2003, and in February 2016 it became an official non-profit organization. Since 2003, rides have taken place in 20 countries and on all seven continents. The Ride of Silence started in Davis by Bill Sbarra, a member of the Davis Bike Club. Davis resident Ellen Winder and her husband André Hamel have organized the Ride of Silence in Davis since 2014.
"We were inspired to do [the ride] because in 2010 my first husband and I were involved in a bicycling accident in Quebec, Canada. In 2011 and 2012 I went back to Quebec to participate in their Ride of Silence, and it was very inspirational and amazing. We decided to do the same thing in Davis on a smaller scale," Winder said.
David Takemoto-Weerts works for the United States Bicycling Hall of Fame in Downtown Davis and is the Bicycle Program Coordinator for UC Davis. In his time at Davis, Takemoto-Weerts and UC Davis Transportation and Parking Services have taken action to promote bike safety in Davis and on the UC Davis campus, including the implementation of the BEEP program, an online course about traffic rules and cyclist safety. Takemoto-Weerts added that pedestrians, cyclists and those driving vehicles all must be educated on traffic and safety procedures.
"The Ride of Silence is a good thing because it brings awareness to the non-bicycling public and to people who don't ride bikes very often about the fact that the lives of cyclists matter," Takemoto-Weerts said.
While helmet and bike light use can mitigate the effects of crashes, drivers are often unaware of the rights of cyclists. According to the Highway Data Loss Institute, 720 cyclists died in crashes in 2014.
Darrell Dickey, a participant in this year's Ride of Silence in Davis, commented that more policy changes are needed to protect cyclists on the road including designing roads that accommodate both bikers and vehicles. He added that policies that treat bikes as if they are cars can create dangerous situations for cyclists. For example, road design and development can favor motor vehicles and not allocate room for bike lanes. Resultantly, he believes that people are less willing to cycle due to perceived danger and the lack of cyclists leads to a lack of action to improve safety.
"We see automobile funeral processions all the time. We honor people who died by driving our cars slowly and solemnly," Dickey said. "This is a group effort to do that, particularly for cyclists who have been killed or injured. We do it to show respect."
Written By: CAROLINE STAUDENRAUS – city@theaggie.org