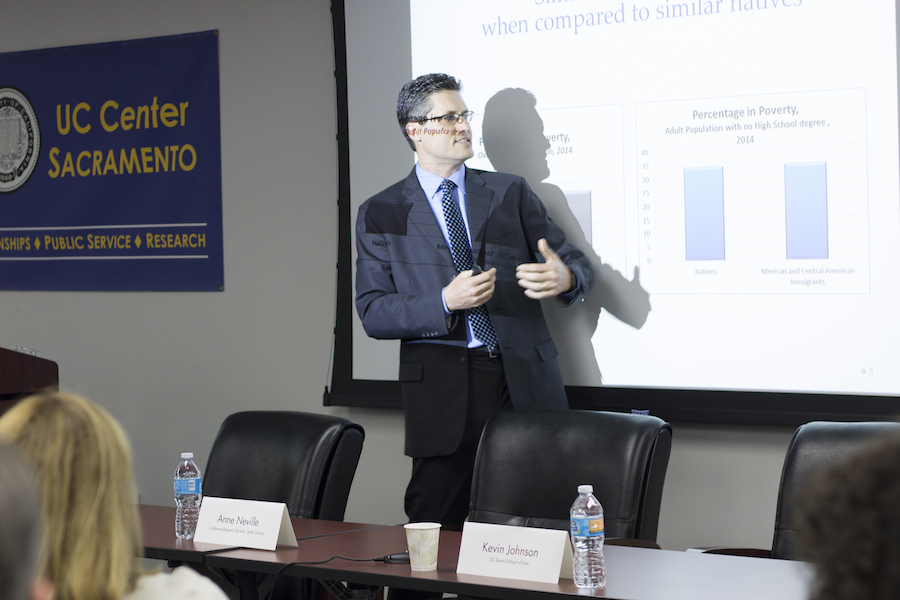 UC Davis Center for Poverty Research collaborates with policy community at Poverty Research and Policy Summit.
On April 22, the UC Davis Center for Poverty Research brought together researchers, policymakers, practitioners and advocates at the UC Davis Poverty Research and Policy Summit to discuss ways that research can help to combat poverty. The discussion, held at the UC Sacramento Center, explored poverty research and policy over the past 10 years.
Marianne Page, deputy director for the Center for Poverty Research, said that the summit gave both researchers and people involved in policy a chance to collaborate on the complex topic of poverty.
The Center for Poverty Research is a federally-funded center, and is one of three regional centers funded by the Department of Health and Human Services; the other two are based at Stanford University and the University of Wisconsin.
"There are three centers and they each have a different orientation and our center is oriented towards researching four areas," said UC Davis psychology professor Ross Thompson. "Each of those areas was represented in one of the talks that we presented."
The center focuses on immigration with relation to poverty, the effects of poverty on children, how labor markets affect poverty and the the effectiveness of social programs that are meant to assist people under the poverty line. At the summit, researchers were given 20 minutes to present what the last decade of research on each topic has shown about poverty. The panelists who are involved with policy were given the chance to respond to each presentation followed by general discussion of each theme.
Page stressed the importance of the summit, since collaboration between researchers and those involved with policy is not always available. While researchers look at poverty on a theoretical level, those in policy actually witness poverty in action. Bringing these two different approaches together can allow for progress in both fields, according to Page. Policy implementers are able to poke holes in certain aspects of research and, as a result, researchers can expand what they are looking for when asking questions about the subject.  
Thompson and Page collaborated on the children and poverty presentation. First, they asked whether children who grew up in poverty and experienced mental health problems have lower education levels, underemployment, unemployment, or lower wages. When research indicated there was a relationship, they then explored why the long-term effects of poverty are evident in children.
"We begin at the level of neighborhoods and communities. We then consider the effect of poverty on families [and] parent–child relationships. We consider then how children think of themselves: their self images, their aspirations for success, their self confidence," Thompson said. "Then we burn down deeper to look at the effects of poverty on health and the immune system. You've got these really different levels that help explain why poverty has these effects on children and why those effects tend to persist over time."
Thompson and Page were able to end on a hopeful note, concluding that policy interventions can help improve children's health. For example, programs that help parents cope with economic stress can improve parent–child relationships and improve children's health and confidence.
On the other side of the summit, panelist Kevin Johnson, dean of the UC Davis School of Law, took on the focus of immigration and poverty.
"[The summit] had a full house. […] I think that it was important to get researchers together with policymakers and policy implementers to talk about these important issues," Johnson said. "I was quite pleased to see a number of UC Davis faculty and alums as well as attorneys and others listening intently to think about how we as a community and society can address these issues."
In his presentation, Johnson discussed the economic benefits of integrating immigrants into the social safety net, allowing immigrants to receive more social benefits through programs offered by the state.
Through this integration, immigrants have a higher chance of being economically successful, possibly lowering poverty amongst immigrants. For Johnson, the conference provided a platform to raise discussion on these important problems.
"You're not going to solve the problems of the world at a conference on a Friday afternoon," Johnson said. "But you are going to start a discussion and dialogue that can have an impact and move us in a positive direction when it comes to these controversial issues."
Written by: Amanda Cruz — features@theaggie.org