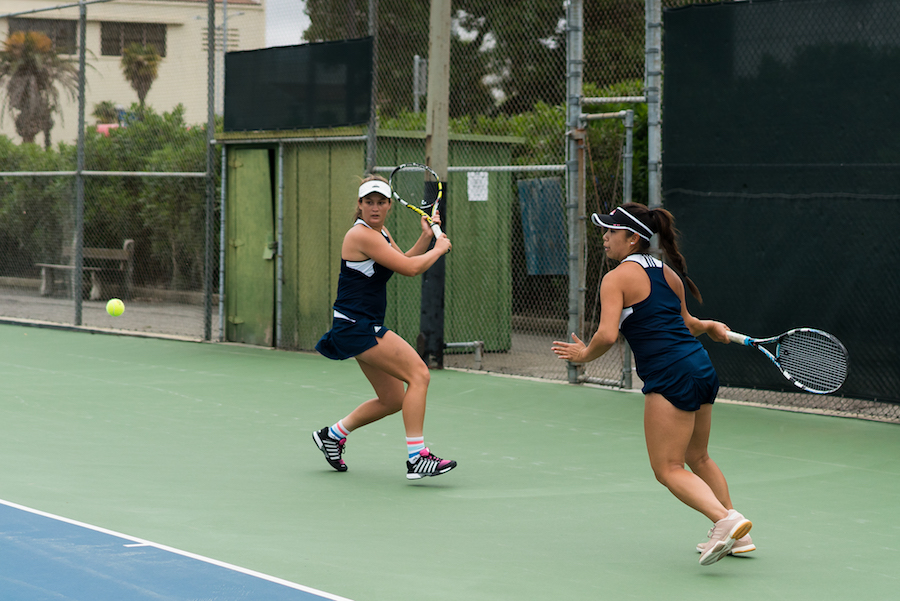 The women's tennis team finishes off post-season play at Indian Wells.
The UC Davis women's tennis team travelled to Indian Wells last Thursday to compete in the 2016 Big West Women's Tennis Championships. Seeded No. 7 in the tournament, the Aggies drew No. 2 seed UC Santa Barbara as their opponent. The two teams have played against each other in the Big West quarterfinals the past three seasons, and competed once this past season in February, during which the Aggies fell to the Gauchos 4-0.
Following the format of regular season play, the competition started with doubles matches. Junior Alex Huie and senior Tiffany Pham recorded a 6-1 loss at the number one doubles spot, and juniors Kamila Kecki and Frederique Sleiffer lost 6-0 in the number three doubles spot. With two out of three wins, the Gauchos secured the doubles point and by default the third doubles match ended as well.
The Aggies lost the first three singles matches, with sophomore Kristy Jorgensen falling 6-0, 6-1, Pham recording a 6-3, 6-1 loss and Kecki with 6-1, 6-0.The three other matches, including those of sophomores Jessie Lee and Lani-Rae Green, ended once the Gauchos received their berth. The Aggies finished the season with an overall record of 10-12 and six wins out of the past ten matches under their belt.  
"I think we finished playing the way we wanted to play, so regardless of the outcome we ended on a good note," Green said.
Looking forward, the Aggies will be welcoming two new players the coming season. With this year's number one, two and three singles players also returning, head coach Bill Maze expects there to be a change in the lineup.
"Lani-Rae did a great job at one, which is a tough spot to win and she won her share for sure," Maze said. "Jessie Lee has had a phenomenal year, and Kristy played one last year so they will all be vying for that top spot along with the others."
To round off the season, two Aggie doubles teams and one singles player earned All-Big West accolades. Teams Jorgensen-Green and Huie-Pham were given honorable mention for their doubles play and Green was awarded an honorable mention for her performance as a singles player. Green, Huie and Pham are first time recipients of the Big-West awards, while Jorgensen was All-Big West Conference singles second team and doubles second team last year.
Written by Julia Wu – sports@theaggie.org