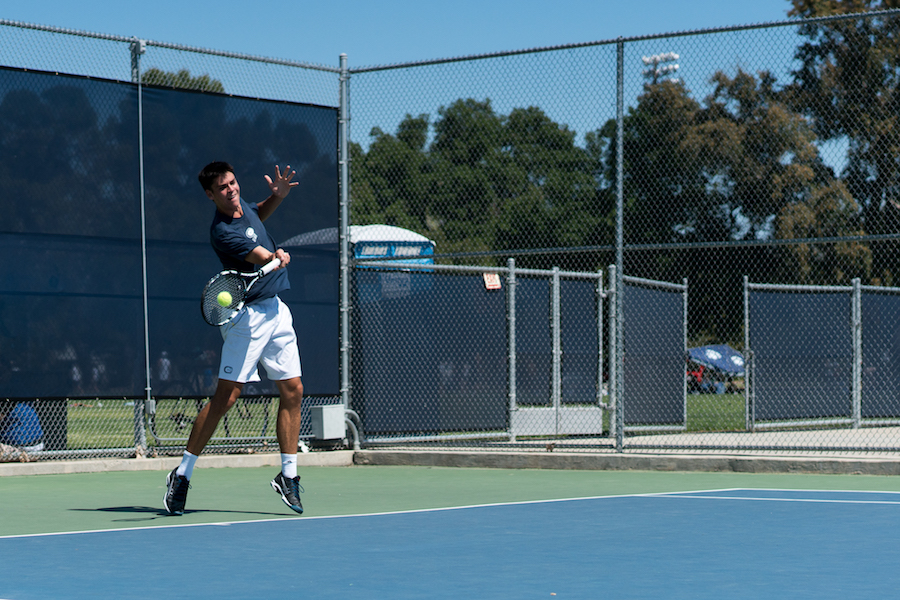 Aggies end their season with best overall record since 1991
The UC Davis men's tennis team traveled to compete as the No. 3 seed in the Big West Tournament at Indian Wells from April 27 to 28.
The Ags kicked off the tournament strong on Wednesday, sweeping the Hawai'i Rainbow Warriors 4-0 in a quick match. Senior Brett Bacharach and junior Eli Whittle, along with tandem junior Alec Adamson and senior Adam Levie, won their matches, 6-2 and 6-1, respectively, giving UC Davis the doubles point advantage.
The Aggies also went on to do work in singles, clinching three straight-set wins to wrap up a shutout victory. Sophomore Everett Maltby dominated with an easy 6-0, 6-0 shutout. Junior James Wade followed suit, 6-1, 6-1, giving UC Davis another point. Bacharach put the finishing touches, 7-5, 6-1, on a UC Davis victory. With their first round win, the Aggies advanced to play rival and No. 2 seed, Cal Poly San Luis Obispo.
After losing to Cal Poly, 4-3, on the road in regular season, UC Davis hoped to return the favor and advance to the final round of the tournament. However, the Aggies' previous 0-2 record against the Mustangs in the Big West Tournament proved to stand in a close, three-hour, 4-2, rematch on Thursday afternoon.
The Mustangs got the lead early with a quick doubles win over Bacharach and Whittle, 6-3, while sophomore Tommy Lam and junior Bryce McKelvie held their opponents at 6-3. Cal Poly secured the doubles point as Adamson and Levie fell, 6-4.
UC Davis tried to make a comeback during the singles matches with McKelvie finishing in straight sets, 6-2, 6-3, avenging his past loss that decided the team's regular season match against Cal Poly. Bacharach lost in straight sets, 6-4, 6-1, giving the Mustangs the lead again, but Maltby tied it up once more by winning his match after faltering in the first set, 2-6, 6-2, 6-2. UC Davis fought back with Lam, who pushed his match to three sets, but the Aggies could not hold on in the third set, falling 6-3, 3-6, 7-5. The Mustangs delivered the heartbreaking blow and ended the Aggies tournament hopes after Wade fell in a second-set tiebreak, 6-3, 6-7 (6), 7-5.
The Aggies end their season 17-7, the best record for UC Davis men's tennis program since 1991.
Written by Nicolette Sarmiento – sports@theaggie.org