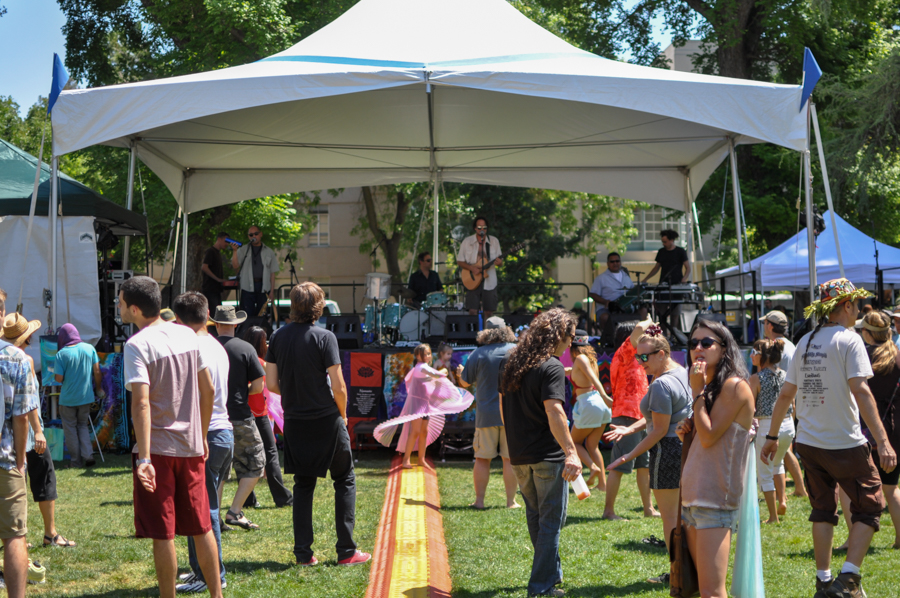 Bands and musicians from Davis, throughout California, Canada, head to annual local festival
The joys of Spring Quarter don't end after Picnic Day. This weekend's Whole Earth Festival (Friday, May 6 to Sunday, May 8) will boast food, local vendors, sustainable education, excessive hula hooping and of course, great music. With an amazing lineup of local musicians and bands, the quality of the lineup can easily get lost in the quantity of performers. Prioritize your listening with a brief highlight of this weekend's tunes:
Friday:
The French Cassettes
Hailing from San Francisco, this quirky, upbeat, indie pop/rock band will set the perfect youthful and energetic mood for the weekend. Having paid to see them once at the Chapel in S.F., I couldn't be more excited to see them again (but this time, for free). Take a listen to their single, "Mouth Drum," to get an idea of their full length album, Gold Youth, and their EP, Summer Darling.
Tha Dirt Feelin
A band from Davis, this group makes music that will encourage almost anyone to dance. Identifying as a soul-funk-rock group, their music is naturally feel-good and instills within their listeners "tha dirt feelin." Check out their rendition of "Thunderclap" from their session with Aggie Studios.
The Human Experience
Electronic artist and producer David Block frequently collaborates with artists, but The Human Experience remains his primary project. With a sound that seems fitting for a bout of hula-hooping, it is best described as "a delicious symphonic blend of prismatic soundscapes and sultry beats," according to his website.
Saturday:
Monophonics
There's a reason this group headlines the Saturday lineup — arguably the most popular day of the festival. With an experienced discography and a sound that almost any festival-goer can enjoy (check out their recently released album, Sound of Sinning), their music is the perfect ending to a festival Saturday. Check out their single "Promises" for a preview.
Steep Ravine
If you can't wait until Sunday to check out the folk/Americana heavy lineup, Saturday will also boast melodic, acoustic sounds. Listen to the quartet of guitar, bass, mandolin and violin play their song "The Waiting Blues" to get an idea of their sound.
Groovesession
At Whole Earth, there's no such thing as too much dancing, nor too much soul. I expect neither of these two facets to go unapparent during their Saturday set, so make sure to stop by and hear a performance from their extensive tour throughout California. Check out some sessions of grooving here.
Cello Joe
He's a beat boxing cellist. Need much else be said?
Sunday:
Joe Craven and the Sometimers
This freestyle folk group is the perfect low-key wind down to a busy weekend. Their genre-defying sound makes every song interesting, and of course, will make for a very diverse and entertaining set. As a group with a multi-instrumental basis, their unpredictable set is certainly worth checking out.
Maya Burns
Having attended the Whole Earth Festival since her childhood, Maya Burns — only 17 years old — is best known for her sweet yet powerful vocals and her versatility of music. Ranging from jazz to Ranchero music, her sound is heavily influenced by her upbringing in Baja, Mexico. Check out this Davis favorite on her YouTube channel for a wide variety of covers.
Katgrüvs
A student musician here at UC Davis, Katgrüvs is an extremely talented fingerstyle guitarist. If her sound isn't hypnotizing enough, simply watching her play guitar certainly is. Make sure to stop by her set to experience this dual visual and audio performance.
Davis Additionals:
Don't forget to check out these Davis artists, some of them our very own student musicians:
The Sunday Slippers
According to their Facebook page, this student group has "the energy to keep crowds movin' and groovin' all day and night," and are "guaranteed to impress." With that being said, we expect nothing less.
Kaz Mirblouk
A prominent force in UC Davis' music scene, make sure to listen to the self-identified garage/psych-punk three piece that brings the underground music scene here in Davis to the front of our attention.
Pastel Dream
A dream pop band consisting of, yet again, talented student musicians, has a great set of original tunes on their SoundCloud. But of course, the live rendition at their Saturday set is bound to be even better.
Big Sticky Mess
Hailing from Davis, this funk group is a returner to the festival. Check out this groovy show from 2014 Whole Earth to get amped about their 2016 version during their Saturday set.
A Recommendation from Whole Earth Festival's Entertainment Director, Jessie Wong:
Lila Rose
With a sound that resembles Florence and the Machine and even Lana del Ray, this musician is bound to draw a crowd to her Friday set. Based in California, this musician's "compassion and understanding of the world around her," according to her BandCamp, makes her a perfect fit for this year's RAW themed Whole Earth Festival.
Written by: Ally Overbay – arts@theaggie.org