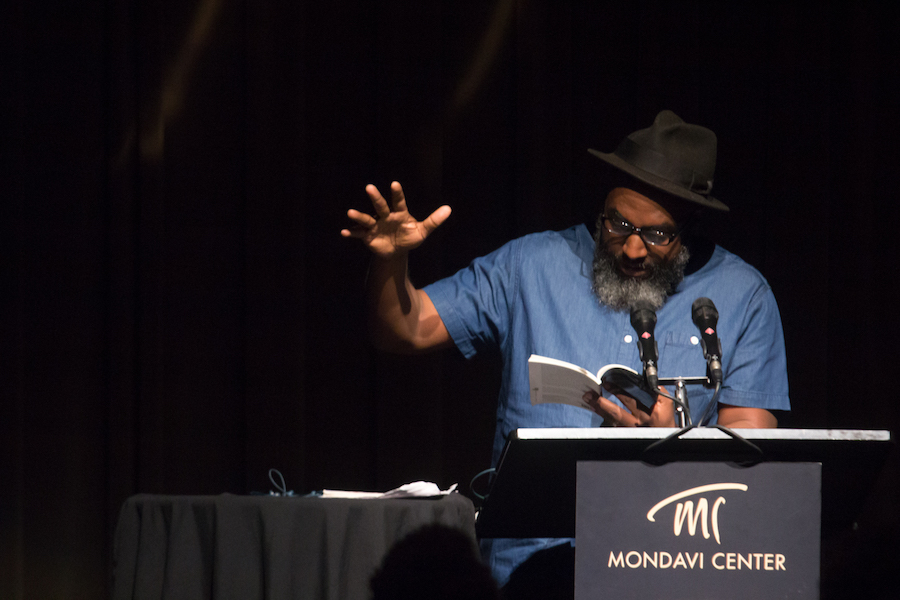 Writers bring visibility to the black experience in London through powerful performances
On Tuesday, May 3, I had the good fortune of attending the Breaking Ground: Black British Writers tour at the Mondavi Center. The tour sold out the intimate Jackson Hall where the event was held. As an English major and writer myself, I thought that the event would be a great learning experience and an enjoyable way to spend a Tuesday night. I ended up finding myself completely blown away by the intensity of the performances and the high quality of all the work that was read.
"If you feel like you need to laugh, laugh. If you feel like you need to cry, cry. Don't hold your emotions back because we're not going to hold back our performances," said Roger Robinson, a reader at the event, when he introduced the evening.
There was certainly a wide range of emotions in the room as nine of the 10 British writers who are part of the Breaking Ground tour read their work. From funny to devastating to absolutely encapsulating, every writer had a different story to tell that had the audience engrossed.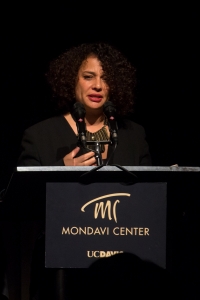 The event started with Colin Grant, who read from his book Bageye at the Wheel, about his father and life growing up in London. The second reader, Gabriel Gbadamosi, read from his book Vauxhall. He said while he was, at times, unsure of how to describe the book, part of it was about "Britain and our multicultural society." The descriptions in the work of fiction were vivid, detailing a child's journey watching a girl die after falling out of a window, and living in a crowded flat with a tense family in London. Karen McCarthy Wolf followed him, reading her haunting and very personal poetry about the death of her stillborn baby.
Johnny Pitts, curator of Afropean, went next, reading his spoken word poetry that included a slideshow of his travels around Europe. Speaking about the slideshow, Pitts said he embarked on the journey around Europe to "document that, yes, we do have black people."
Then came Bernardine Evaristo, who read a witty piece of fiction about Carol, a business-oriented young woman of color who longs for both power and freedom of her identity. The piece had the audience laughing at every other line that described Carol's late-nights studying the economy and dancing in her room to blues when no one was looking.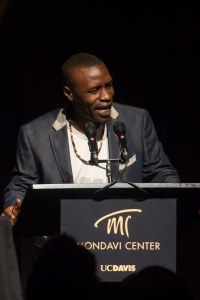 Next was Nick Makoha, an immigrant to Britain from Uganda, who performed spoken word. Diran Adebayo followed him, reading his self-described "sports-accented" memoir titled Random, and Cricket.
Graphic artist, programmer and writer Jay Bernard went second-to-last, reading a story from her most recent book The Red and Yellow Nothing. The poem she read details a black boy who travels to Camelot to find his white father. Bernard said the writing is based off of the lesser-known medieval story about a boy named Morien.
"When we look at medieval European history, we think it's very white-washed," Bernard said. "But there's actually a large black presence."
This spoke to what all of the writers at the event were attempting to show through their work. Many detailed the experiences of black people living in Britain and Europe, and their work connected closely to the racial tensions, stereotypes and expectations that black Americans face as well. The power of their work also reflected the general human experience, the ups and downs of life and death, connecting with one another and becoming visible through writing.
Robinson, who opened the event, closed it as well. An immigrant from Trinidad to England, Robinson read spoken word about his grandmother's immigration story and another poem about the fears he and his wife faced when their son was born prematurely. His reading was incredibly emotional, evoking tears and laughter from the audience.
During his performance, several audience members snapped to show approval. Robinson stopped at one point to look up.
"I've seen that [snapping] on TV in America," Robinson said. "It's cool, I like it."
Warsan Shire, who wrote the poetry for Beyonce's recently released visual album Lemonade, is also a part of the Breaking Ground tour group. Unfortunately she could not make it to the event Tuesday night.
All of the performances and readings were encapsulating, and I would recommend looking any or all of the writers up and learning more if you're interested. I know that I will definitely be following these writers after being fortunate enough to hear them read and perform their work for a powerful night. It is fantastic that the Mondavi Center booked such a tremendous tour group with diverse backgrounds and experiences; here's to hoping they continue to bring talented, diverse writers and performers back.
Written by: Melissa Dittrich – arts@theaggie.org