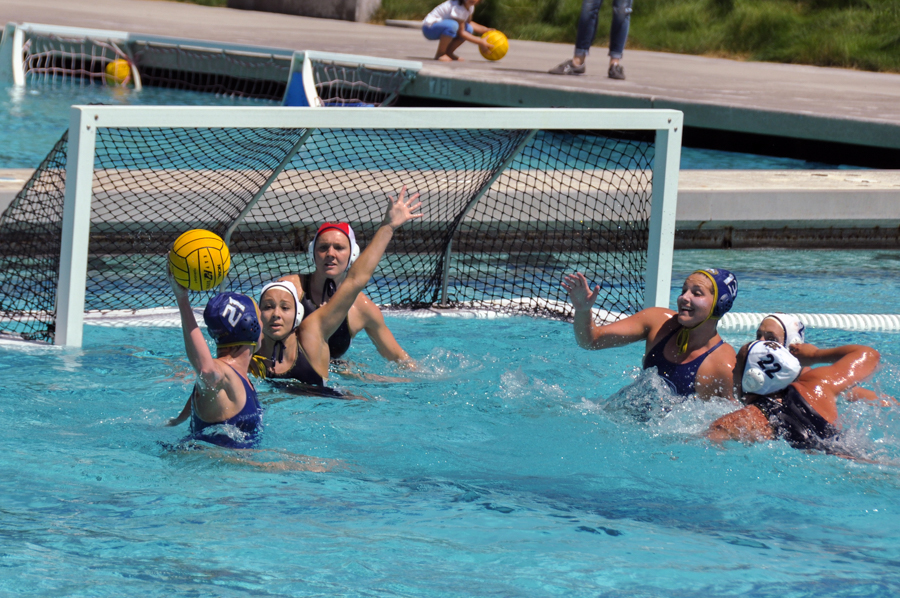 Aggies stand proud on the laurels of a fantastic season
The UC Davis women's water polo team went down to sunny Santa Barbara this past weekend for the Big West Conference Tournament. The Aggies entered the tournament ranked tenth in the country, fallen from their once No. 5 spot.
The Aggies, seeded fifth, faced off against fourth-seed Hawai'i in the quarter-finals of the tournament on Friday, April 29. At the half the Aggies trailed the Rainbow Wahine by two points, and the opening of the second half of play showed that the Aggies were not going to let that gap widen. However, a 4-1 run by the Rainbows in the fourth quarter was just too much for the Aggies to overcome. UC Davis lost 10-6 in the quarterfinals, and although they did not yet know it, would be playing against a team on Sunday that they had defeated earlier in the season: California State University, Northridge (CSUN).
The Aggies resumed their tournament play on Sunday, May 1 for fifth place standing in the tournament. The last time UC Davis faced off against the Matadors was at the Triton invitational early in the season. In that game, the Matadors were not ready for the Aggies, and UC Davis took the match 10-5.
However, this time the Matadors came back with a vengeance. Fighting neck and neck with the Aggies, CSUN was able to limit the Aggie lead to a single goal at the half. At which point, the Matadors came back with a vengeance. Scoring three unanswered goals in the third period forced the Aggies into the final quarter hard and fast. Junior utility Hannah Harvey lead the Aggie stampede, scoring in the opening possession of the fourth quarter.
The two teams traded goals until CSUN was able to run down the clock, giving the Aggies only two seconds left to equalize. Unfortunately for the Aggies, two seconds was not enough, and the Matadors took fifth place, 10-9.
Although the loss marks the end to the 2016 season for the Aggies, it was a marvelous season in program history. Head Coach Jamie Wright Claimed his 400th career varsity victory, and also defeated Cal for the first time in program history since achieving varsity status in 1997. Furthermore, the team also was ranked No. 5 on national polls twice this season, as well as having the first victory over Arizona State since 2005.
Written by Aaron Sellers – sports@theaggie.org