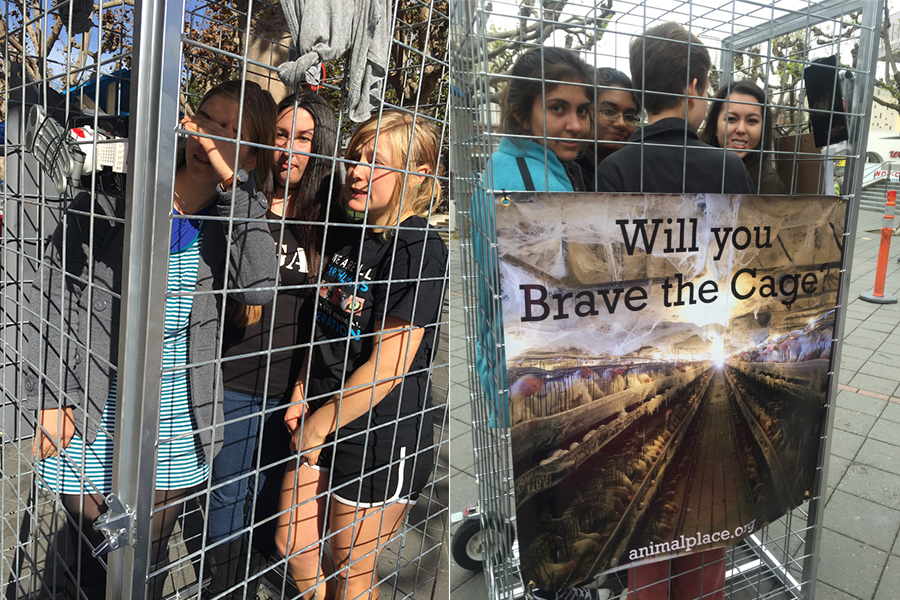 Campaign allows students to experience human-sized battery cage
On Tuesday, May 3, the Grass Valley-based farm sanctuary Animal Place brought a human-sized battery cage to UC Davis' Memorial Union patio as a part of Brave the Cage, a campaign to educate people on the treatment of hens on egg farms. Students had the opportunity to enter the human-sized cage to experience the cramped conditions that 95 percent of hens on California's egg farms live under.
"[This campaign is] to raise awareness of this place of intensive confinement on animal farms," said Stephanie Bain, Animal Place's outreach coordinator. "A lot of people don't know about this. They don't know how extreme it is. Experiencing it for yourself by going into one of these cages is really eye-opening."
According to Bain, typical chicken cages, which hold five to seven birds, are so small that chickens cannot turn around or even spread their wings. Because the size of the cages forces the birds into a sedentary condition, the birds are surrounded by their own feces. Additionally, the chickens rarely see daylight due to their cages being inside of sheds. Continually strong, dangerous chemicals like bleach are used to clean the cages.
Students from the UC Davis club People for the Elimination of Animal Cruelty through Education (PEACE) helped to organize the event.
"I believe events like this are important for UCD students because they reinforce the connection between the consumer and where their food is coming from," said Ana Acosta, a second-year clinical nutrition major and vice president of PEACE. "Brave the Cage is meant to show students the extremely crowded conditions in which chickens on egg farms are forced to live in their entire lives. If there are people out there who would willingly give up eggs upon knowing this information, we want them to know. No living creature deserves to live a life in captivity."
Second-year environmental horticulture and urban forestry major Emma Steer, who is the marketing chair of PEACE, agrees that increasing the awareness of these issues is essential.
"Not only does animal agriculture cause immense amounts of unnecessary suffering to billions of innocent animals every year, it is the top contributor to climate change, not to mention consuming animal products has been scientifically proven to have adverse effects on human health," Steer said. "We want to get this information out so that people are equipped with the resources to think for themselves and make conscious, socially responsible decisions. We hope that events like this will at least encourage people to begin to think more about the global effects of their lifestyles."
Written by: Alyssa Vandenberg – campus@theaggie.org